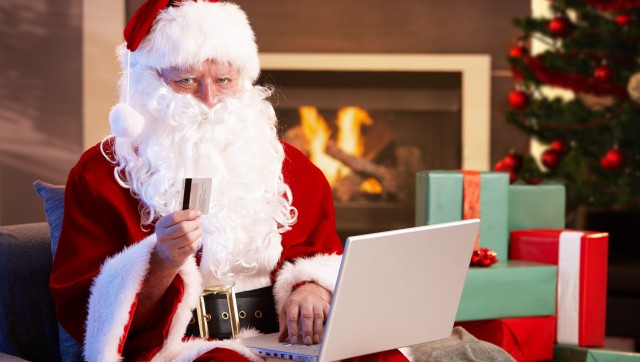 By Charmaine Ng, Communications Coordinator at Credit Karma
It's time to hustle and bustle - the holiday shopping season is nigh. Before you venture out into the occasionally vicious sea of shoppers, take some time to think about your wallet. If you're in the market for a new credit card and you already have airline miles covered, maybe it's time to go niche and hone in on a store credit card that's tailored to your liking. Read on to find some benefits a store credit card could offer you.
1. They're Probably Available at Your Favorite Store
One of the primary benefits of a store credit card is the exclusive offers and rewards you can redeem, and since they're available most everywhere, it's likely that your favorite store has at least one option available. Some deals and perks are available year-round, like the ability to always earn a discount on certain days of the week or free alterations. Check with a retailer before you apply to see if their program is compelling enough. If you're going to be spending a lot at a particular store during the holidays, you could easily rack up an impressive number of points by the end of the year. And after the holidays, you'll keep earning points regularly since you're a loyal customer anyway.
2. If Used Carefully, They'll Help You Build Your Credit
New to credit or trying to rebuild? Opening a store card could be an opportunity for you to practice positive credit habits and demonstrate reliability to the credit bureaus. The lower credit limits that typically accompany store cards are a double-edged sword though. Having less credit to spend will keep you from shopping sprees, but you'll have to watch your balances carefully and monitor your credit card utilization.
3. They're Often Co-branded
Most of us probably take co-branding for granted. (There's a name for that?) If the credit card is co-branded with a logo like Visa's or American Express's, then you'll be able to use your card at more retailers and earn more rewards. In other words, you won't be restricted to earning rewards only at the store you opened the card.
For example, American Express (a Credit Karma advertising partner) offers the Costco TrueEarnings Card, which comes with a standard cash back model, and co-branding makes it possible. You can earn 3 percent cash back on gas, 2 percent on restaurants and travel and 1 percent on other purchases. Then you'll receive your cash back in the form of a coupon you can redeem at Costco. So you get a little bit of both in this relationship. If you want to leverage your store credit card outside of the mall and you don't currently carry several other cash back cards in your wallet, then seek out a co-branded card.
4. They Can Be Used Strategically
Have a hefty purchase in mind but can't part with all that cash just yet? You could consider a store credit card with a generous introductory financing offer. If you're confident you'll be able to pay off the bill by the end of the promotional period, then a card that allows you financing flexibility could be right up your alley. Similarly, some store credit cards offer a 10 to 20 percent discount on the purchase you're making the day you open the card. Some will give you a discount the next time you return to the store and so forth. So even if you don't need to worry about long-term financing, you could time your large purchase wisely and use the one-time discount to slash the final price.
Before You Apply
It's rarely smart to make a rash decision when it comes to your credit. Reading reviews and comparing offers are integral to the card shopping process. Learn from the experiences of past shoppers, who can speak to an issuer's customer service quality, the approval process and credit card details. Reviews won't rid you of all surprises (you'll need to read terms and conditions on a store's website to try to avoid those), but you'll walk away with a generally unbiased look into a store's credit card offering. You'll be glad you did your research before you applied.
After you pick your store credit card, you'll want to watch out for a few pitfalls. As we mentioned earlier, these credit cards typically have lower credit limits, but they also have higher interest rates, so pay off the entire monthly bill by its due date if you can. The deal you snagged when opening a new card to finance your new television set might not seem so rosy if you end up in debt because of it.
You could also end up overspending at a particular store or in general when you should really be adhering to the budget you set at the beginning of the season. If you can refrain from spending just to earn rewards, then a store credit card might work for you. Remember, the holidays are about giving to others, not to your credit card company!
This content is for entertainment and information purposes only. The opinions expressed in this piece are those of the authors themselves, and not necessarily Credit Karma, its affiliates, or its business partners. Efforts have been made to present information that is up to date and accurate at the time of its initial publication. However, neither the author nor Credit Karma make any guarantees about the accuracy or completeness of the information provided.
About the Author: Charmaine Ng is the Communications Coordinator at Credit Karma. When she isn't writing her way through life, you can find her reading about the latest in entertainment and watching television almost every night of the week. Say "hi" @noodlemaine!
PHOTO GALLERY
12 Things Every Woman Should Know About Money