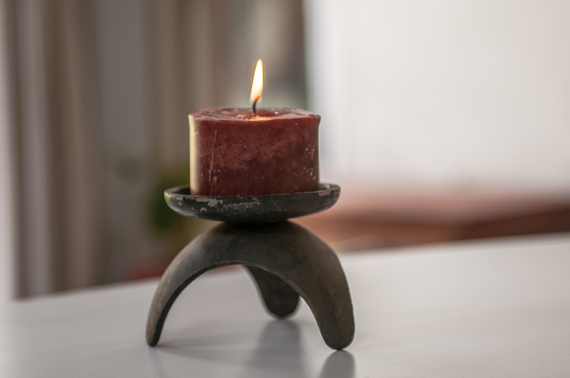 Photo by Jesse R. Regalado
It felt like a 5,000-mile trek but the drive from Pasadena to Chowchilla was only 257 miles. The long trek crossed boundaries, different realities and different worlds. That was nearly two decades ago, I was a young program director at the Los Angeles Women's Foundation where my work revolved around giving grants and technical advice to nonprofit organizations that supported women to be economically independent, healthy, free from violence and engaged in their communities. My friend, Judy and I drove to Chowchilla to meet with some women who wanted to donate dozens of handmade quilted blankets - they were inmates in the largest women's correctional facility in California. I remember the laborious security screening process, the dusty road leading to the front gate, the low and drab buildings sweating under the hot San Joaquin Valley sun.
The colorful quilts came in plaid, calico and floral patterns hand sewn from scrap fabrics. The women showed us around their workshop, explaining the process of quilt-making - surprisingly, there were a lot of sharp-looking implements lying around. I thought then the workshop must be low security. We were told later that most of the women we met were "lifers" or had life sentences.
Their request was simple, to share the quilts with women and their children who stay in shelters for battered women. Many of them knew from experience that women who arrive at shelters have few belongings. They somehow found a way to contact us to ensure the delivery of their quilts. I remember one particular woman who came up to me, How was your drive? Where did you come from? She then switched to Tagalog, the Philippines' official language, How long have you been in the U.S.? Where did you go to school? We had a seemingly normal conversation, I glanced at a mirror - both of us immigrants of similar age but I get to return to a world of possibilities and options, and she stayed behind in a locked facility.
I never learned about her particular journey that ended in Chowchilla. But what I came away with, in my drive back to Pasadena - stacks of beautiful and comforting quilted blankets in the backseat, was a deep appreciation for those women who desired to connect with a world they have little hope of returning to - to give to others, to be made visible and to feel human. This was an unforgettable experience that reminded me of what philanthropy is all about - love of humanity, to care, to belong, to register one's presence regardless of one's life circumstance. In my years of working in this sector, I have seen philanthropy manifested in big and small ways; this was a particularly remarkable example.