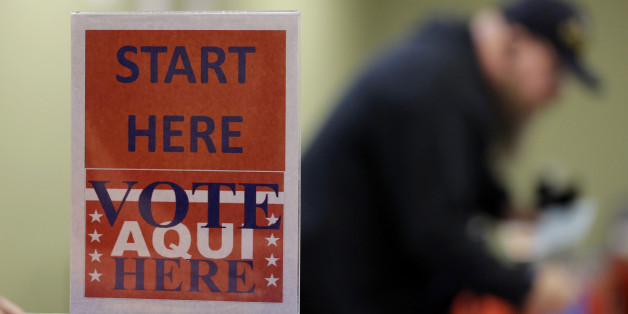 On the heels of a successful and highly-motivating Hispanic Heritage Month of Action, the Latino community was slapped in the face with an unjust and disheartening ruling out of Texas that will suppress the Latino voter turnout in the Lone Star state. On Saturday, the US Supreme Court ruled that Texas can implement its strict Voter ID law in the upcoming Midterm Elections. This comes after a whirlwind week, as the US Court of Appeals for the Fifth Circuit overturned the decision of US District Court Judge Nelva Gonzales Ramos who found -- in a 147 page written decision that Texas's voter ID law "creates an unconstitutional burden on the right to vote."
Judge Ramos' decision followed a two-week trial where she heard testimony from people like Margarito Lara, a 77-year-old Hispanic retiree from Sebastian, Texas, whose 20-year search to locate his birth certificate only revealed his birth was never registered. Even after paying copious, costly fees, and visiting several county offices to apply for a delayed birth certificate, he still does not have the required documents to vote in his home state.
Mr. Lara's story is one that we hear all too often. Hundreds of thousands of Texas Latinos don't have a valid, up-to-date ID. To make matters worse, Texas has no driver's license offices in almost a third of the state's counties. In fact, as Ramos' decision explains, "for some communities along the Mexican border, the nearest permanent DPS office is between 100 and 125 miles away."  This is unacceptable. Voting should be accessible, not costly and time-consuming.
The overwhelming evidence that shows the rarity of voter fraud makes these laws even more offensive to our community. Ramos' court research revealed that there were only two convictions for in-person voter impersonation in the past 10 years -- a period during which 20 million votes were cast in Texas. And yet, as Justice Ruth Bader Ginsberg wrote in her dissent on Saturday, the Voter ID law "may prevent more than 600,000 registered Texas voters (about 4.5 percent of all registered voters) from voting for lack of compliant identification...[and] a sharply disproportionate percentage of those voters are African American or Hispanic."
By reversing Judge Ramos' ruling, the Fifth Circuit and the US Supreme Court has effectively put in place the nation's most restrictive Voter ID law. And with sweeping implications for Texas voters.
Forcing voters to use photo ID and perpetuating the myth of rampant voter fraud is nothing more than a strategy to keep growing minority communities on the sidelines. And unfortunately, it works. A recent Government Accountability Office study found that voter turnout in Kansas and Tennessee -- states with strict Voter ID laws -- took a massive hit in the 2012 elections. We can't let this injustice continue. The very foundation of our democracy rests on our ability to make our voices heard.
That's why it's so important that the Latino community is aware of what's going on in Texas and across the country when it comes to our right to vote. When others try and silence our voices, we must get louder.
The success of our Hispanic Heritage Month of Action is a good place to find motivation. Over the past month, more than 85 groups came together as a community in an unprecedented grassroots and online campaign to promote voter registration and participation. While working around the clock, we walked the streets, knocked on doors, Tweeted, Facebooked, and phone-banked to ensure Latinos are empowered and ready to participate in this year's Midterm Elections. But our on-going campaign will not end on November 4, 2014. We will continue to work to grow our vote for years to come so that the legislators we elect support the issues that matter most, starting with protecting the right to vote. Latino political power is here and is not going away, and the courts can't change that.