By Valeria Fernández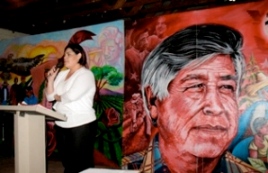 Phoenix, Arizona -- Julio Mora was dropping his dad at work when their truck was pulled over by Maricopa County Sheriff's Office (MCSO) deputies. Although Julio is a U.S. citizen and his dad has a green card, they were arrested on suspicion of being undocumented aliens. The deputies used plastic zip ties to cuff their wrists and took them into custody.
They stood in line for three hours, with other people detained in one of MCSO's latest immigration worksite raids in February. Once deputies realized they were in the country legally they were released.
Last week, Mora testified during a congressional hearing convened to investigate the use of immigration powers by local cops through agreements known as 287(g).
While his testimony may come as a shock to the politicians on Capitol Hill, in Phoenix, where Sheriff Joe Arpaio is under federal investigation by the Department of Justice (DOJ) for allegations of racial profiling, the case of Mora is commonplace.
While Mora was in Washington, D.C., a group of Anglo and Hispanic youth were making a statement of their own in Phoenix. They held a five-day hunger strike, organized by Maricopa Citizens for Safety and Accountability (MSCA), calling for the resignation of Arpaio.
"We're hungry for justice," said Alicia Contreras, 25, a social-work student who fasted. "[We're hungry] for those in higher power to say that they can't close their eyes to the injustices that we see day after day. The community is really in fear."
The site chosen for the fast was the Santa Rita Hall, a tiny rectangular building tucked away in the heart of a Phoenix barrio. This was the place where United Farm Workers leader Cesar Chavez started his three-week hunger strike in 1972 against inhumane conditions for Arizona farm workers.
Many old-timers in the Chicano movement like attorney Daniel Ortega feel this is a revival of a movement for human rights. Back then they fought for the rights of Latino farmers. Today, the actions of the local Sheriff necessitate a fight for the rights of all Latinos -- with or without papers.
"We're a non-violent movement and we're being dealt with very violently" said Ortega. "People are getting hurt, physically beat, families are being separated. That is violence and terrorism towards our community".
Maria del Carmen Garcia Martinez knows this very well. She was arrested at her doorstep after a Phoenix police officer claimed her California driver's license was false. Turns out it wasn't.
But it didn't matter. Being an undocumented immigrant, once in the county jail authorities fast-tracked her for deportation. When Garcia resisted signing a document informing her of her custody transfer to immigration authorities, six deputies physically forced her hand and broke her arm in the process. Garcia was released 11 hours later after her attorney questioned Immigration and Customs Enforcement (ICE) about her need for medical treatment.
It's unfortunate that Congress wasn't able to hear this testimony. Immigrant rights activists said politicians requested specifically to hear from US citizens. Perhaps because some of these people are undocumented, a segment of the public who believes they are criminals no matter what would be less sympathetic if they get hurt. Some in Arizona might even say they've got it coming.
Still, there are people who think this is not right. And they're willing to do something about it.
Friday, the Santa Rita Hall was packed with supporters of the fasters. Some had fasted themselves in secret, not because of fear to criticism, but to make it a private spiritual experience. Others came daily to write messages on a white sheet on the wall: "Stop racial profiling," "Sheriff Joe has to go" and "Si se puede."
As the fast ended, bread was shared among all those present.
"Gracias, muchas gracias," said Maria, an undocumented mother who came to thank Contreras for fasting. Maria was truly moved and surprised that a stranger would care about her plight.
"More than anything is the fear that we live in [because of the sheriff]. We know that we broke a law, but we're not given another alternative to come in the legal way," said the woman. "I respect the sheriff and his authority. But what he does is cruel."