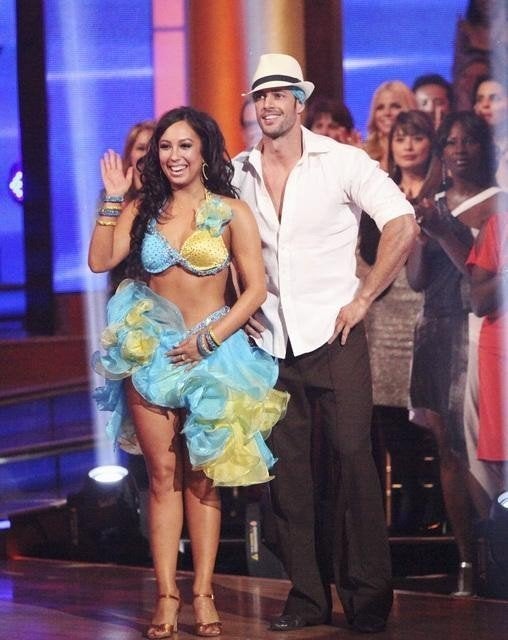 This week on "Dancing With the Stars," rock 'n' roll (and obsessive amounts of guy-liner) took center stage in the ballroom, and the judges were not so impressed, as they dished out some of their lowest scores -- and harshest critiques -- of the season.
Golden child Katherine Jenkins had her worst dance of the season, while the usually exuberant Sherri Shepherd must have exhausted all of her energy rocking out to opening band KISS.
Yes, you read that correctly -- KISS. Gene Simmons and Co. were causing quite a ruckus in the ballroom. In fact, did KISS bring their own celebrity entourage because tonight's live show had even more famous faces than usual, including John Stamos, Little Richard and Jennifer Love Hewitt. Looking totally disinterested, J.Love told Tom Bergeron that she was there to support her favorite dancer, Maksim Chmerkovskiy. Hopefully, this means Maks will be guest-starring on "The Client List" soon.
However, while the majority of the night's dancers were underwhelming, there were a few standouts, like Donald Driver, who brought more than enough energy to the dance floor with his shirtless pasodoble. Watch out, William Levy. These boys know your secret now.
Meanwhile, Disney star Roshon Fegan, certainly the dark horse in this competition, turned into a white knight in the ballroom, as he and partner Chelsie Hightower looked like a Disney couple at the ball with their elegant Viennese waltz.
Sadly, no amount of guy-liner could save Gladys Knight and Tristan MacManus from being in the bottom -- again.
Now, let's break it down:
William Levy & Cheryl Burke
Dance: Jive
William Levy wasn't allowed to listen to American music as a child, so the name Twisted Sister means absolutely nothing to him. Now, I thought that this was going to be a disadvantage for the Latin heartthrob, but then he got on stage and totally proved me wrong. Okay, it wasn't perfect, but it wasn't awful.
So maybe he went a little long in his performance, and the routine wasn't as sharp as it could have been (there was one very awkward should-have-been-but-definitely-was-not lift), but did the ladies in the audience seem to mind? Absolutely not. Not to mention that William Levy gets more charming week-after-week. Maybe it's the broken English, or maybe it's the cultural ignorance, but whatever it is, it's adorable.
Maria Menounous & Derek Hough
Dance: Tango
Maria keeps finding ways to injure herself, and despite having a stress fracture in her left foot, she still managed to put on a good show. Sure, it was no romp on the ballroom floor, but the "Extra" host gave the term hot for teacher a whole new meaning.
Her lines were clean and the routine was pretty solid, thanks to Derek's choreography. If Maria can recover from her medical mishaps, I can definitely see her and Derek in the final three. Opa!
Also, did I mention that Maria has a Greek posse? John Stamos and Nia Vardalos were there to cheer on their Greek Warrior Princess. But where was Jennifer Aniston? Does she not have any Greek pride to spare?
Donald Driver & Peta Murgatroyd
Dance: Pasodoble
Excuse me Donald Driver, but where have you been for the last three weeks?! With dancing like that, Donald might need to clear off some space next to his Super Bowl ring because he's closer than ever to scoring a Mirror Ball trophy.
Donald not only proved that William's not the only "bare chested, honky donky man" in the ballroom, but his "bizarre, sexy, hot, raunchy, damn" routine caused Carrie Ann to absolutely lose her mind. Meanwhile, Len wasn't much more coherent, saying things like, "I never thought that I would get so excited about a man taking his shirt off."
Looks like Peta knew what she was doing when she choreographed a routine that "the ladies are going to like and Bruno is going to love." Bruno was pretty much speechless with Donald's shirtless -- and seriously sexy -- pasodoble.
Gavin DeGraw & Karina Smirnoff
Dance: Tango
Gavin DeGraw is tired of being in the bottom. Luckily, for the "I Don't Want to Be" crooner, all it took was vampire-inspired tango, some heavy guy-liner and a little tumble on the floor to get him to the top -- or at least the semi-middle.
Len thought it was "good," but he needed to keep his "bum" in check. Meanwhile, Bruno and Carrie Ann weren't impressed with Gavin's poor posture. Since when has rock 'n' roll been about proper posture?
Vampires are in now, so hopefully, girls with fangbanger obsessions will vote for Gavin. If not, the singer says that he's more than happy being the leaderboard's "strong foundation"
Roshon Fegan & Chelsie Hightower
Dance: Viennese Waltz
If Disney were casting a "High School Musical" reboot, Roshon and Chelsie would make the cutest high school couple ever. Watching those two dance the Viennese Waltz was like watching the Prom King and Prom Queen have their first dance, or as Carrie Ann said, "Watching the climax of a Disney movie." Can you say magical?
Carrie Ann called Roshon the best male dancer in the competition. As for Len? Well, he only had three words: Good job, dog.
People may not have known Roshon before "Dancing With the Stars," but he's definitely shaping up to be one of the more exciting stars to watch in the ballroom. His routines are never predictable, and he has enough energy to make Sherri Shepherd herself pass out from exhaustion. If Derek, Maks and Mark don't watch out, this could be the year a professional rookie takes home the Mirror Ball.
Sherri Shepherd & Val Chrmerkovskiy
Dance: Tango
"I love Val, and I hate Val." Now Sherri, just be happy that you weren't paired with Maks, okay?
Sherri had such a great start to her tango -- but that's probably because the beginning of her performance was all about straddling the judges. Sadly, there wasn't much tango to back it up. There's just something about doing a structured tango to the sound of Quiet Riot that's just naturally off-putting.
Perhaps if Sherri would have shown a bit more energy on the dance floor, I would have enjoyed her performance more ... but she didn't. Sherri's usually fun to watch, but this week, I think the routine got the best of her. She looked like she was concentrating too hard. Thankfully, Val's abs were there to take my mind off Sherri's uneasiness.
However, tearing a page out of Derek and Maria's handbook, the duo at least had a rumble on the floor.
Melissa Gilbert & Maksim Chmerkovskiy
Dance: Pasodoble
Speaking of Maks, it looks like his temper is once again starting to boil in the ballroom. I can't blame him, though. No matter what he does, it just seems like Maks can never win. He's like Derek and Mark's unloved step-brother. Not to mention that Melissa Gilbert isn't making it easy for him.
Melissa's biggest weakness has always been her confidence on the dance floor, and week after week, she takes baby steps toward becoming more self-assured, but she isn't quite there yet.
Carrie Ann said, "When you're in hold, you don't consider yourself as an equal to Maks," and I couldn't agree more. She's letting Maks drag her across the ballroom like a rag doll.
It's okay Melissa. Not everyone was born to dance. At least you had a pretty outfit! Seriously, it might have been the best you've ever looked.
Unfortunately, Melissa also suffered an injury, which resulted in a trip to the hospital. Here's hoping that it wasn't anything too serious.
Katherine Jenkins & Mark Ballas
Dance: Pasodoble
Channeling her inner Batgirl, classically trained singer Katherine took the stage with a whole new rock 'n' roll attitude.
But despite the crowd's approval, the judges thought that Katherine lost her artistry amidst all of her newfound rocker agression. Bruno told the singer that the "pasodoble needs to retain its definition," while Carrie Ann thought that Katherine lost her footwork. Of course, these missteps caused Katherine and Mark to fall from their top spot on the leaderboard, but I have no doubt that she's take control of the "Dancing With the Stars" throne next week.
At this point, Katherine must know that she's the best, right? Her only real downfall is that she has nowhere to go in the competition. She started off at the top, and she's been at the top of the leaderboard every week, and by her not showing any real improvement this week, is Katherine headed for a plateau?
Gladys Knight & Tristan MacManus
Dance: Tango
Gladys may have said that she had "no class left," but the Empress of Soul -- or is it the Grandmother of Rock, now? -- was all class on the dance floor. Unfortunately, Queen's iconic hit "Bohemian Rhapsody" probably wasn't the best song choice for Gladys this week. Of course, it's not her fault the song had such a challenging rhythm, and that the judges themselves made a horrifyingly off-key vocal cameo in a pre-recorded segment.
Sadly, Tristan's guy-liner could not save Gladys from the judges' critiques or their surprisingly low scores. While all of the judges admit that they love Gladys and her positive spirit, her weak posture is still a problem. Meanwhile, Len gave Tristan props for putting together such great choreography for such a challenging song.
Note to reality TV producers: Stay away from "Bohemian Rhapsody." It never seems to work out for these contestants -- not on "American Idol," not on "The Voice" and not on "Dancing With the Stars."
However, Little Richard was totally digging Gladys' tango. Not to mention that her sparkly eye shadow looked fabulous. I mean, that must count for something, right?
Jaleel White & Kym Johnson
Dance: Tango
Don't call him Jagger; call him Jefferson. Sadly, Jaleel grew up in a household void of rock music, so ... Mick Jagger, who? And why does he "chicken walk all over the place" like George Jefferson?
Leave it to Jaleel to compare Mick Jagger to George Jefferson.
Carrie Ann thought that Jaleel was too smooth (Stefan Urquelle would take that as a compliment!), while Len said that he needed more agression from the former TV star, but overall, Jaleel seemed pleased with his performance.
Honestly, I thought Jaleel would be tearing up the leaderboard by this point in the competition. Where's the Jaleel that was in Cee Lo's "Cry Baby" video? Can we please bring this Jaleel to the dance floor next week? If this were a lip syncing competition, Jaleel would totally kill is. See the proof below.
"Dancing With the Stars" airs Mondays at 8 p.m. ET and Tuesdays at 9 p.m. ET on ABC. Want to know who's still in the competition? Click through the gallery below.
PHOTO GALLERY
'Dancing With The Stars' Season 14 Cast