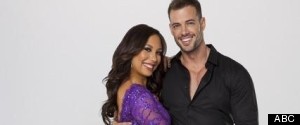 By the time I made it halfway through the "Dancing With the Stars" Season 14 premiere, I realized that this season, the scores are absolutely pointless.
The judges -- Len Goodman, Carrie Ann Inaba and Bruno Tonioli -- all praised this year's contestants for having the best "Dancing With the Stars" debut on record. "Without a doubt, this is the best first show of any season," head judge Len said.
But were the stars really that good? Or is it finally time for new judges?
I'm thinking it's the latter. I still can't believe that not one celebrity received a total score less than 20. That's just ridiculous, especially since there were more than a few stars that deserved it (ahem, Gavin DeGraw, Melissa Gilbert and Martina Navratilova).
Tom Bergeron -- the true MVP of the night -- mentioned that during rehearsals, each pair is critiqued by a group of stand-in judges and that Len, Carrie Ann and Bruno only come to play for the live shows. Maybe it's time for the stand-ins to step in for the real judges because I think they've actually forgotten how to judge. The fact that multiple nines were handed out during the premiere means that they've really lost their edge.
Although, I will take whatever happy pills Carrie Ann seems to be on.
Now, let's talk about the dancing. There was one true star in the ballroom, and you may be surprised to know that ... well, you don't really know him at all. William Levy -- a.k.a. the Latin Brad Pitt -- not only spiced up the dance floor, but he also captured more than a few hearts with his suave attitude and sultry cha-cha-cha.
He's sexy, and he knows it. His partner Cheryl Burke knows it. Carrie Ann knows it. Bruno knows it. The audience knows it. ABC knows it. Brad Pitt knows it. And yes, Tom knows it too.
Bruno even called him the "hottest package of the season." And, unlike last season's Elisabetta Canalis, William actually has a personality, which makes him easy on the eyes and completely charming.
Could one man be so incredibly good looking that he single-handedly just sealed the deal on his victory? Possibly. After all, he does have a rabid telenovela following.
Judges' score: 24
Surprisingly, William didn't clinch the victory with that score. There were two other stars that out-shined his Latin charm.
Now let's examine how everyone else fared on their first night in the ballroom.
Maria Menounous & Derek Hough
Dance: Cha-cha-cha
I'll admit that I'm not Derek Hough's biggest fan, but I do appreciate the fact that he can laugh at his good fortune. "I'm Derek Hough, and I want as many Mirror Ball trophies as I do chest hairs -- and that's four."
Okay Derek, we get it. You're talented, cute and funny. And then there's Maria. She's a self-described "dude with boobs," and she just might have the most annoying laugh in the history of TV.
But at least she can dance. Sure, she's not the best, but with a little help from Derek, I'm pretty sure that she'll be a top contender in a matter of weeks.
In other news, it took me a solid minute before I realized that Kelly Clarkson's "Stronger" was their cha-cha-cha song. That house band never fails to confuse me with their bizarre arrangements.
And as always, Bruno turned his crtiques into a way to talk about sex. Duh. What else is Bruno good for?
Judges' score: 21
Jack Wagner & Anna Trebunskaya
Dance: Foxtrot
I'm not going to lie. I didn't really know who Jack Wagner was before watching him on "Dancing With the Stars," but I have to say, the former "Melrose Place" star is quite a fox -- and he's got some moves.
His only problem? He gets hard on himself which, as Chynna Phillips proved last season, can be problematic. However, watching Jack and Anna on the dance floor was kind of adorable (in a father-daughter dance kind of way).
Halfway through their cutesy foxtrot, my roommate turned to me and said, "I feel like we're watching 'Big Fish: The Musical.'" Yep. That was kind of what it looked like.
It was a little slow, but still enjoyable. Carrie Ann, on her best happy drugs, praised the duo for their playfulness, but Len had to bring the party to an end. He said that Jack's footwork was poor, and that his technique -- unlike his charm -- left much to be desired.
Judges' score: 23
Donald Driver & Peta Murgatroyd
Dance: Cha-cha-cha
Donald Driver is no Hines Ward, but he's no Metta World Peace either, and that's a very good thing. However, I have to admit that I was slightly more captivated with his unusually skinny chicken legs than I was with his cha-cha-cha.
His moves were pretty sharp, and there were definitely some signs that he had naturally talent, but I'm still not sure he has what it takes to make it to the end. He has the charisma, but sometimes your personality can only take you so far and his excitement on the dance floor was a bit of a turn-off for the judges.
But it was a definite crowd-pleaser, as Donald received the first standing ovation of the night.
Judges' score: 21
Gavin DeGraw & Karina Smirnoff
Dance: Foxtrot
Oh Gavin. You've got awkward white boy syndrome. Watching Gavin try and do the foxtrot with reigning Mirror Ball champ Karina was like watching a high school boy trying to dance at the prom. Super awkward.
So out of my love for Gavin -- and his hit single "I Don't Want to Be," which is still one of my most-played songs on iTunes -- I wrote him a letter.
Dear Gavin,
My 14-year-old self really loves you. She also really wants you to win this competition because she has your picture on her wall. However, my 22-year-old self thinks that your dancing leaves much to be desired.
In other words, if you don't really improve next week, I think that you might be in danger of going home. So, you have two choices: You can either learn how to accurately move your feet, or you can go home. And yes, I'll play "Not Over You" in your honor.
Love,
Crystal
However, I will say that Gavin's performance is definitely more in-tune with what week one performances should look like. I mean, come on judges, they can't all be perfect! There needs to be signs of improvement from week-to-week or else there's not fun. Look at Rob Kardashian last season -- in the beginning, everyone counted him out, and look, he made it all the way to the finals.
Could Gavin DeGraw be the new Rob Kardashian? My 14-year-old self really hopes so. Meanwhile, my 22-year-old self still can't believe Gavin told the crowd that he was "in the middle of a pretty sandwich right now." Ugh. Awkward white boy syndrome.
Judges' score: 20
Roshon Fegan & Chelsie Hightower
Dance: Cha-cha-cha
Is it too early to have a favorite? Because I think Roshon may have just captured my heart. Is that inappropriate considering that he's 20 years old? Maybe. But seriously, just give this kid a ticket to the finals. He's youthful, fun, energetic and most important of all, exciting to watch.
Roshon is the Lena Dunham of "Dancing With the Stars": He's the voice -- or, feet -- of his generation. You know, the One Direction generation.
Also, the house band played The Wanted's "Glad You Came." Roshon + The Wanted? That's pretty much every teen's dream come true. Smart move, ABC.
Judges' score: 23
Sherri Shepherd & Val Chermerkovskiy
Dance: Foxtrot
Sherri Shepherd, like last season's Carson Kressley, has one giant personality, and it definitely transcended to the dance floor. The "View" co-host admits that elegance isn't necessarily her strong suit. In fact, at one point she shouted, "I'm elegance! Let me out!"
Her dancing wasn't that bad either. She had fun with the foxtrot, and I couldn't think of a more perfect partner for her than Val. He's the calmer, gentler Chermerkovskiy brother. They're a bit of an odd couple, but Sherri has enough personality for the both of them.
Sherri is really the cutest, especially when she goes over to give her son a kiss. Of course, this makes Carrie Ann exclaim, "YOU ARE THE HAPPIEST CONTESTANT THAT WE'VE HAD IN ALL 14 SEASONS!" Excuse me, but I'll take whatever Carrie Ann -- and Sherri -- are having.
It's only after Sherri exclaimed, "Jesus is good," that I realized that Sherri Shepherd isn't this season's Carson. She's really the Tim Tebow of "Dancing With the Stars."
Judges' score: 23
Melissa Gilbert & Maksim Chmerkovskiy
Dance: Cha-cha-cha
Eek! This might just be the most disastrous pair of the season. Melissa Gilbert is a bit of a nervous wreck, but hopefully Maks will be able to calm her nerves.
(Side note: The amount of clothing Maks wears in inversely proportional to the level of confidence he has in his partner.)
Maks pretty much dragged Melissa across the stage like he was pulling Laura Ingalls by her pigtails. It was scary, and when Melissa hesitated during her first drop, I actually thought Maks was going to break her. Obviously, Melissa was nervous, and it certainly showed on the dance floor, but she was also challenged with more ambitious footwork.
And we get it Melissa. You were on "Little House in the Prairie." You don't have to remind us every minute.
Judges' score: 20
Martina Navratilova & Tony Dovolani
Dance: Foxtrot
Martina doesn't do heels. She doesn't do dresses. In fact, she hasn't worn a dress in 20 years. Needless to say, I wasn't expecting the tennis star to wow me in the ballroom.
Martina definitely stumbled on the dance floor -- more than a few times -- but it's hard to hate on someone who is so genuine and honest. Not to mention I think Tony, having been on the show for 13 seasons now, definitely deserves a win sometime soon. Sadly, I don't think he'll find his eternal Mirror Ball glory with Martina.
Sigh.
Judges' score: 20
Katherine Jenkins & Mark Ballas
Dance: Foxtrot
Katherine is a new face to America, which may hurt her when it comes to relying on the public's vote. After all, we know that "Dancing With the Stars" is really just a popularity contest at this point.
However, after tonight's performance, the British opera singer may be one of the best dancers Season 14 has to offer. She's a total natural, and her foxtrot looked completely effortless. Oh, and did I mention that she's also gorgeous? After last season's early elimination, Mark might have found himself a winner.
Somewhere, I bet Derek Hough is pulling out one of his four chest hairs in frustration.
Judges' score: 26
Gladys Knight & Tristan MacManus
Dance: Cha-cha-cha
"I'm Tristan MacManus, and I'm the hot one in 'Dancing With the Stars.'" Truer words have never been spoken. Yes Tristan, you are the hot one, and hopefully, your legions of fangirls will help you stay to the end.
Of course, it helps when your partner is a living music legend.
Gladys Knight is by far the sassiest woman to ever step on the "Dancing With the Stars" dance floor. She also has the most natural rhythm out of the bunch. What can I say? This legend has moves.
But the best part of her cha-cha-cha was the amount of fun she was having on the dance floor. You can tell that she's a performer because when you put Gladys Knight in front of a crowd of people, she shines.
I'm just going to say it. I'm totally Team Gladys and Tristan -- and I think the judges are, too.
Judges score: 23
Jaleel White & Kym Johnson
Dance: Cha-cha-cha
They say that you save the best for last, and that was totally true tonight. Jaleel White may have just secured a spot in the finals because his moves were really impressive. But, I mean, what else could you expect from Urkel? Whoops! Did I do that?
Jaleel White wants everyone to know one thing: He's not Steve Urkel, and he made that very clear, so if you're waiting for him to bust out the Urkel dance, you might end up waiting for a very long time.
Jaleel is hands-down one of the best dancers in the competition, and when it comes to voting, he's also got legions of fans. It's pretty much a win-win for Jaleel and Kym.
Of course, anyone that's seen Cee Lo's music video for "Cry Baby" knows that he has a few tricks up his sleeve.
Judges' score: 26
"Dancing With the Stars" airs Mondays at 8 p.m. ET and Tuesdays at 9 p.m. ET on ABC.