It's easy to describe writers and co-stars Hunter Bell, Susan Blackwell, Heidi Blickenstaff and Jeff Bowen as the little musical theater team that could. After all, their 2008 New York Musical Theatre Festival opus [title of show] enjoyed a successful transfer to Broadway -- a rarity in a market dominated by jukebox shows and Hollywood blockbusters adopted (to varying degrees of success) for the musical stage.
But after their second, even more quirky project, it's more appropriate to call them the little team that's not only re-writing the rules of how to produce musical theater as they go, but also making Broadway and off-Broadway a bolder, more daring place in the process.
From left: Hunter Bell, Jeff Bowen, Susan Blackwell and Heidi Blickenstaff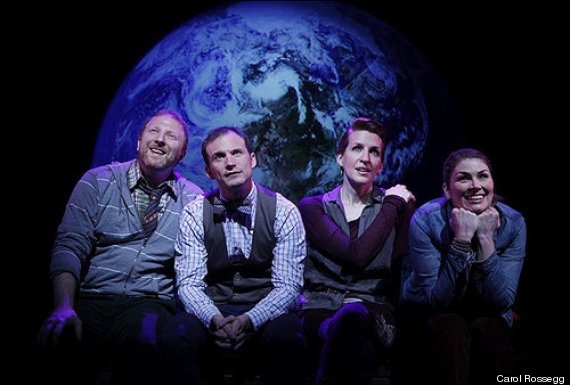 Their 2012 musical, Now. Here. This., spawned a cult following that extended far beyond its off-Broadway run at New York's Vineyard Theatre, which ended in April -- and now its legacy has successfully been preserved for future generations of fans. Released in December, the Now. Here. This. cast recording was produced entirely via Kickstarter. Unlike Wicked or The Book of Mormon, the show -- which features a book by Bell and Blackwell, along with music and lyrics by Bowen -- did not draw the blockbuster crowds that would ensure solid CD sales, making the passion project even more unique.
But Bell, Blackwell and Bowen are hoping it's another aspect of their Now. Here. This. collaboration that is remembered after the crowdfunding campaign buzz begins to recede. Set in a natural history museum, the four-person show is a cavalcade of individual sketches and flashbacks inspired in part by the performers' off-stage lives in what Bell describes as a "mix of autobiography and 'auto-bi-fiction-ography.'" In keeping true to that format, two of the four 40-something characters happen to be openly gay -- much like the actors (Bell and Bowen) that portray them.
Unlike other shows which deal with gay characters or themes (La Cage aux Folles, Rent, and The Normal Heart), Now. Here. This. doesn't draw its characters as overly political or flamboyant, and most certainly never ventures into camp territory. Instead, Bell and Blackwell say their aim was "just to write a human story with no specific agenda at all, other than just being honest," with the gay elements being woven seamlessly, even matter-of-factly, into the show's libretto.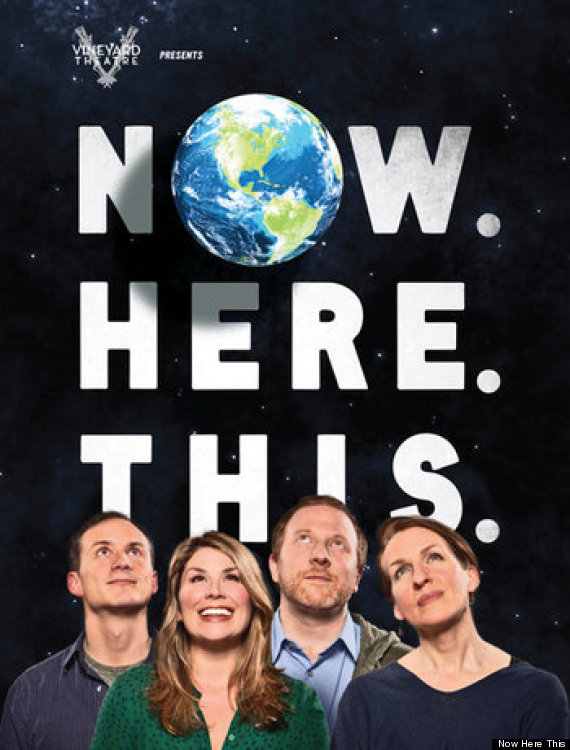 "We have the luxury of the Terrence McNallys, the Harvey Fiersteins and the Larry Kramers having sort of blazed the trail for people like us," says Bowen, whose longtime partner Michael Berresse, a Broadway veteran who's starred in The Light in the Piazza and A Chorus Line, directed the show. "They made the playing field for the subject of homosexuality to be commonplace. It doesn't have any stigma at all."
Adds Bell, "It's on the shoulders of other gay writers that a piece like this can happen. I never want to diminish the presence of two gay guys being onstage and doing their thing, but their [being gay] is just another part of them." He also points to another aspect of the show which differs from its various predecessors: "There isn't a love story between them -- well, maybe a love story in terms of being friends and friendship, but that's it."
The show's diverse score, which ranges from 1960s Motown ("More Life") to modern pop ("Give Me Your Attention"), features several moments where the plaintive, though still humorous, treatment of characters' sexuality is apparent. Bowen's "Dazzle Camouflage" is a humorous paean to the struggles of a closeted adolescent. "The hours I spend holding hands with girls is equaled only by the hours I spend in my bedroom making my super hero action figures go at it," he quips, before eventually declaring, "Keeping a secret is a full-time job and I am exhausted."
Later, in "Members Only," the four characters struggle with fitting into high school cliques, Jeff and Hunter vow to get "some stone-washed, skin tight Jordache jeans so no one will now that I'm gay!"
Of the show's gay elements, Blackwell recalls, "We never discussed it, but it was also never something that we had to think through, because it's just to integrated int into the experience of our lives. It was just a very, very natural extension."
The fact that the team is able to look back on the production process of their two shows so fondly is a reflection of their commitment not only as collaborators and artists, but most importantly as friends. Collectively, the group -- who are currently preparing Now. Here. This. for theatrical licensing around the world -- hopes their show will serve as another precedent for lesbian, gay, bisexual and transgender themes are explored onstage in both plays and musicals.
"You can always write a political play about homosexuality, but hopefully one day will come when if you write something like that, it will feel like a period piece," Bowen says. After reflecting for a second, he adds, "The period costumes will be just fabulous!"
Check out the Now. Here. This. cast album on iTunes.
Take a look at a short documentary on the making of the Now. Here. This. recording below:
NOW HEAR... NOW. HERE. THIS. - A Documentary on Making the Original Cast Recording of Now. Here. This. from Sh-K-Boom & Ghostlight Records on Vimeo.
BEFORE YOU GO