The travel blogs continue as we leave Thailand and head out to Indonesia via Hat Yai. Mosquito attacks, beautiful beaches, spontaneous twists and turns... Here are two more stories about my adventures in S.E. Asia. Wishing you the same.
-- x, Cynthia
Four-Star Girl
I'm up at 5:00 a.m. today. There's a lizard in the light fixture above my head and a handsome mountain behind the bungalow in front of me, about 35 feet away. The sun has just started her morning glow. My legs are wrapped in a cheap, white bath towel, and I'm wearing a netted bug shirt I bought from REI in Arcadia, California. Even though, I am still breakfast for several relentless mosquitos. There's an ant family dancing around my feet. Foolishly, we've been feeding our adopted tabby, who lives on the front porch. The cats are more free and friendly than the people of Tonsai.
The last three days have been raw and adventurous. I must confess, I'm pooped. I'm looking forward to a mocktail and the next episode of The Good Wife. Amazon Prime charges for content that might usually be free. Netflix, HBOGo and ShowtimeAnytime are all showtime-no-time out here. I'm a feenin' TV junkie. At what point, I wonder, did I become a princess? Have I always been this dependent on my comforts and amenities? Is this why people take backpacking holidays between college and adulthood? I do believe one needs at least one star rating per decade on earth. I'm definitely a four-star girl.
To get from Tonsai to Railay, there are three methods. Longboat rides at 100 baht per pop, per person; jungle treks or ocean walks over pinch-y, sharp coral. I have now endured three jungle treks and two pinch-y coral walks. We are watching our cash as our long journey has just begun. Like most things, the more you do them, the easier they become. Yesterday's trek had a brilliant reward. We swam in the ocean at the world famous Railay beach. The view is -- stunning. The water is waist high and warm, like an epsom salt bath. There are even mild waves to keep the swim interesting. My body feels at home in the ocean. Must be the cancer moon in me.
Today we start our journey through Malaysia and Indonesia. The plan is to take a boat, to a bus, to an overnight (or is it a two-day?) train to Singapore. I have no idea what to expect, but I'm eager to find out.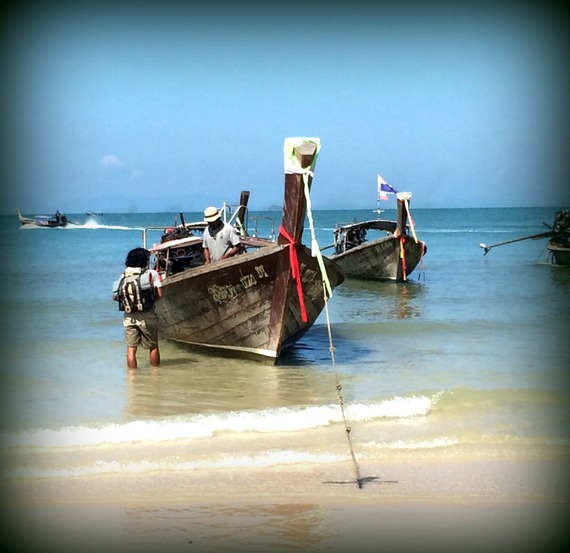 Belly Full of Benadryl
I had a mild coronary this morning during my search for cappuccino out here in Hat Yai, Thailand. My heart attack wasn't about my engine fuel -- it was about the discovery of the crazy swarm of bumps on my left shoulder and trapezius muscle. Yesterday, while on our bus rides from Krabi to Hat Yai, Sue Ann said to me, "Hey babe, there's all these bumps on your back." I didn't feel a thing, so my response was, "Ah no, it's nothing. It's from leaning on my money belt." "Are you sure?" she asked. "Yeah yeah, it's nothing." Well, well, well. In the midst of my panic, all I could think about were those darn Thai jungle hikes! "I knew it" I said to myself. Disregarding my sixth-sense once again. That would be what I like to think of as my "heightened" intuition. In actuality, it's probably a section of my back that was exposed and attacked by the morning mosquito feeders the other day while peacefully writing on the bungalow porch. The witching hours of 5-7 a.m., and 5-7 p.m., where the insects search and find their prey with a mad frenzy.
Alas, we've purchased train tickets to Kuala Lumpur and leave tomorrow afternoon! I'm so excited to see Malaysia and depart Thailand. Not that this hasn't been an incredible experience... but I just don't feel at ease in this country. I've turned into a female "Woody Allen" with all my whining and complaining about this trek and that trek. Now I have proof of injury, self-manifested I'm sure. There's no one to blame here except me (and that nasty swarm of winged-meat-eaters).
Here's the other thing about Thailand. A white lady pays three times what the Thai locals pay. Especially in this commuter town (of Hat Yai). There's no hiding or escaping the big, ole white flag I'm waving. Maybe I know about it because my travel companion is Chinese. Sue Ann passes for any variety of Asian out here. What might cost her 30 baht, surely costs me 60 or 90. To her dismay, I've become a bargain cock-block.
We've done some reading up on Singapore. Still undecided as to whether we'll be traveling there. Yesterday, while waiting an hour plus for our longboat exit from Tonsai, a friendly Swiss couple had an adverse reaction to our heading to Singapore. "Why are you going there? They fine you for chewing gum." What? Google also says the country banned men with long hair. There's a funny bit about how the Bee Gees got sent home at the gates of Singapore in the '60s. They had to cancel shows and leave the country because of their pretty, long locks.
Out of sync train and bus travel has turned today into a rest day. So we are sauntering around town at a leisurely pace. I'm also slow moving with a belly full of Benadryl, taking the healing into my own hands and working my lady magic the old fashioned way, with ginger and garlic.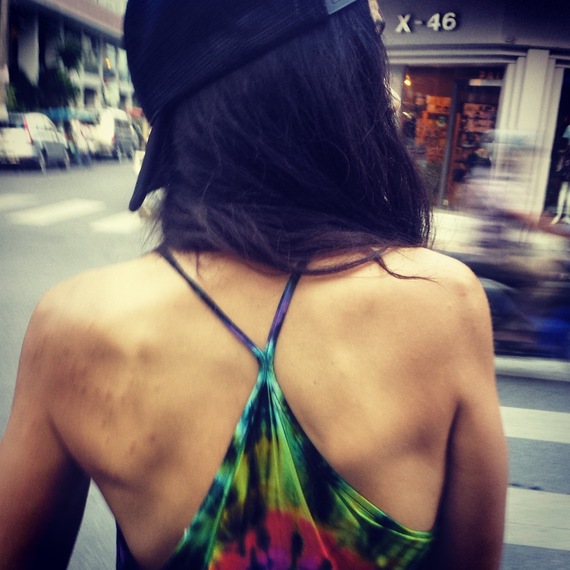 The original posting of this series can be found at www.cynthiacatania.com