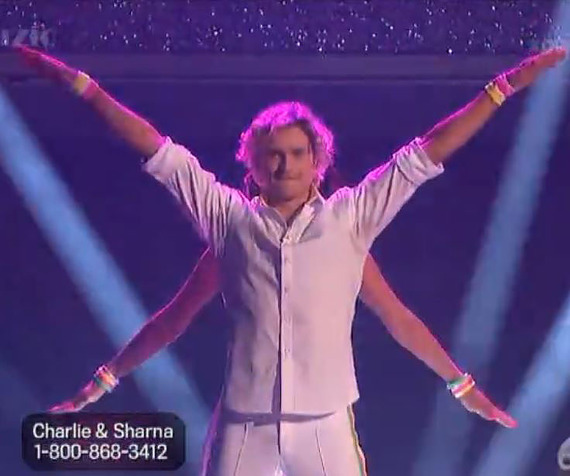 Charlie White and Sharna Burgess on DWTS "Party Anthem Night"
The judges wanted hip action the last time Charlie White tackled a Latin routine. They got a little more this week. But those hips, to mangle a metaphor, may turn out to be White's Achille's heel.
We know the money's on Meryl Davis -- perfect 10s this week, at last. And she deserved every one, especially after that classy comeback from a heated exchange with her DWTS partner, Maks Chmerkovskiy -- one online columnist called him "emotionally abusive." But she answered the verbal attack by dancing with graceful elegance -- Maks may have met his match.
And if her long-time ice dancing partner is going to catch up, he's going to have to learn to swivel as well as he twizzles. Dancing to C & C Music Factory's "Everybody Dance Now" he moved those hips far better than he did during his controversial Peta Murgatroyd tango.
But years of holding each pose -- and Davis -- on the ice have trained White to lock that core. So he's still having trouble loosening up, and this week's routine just didn't have that boyish, buoyant self-assurance the fans and judges adore. He was more like the Charlie White we know and love while twerking and "rapping" in the commercials for this week's show than in this week's routine.

The judges were sweet and supportive, but they voted correctly this time -- straight nines are nothing to be mad about, though. And it was a strong showing -- he's always going to be entertaining and painstakingly precise. But we'll have to wait a little longer for that perfect performance.
No worries. The game is far from over. There's time for Charlie to twerk it out.
Image credit: Author screenshot