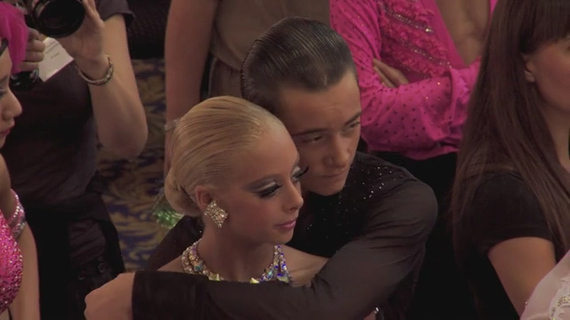 Teen Latin dancers Egor Kondratkenko and Mie Lincke Funch wait to face the music--and the judges
We see them on Dancing With The Stars, So You Think You Can Dance. In the Step Up and "wanna be" Step Up movies, music videos, commercials and concerts.

What drives them, these ballroom babies with the swiveling hips, sequins and spray tans, who sacrifice family, friends, even country in the quest for fame?
Dance For Me, a documentary premiering July 21st on the PBS series POV, is an intimate, almost cinema verité peek into the world of competitive ballroom dance.

Winner of the Audience Award at the 2013 American Documentary Film Festival, it brings to life terms and concepts like "partnering" and "chemistry" that judges grumble and gush about on TV. But the real story is the struggle of Latin dancers Egor Kondratkenko and Mie Lincke Funch to become "one" on the dance floor without sacrificing their own emerging teen identities.
Dance For Me has no snarky practice room patter, no predictable final "dance to the death." The competitions seem irrelevant. In fact, the actual outcome of the final and most important contest is never "announced." We only see the couple being lovingly hugged and congratulated.
A tiny white line of type reveals their results as the film ends -- if you blink, you'll miss it. They came in eighth in the European competition, high enough to qualify for the World Championship. Hence the big grins.
"The film is mostly about Egor and his personal and emotional journey rather than a dance film where the competitions matter the most," filmmaker Katrine Philp explained to me, long distance.
"I was invited to watch a training session in the dance hall because I was researching for a young elite dance couple. It took me just a second to spot Mie and Egor on the dance floor and I was immediately drawn to them. There was something magical about them. And when I heard about their story, Egor coming to Denmark to dance with Mie, giving everything up in the age of 15, I was hooked. I immediately asked them if it was okay to be a part of their journey. And fortunately they said 'Yes.'"
It doesn't go smoothly.
As Philp mentioned, Kondratkenko is a Russian teen who has left his dance teacher mother in his adoptive home, China. He is an intense but taciturn lad who believes emotions should be expressed only on the dance floor.
Funch, whose Danish family has accepted Egor as both her partner and a surrogate "sibling" for their only child, could not disagree more. She expresses her emotions about dance--and life--verbally and passionately.
"I just love dancing. It is not if I want or not. It is something I need in my life," she explained. "In the age of 15 I knew exactly where I wanted to be and what I wanted with my life: dance and become the best! That is a time were normal teens try to find themselves or are having an identity problem. I feel so blessed that the dancing showed me the way."
That love of dancing is what motivated her to be in the film, though she says, "seeing the real me, my bad and good sides, this made me feel vulnerable."
"I agreed to make the movie because I wanted to show how much it takes to be a young dancer on a high level," she said. "Dancing is often showed as entertainment and not as a sport. Very few people know how much work, tears and blood there is behind a beautiful dancer."
Philp agrees wholeheartedly.
"As a former dancer -- not Latin dance but Contemporary dance -- I have the love for the art in dance," she said. "I know how it feels to train your body to be perfect -- both in appearance and in movement."
But most of all, she said, "I would like the audience to feel that they have been giving a close look into a life of an extraordinary young couple."
Funch has another "wish" for those who tune in on July 21st:
"I hope the viewers feel inspired to follow their dreams."
Dance For Me allows viewers to "eavesdrop" as she follows hers. It is an engaging and intriguing experience.
Photo credit: Author screenshot