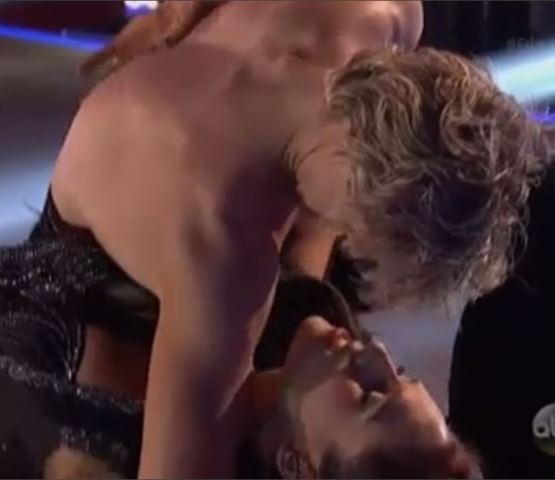 Olympic gold medalist Charlie White and Sharna Burgess get physical for DWTS Latin Week
I admit it. I'm totally flummoxed.
Charlie White will do any dance you give him with all the passion and positive energy he can muster. His Week Seven paso doble was a perfect case in point. He came out stompin' and even managed to doff that bolero jacket smoothly -- an obvious "wink" to his female fans that managed not to look as self-conscious as it might have.
To a total ballroom "know nothing" like me, the moves looked hot. One judge chided him for wobbling when down on bended knee, but to me it looked more like a dance move designed to capture and sweep Sharna Burgess back into orbit.
Another insisted he "finish" and tighten up those moves. Again, White had managed to dance the paso with more authority than I expected -- he's very light on those feet, but he looked rock steady out there.
But the judges know their stuff. I'm just a Davis and White fan having trouble figuring out why White isn't faring nearly as well Davis has been, given how well he's actually dancing.
One thing's for sure: every time they slick back his hair and put him in one of those outfits that are supposed to make him look mucho macho, he looks like a really cute kid dancing around in Daddy's clothes.
So what gives? As his fans know so well, he almost melts the ice with his smoldering gazes and smooth moves with Meryl.
And Burgess is brilliant. She knows what his body does best and supports his efforts with mama lion intensity -- woe be unto anyone who disses Charlie in social media!
I confess, I'm not entirely sure they can do any more than they have already. And that's what's so frustrating for White and his fans.
But...here's a thought. We know how good he is at making us smile. So what would've happened if they'd tweaked Week Seven's dance to make good natured fun of that style? What if the smoldering gazes and matador stomps had been done for comic effect instead? Same steps, different motivation.
Betcha he'd have nailed it. And the judges would've laughed their way to those 10s across the board that Charlie was hoping for. But it wouldn't have had that fierce paso doble "attitude" throughout, so maybe that's verboten.
And yes, our most legendary dancers have always been able to go from comedy to "come hither" with ease. Fred Astaire, bless him, didn't have Cary Grant's face but on the dance floor he had style and grace Grant could never match.
But then there were the guys like Donald O'Connor knew who knew who they were and stuck to it. The closest O'Connor he got to romancing in Singin' in the Rain was that show stopping dance with the headless rag doll he "smooches" and then flings aside.
When Charlie White is "on," he's got that same puckish charm O'Connor possessed. And he's a master of dance on ice as O'Connor was on the silver screen -- he has an Olympic gold medal to prove that.
So what's not working on DWTS? Again, I confess, I'm just not sure. But I believe White's "can do" spirit will regroup and rebound. Cross fingers that he gets the votes he needs to come back and finally earn those 10s.
Image credit: Author screenshot