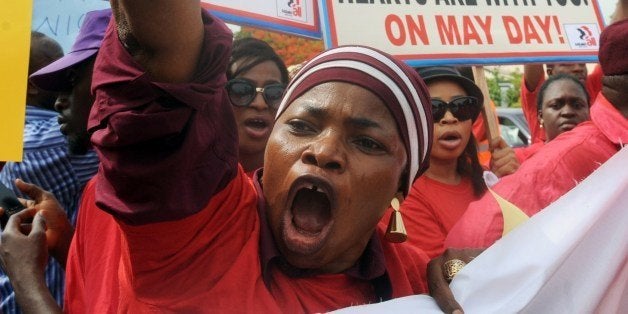 By now, most Americans have become familiar with the ongoing saga of the more than 200 Nigerian schoolgirls who were kidnapped more than a month ago by the terrorist group Boko Haram. As a woman born and raised in Nigeria, now in the diaspora, I have become a source for verifying facts and answering questions from my international friends and colleagues who are astounded by this horrific story.
While there are many details about the incident and subsequent response to decipher, there is no contesting the fact that the girl child in many parts of Nigeria has been historically marginalized in many ways, and for many decades, and this practice needs to end.
As it is in many parts of the world, in our culture being a woman or girl and being heard do not go together, or at least not easily. It is an unwritten code that a girl must choose to be an active contributor to social action and change or choose exclusively to be a homemaker; you cannot succeed at both. "Nobody will marry you," "Get married first," and "That is not a role for a woman" are some of the comments regularly doled out to young women who possess a noticeable inclination for advancement and leadership. Becoming a community leader or activist of any kind is almost akin to making a death wish.
The Nigerian girl child, and subsequently woman, becomes a veteran who has endured various forms of injustice and oppression in her lifetime. While this is not a call to vilify the men, it is an invitation to revise male-led, long-held cultural and religious beliefs and practices of Nigerian society. A baby girl endures female genital mutilation in some parts of the country; a young girl is denied formal education, and a woman is often mandated to conceal physical, verbal, and sexual abuse. Many women who blow the whistle on such oppression are ostracized by society and labeled as women who could not keep a home or a job.
This is why we must support women activists who have endured the treacherous effects of choosing to show their faces and put themselves and their families in potential danger. We must keep and maintain this engine of the new face of Nigerian female activism, which is gaining traction with the nationwide protests and initiatives to find the abducted Chibok girls. This campaign must continue to run strong so that younger women may see and know that it is not a sacrilege to recognize injustice and speak against it.
The menace of Boko Haram is not new to the country. Few Nigerians can forget the Christmas Day bombing of a Catholic church in Abuja in 2011 while a well-attended Mass was being celebrated. Forty people died needlessly. Boko Haram's dastardly actions have left Nigerians feeling helpless and confused. Many cannot tell if their actions are religiously or politically motivated. We hope that the partnership of the United States with the Nigerian government in securing the safe return of our innocent teenage girls will be the beginning of the end of terrorism in Nigeria. Also importantly, we hope this will change the attitudes of religious and cultural leaders toward the advancement of girls and women.
We also earnestly hope that when our girls are hopefully rescued, the world does not quickly move on, turning its back once again on the African girl and woman, leaving her to carry on her own the burden of religious and cultural oppression.
So to the Nigerian government, bring back our girls now, and keep women at the table of policy making. To Boko Haram, trafficking innocent minors for the advancement of your agenda is irrational to say the least. To the world, please stay committed to advancing the well-being of girls and women everywhere.
Cynthia Obioma Ezeani is a lawyer and candidate for a master's degree in public policy at Simmons College in Boston, Massachusetts.