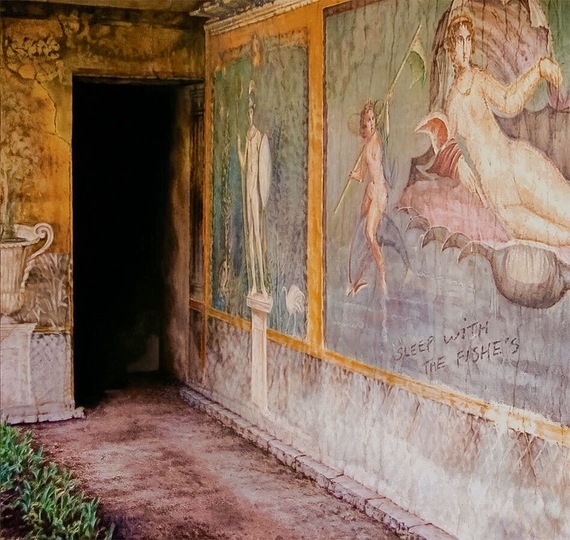 Antonio Petracca, Sleep With the Fishes (2007), oil on canvas on wood, 30 x 32 x 1 inches
Antonio Petracca's art addresses the cultural, visual, political and systemic aspects of the preconceived opinion. In his earliest days exhibiting in New York, Petracca investigated our general understanding of visual perception, and how that related to architectural elements utilizing slivers and fragments of the periphery. Memory plays an important role in his art, as the stories he told conveyed incomplete vistas that had a depth of representation that was oddly rich and wholly compelling. Everything you needed to complete the narrative was there, all you had to do was think about what you were looking at - then make connections between what you were experiencing with the artist's work with what you experienced in your own lifelong journey. These were in essence, incredibly successful 'interactive' conversations between the artist and the viewer.
Petracca has since gone through a number of changes that have been prompted by tragedy and travel. Recently I had the opportunity to ask him a few questions in an attempt to get a little deeper into his thoughts and intentions.
DDL: For obvious reasons, the paintings you did of the aftermath and ensuing months of The World Trade Center tragedy are the most emotionally compelling paintings based on visual fragments. This particular series culminated in an exhibition at Kim Foster Gallery titled Forecast: Sunny & Clear High in the Low 80s, a title that is an obvious reference to the pristine weather of that tragic September morning. I suspect you chose this title as most everyone's experience that day was made more Surreal by the ideal weather in the North East. You were and still are living right next to ground zero. You have seen and felt the tragedy and transition first hand and I imagine your paintings and photographs of that period have given you a way to personally cope with the overwhelming complexity of emotions you once felt and do still feel.

Antonio Petracca, Forcast: Sunny and Clear, High in the Low 80's (2002), oil on canvas on wood, wood ceiling molding, aluminum sheeting, 72 x 11 x 6 inches
AP: Yes, the art did help me cope. I needed to get it out, but it took a few months to do anything art related. When I was able to respond, my approach changed from concentrating on what is "not revealed" in my pictorial space to what is "not there" after 9/11. It was the first time I was desperate to add information. Access to the area was denied by the authorities, which were backed by thousands of army and marine troops. The general population, me included, had restricted movement. I climbed trees, stood on fences, tried to enter buildings. It turned out that the little first hand visual information I was able to get did lead me to my eventual artistic and philosophical direction in the development of this work.

In addition to the emotional trauma from witnessing falling bodies and the toppling of the towers, my neighborhood also suffered extensive physical damage. It was dangerous to be there. Two weeks after 9/11, we were allowed to enter our apartment under armed guard to retrieve useable objects, clothes and valuables. The time allotted was only twenty minutes. I did manage to retrieve a good amount of necessaries, however, as my wife has often reminded me, they were the "wrong" necessaries and valuables! It's the one thing we were able to laugh about.
But first I'd like to step backward in time, Dom. I'm an MFA graduate from the Rochester Institute of Technology, which at the time, was a multi-universe of Schools from Fine and Applied arts to Photography, American Craft, Printing Technology, Engineering. It also housed the pioneering National Technical Institute for the Deaf. During my matriculation, RIT was centered in Downtown Rochester NY, which was experiencing awful civil strife. One of the first major civil rights race riots in the modern era happened there in '63. I was a freshman. You could say I inadvertently became part of an intense, cross-pollinated, educational, social and political experiment. I believe my witnessing of, and involvement in these events helped me to grapple with the effects of 9/11 in my work.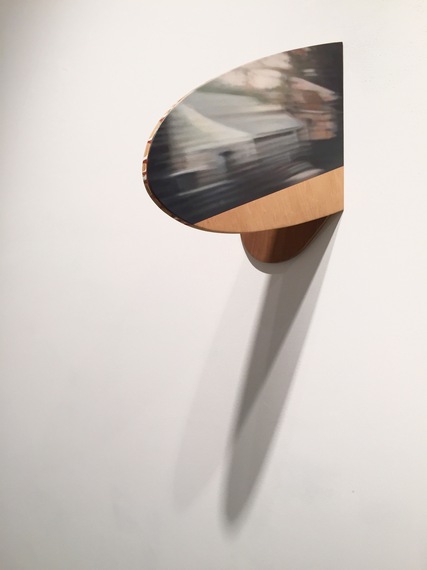 Antonio Petracca, Delaware River Route 17, Fast Glance (1999), oil on wood construction, 14 x 22 x 11 inches
DDL: The works you did the half decade or so before the 9/11 series had many locations: Italy, France, various locations here in the U.S.. These paintings were more like transient snapshots that recorded, at times, what was directly in front of you. With works like Delaware River Route 17, Fast Glance (1999), Doge's Palace (1996) or White Cloud Temple (1998) you reference the passages in the periphery. Add to this, the way in which you construct these works as extra-dimensional or angled surfaces with the occasional architectural element and you end up with a very compelling and challenging statement about perception. In a very tangible way, you are reorienting time and space away from the linear and bending it back on itself.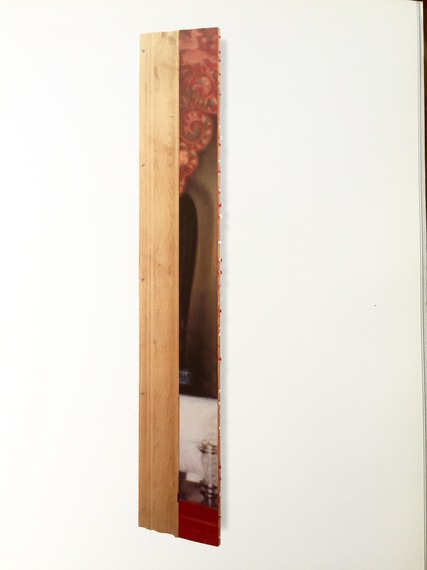 Antonio Petracca, White CLoud Temple (1998), wood molding, oil on canvas attached to wood and screws, 72 x 12 inches
AP: The late eighties and nineties were a fertile period for me. Einstein's theories, although I don't completely understand them, and travel, had a considerable influence on how I perceived the physical world. I had never been outside the U.S. except for Canada until I reached my middle thirties. Suddenly, my isolated environment mushroomed out to experience cultures and places totally foreign to me. I imagined emerging from a wormhole into a new contextual world full of wonder and mystery. These thoughts were literally, as you mentioned, folding back on me at breakneck speed. Befuddled and astonished, questions were quickly infiltrating my brain, pop, pop, pop. What is the Eiffel Tower, Stonehenge, Venice or the Forbidden City all about? Do these places or structures affect one's identity? How does time affect the relationship between a culture and its identification with these icons? Why does movement, altitude and distance affect recognition and or reverence for a particular object or place? It dawned on me that three-dimensional space, travel and time were always interconnected and that I could devise a framework to use these principles together in addressing my new found awareness of these complex issues.

This was not particularly new terrain but it was very new to me. I realized the success or failure of this work hinged on achieving a balance between perception and reality. But how was this to be achieved? My answer would have to occupy a space to work in - a middle ground between perceived perfection and overt incorrectness or sloppiness. I avoided the use of museum style artifice, perfect technique and text-based signifiers. The work should be volumetric and illusionistic.

Antonio Petracca, Doge's Palace (1996), oil on wood box construction, 40 x 4 x 4 inches
Although part of each piece was painted in a fuzzy representational manner, these were not paintings. For lack of a better term, I called them "constructions". Some were in the shape of chevrons, jutting out from the wall at tilted angles. Other works were comprised of diagonal, three-dimensional structures, seemingly javelined into the wall. Still others were elongated, slim rectangles that had more depth than width. Almost all of these works were constructed from found material discarded by apartment dwellers or businesses. I incorporated imperfections that were present in these collected materials and often "created" my own mistakes. It was my feeling that this approach would allow the viewer to enter the work without being encumbered by shiny, machine like perfection, a style often used by artists at the time for the purpose of misdirection.
DDL: After looking over the catalog for your exhibition Identity Theft, which was curated by Maria Cocchiarelli for the Italian American Museum in New York City, you point out in one answer to a question in Cocchiarelli's catalog essay "how stereotypes rob a culture of its uniqueness." A good portion of your art, especially after your pilgrimage to Pompeii in 2005, speaks volumes about the slings and arrows an Italian American is victim to - prejudices spawned by modern and contemporary 'entertainment' and popular culture that continually portrays Italian Americans as "playing gangsters and buffoons", as pointed out by Dr. Marianne Berardi's in her essay for the same exhibition. Can you talk a little bit about how you address these personal struggles in your work?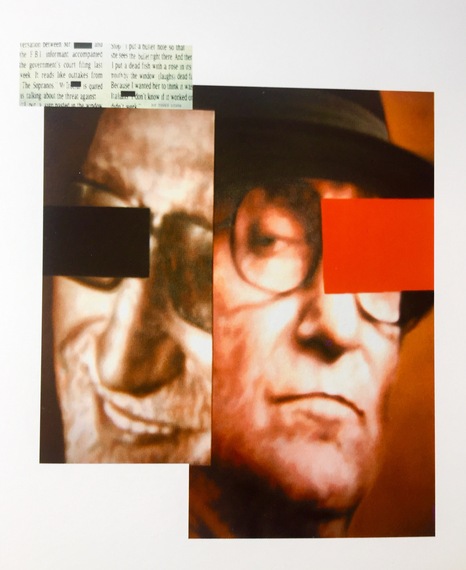 Antonio Petracca, Sopranono (2004), oil on canvas attached to three joined wood panels, 38 x 33 x 1.5 inches
AP: 9/11 re-sensitized me to bigotry and fear. I became a walking poster for America, wearing a bandana of the American Flag around my neck or forehead. I was deeply impressed by the way New Yorkers and the rest of the country came together to heal, rebuild and defend. My exhibition, Sunny and Clear was an outgrowth of my feelings at the time. But after a while I recognized how much of America started to turn on people of Muslim and Middle Eastern descent and at times attacking other groups like Asians of Indian descent. Long suppressed memories flooded back into my awareness.
I had flash backs of local authorities threatening to take the younger children away from my parents unless they wore more clothes on the hot days of summer in our own back yard. It's incredible when you think about how my father was looked at by other men he worked with because he was of Italian descent. In my teens, I too had problems in high school being harassed by other students. Negative slurs were thrown at me at me from time to time. My brothers, sisters and I couldn't put a face on it at the time but it deeply affected us later when we understood more fully why we were singled out.
My father was born in Palermo, Sicily. He came to the U. S. when he was four years old with his mother, brother and sister. He was dark and handsome, just like the stereotype. My family endured horrific hardships upon their arrival here, but most Sicilians had similar stories to tell. Additionally, I was born on June 6, 1945; not a good year if you were born into an Italian-American family.
My first visit to Italy was wonderful, but scary. These European Italians acted differently than the ones back home largely because they were totally comfortable in their own skin. It was intimidating at first. But after a few trips to Italy, I realized why the Italians were special. They were a people possessed of great invention, power and creativity. The Romans were the greatest power on earth for a thousand years, forever changing western civilization as we know it. After the fall of Rome many nations and peoples split the empire into a multitude of city-states that changed allegiance, or were conquered for over 600 yrs. The Italians knew and lived history more than most people ever had. They had become a people molded by many cultures and beliefs.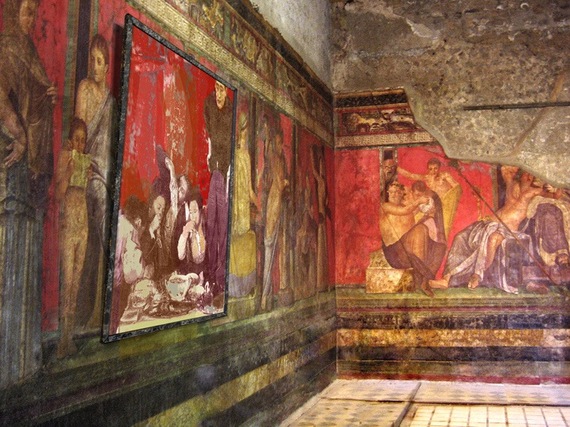 Antonio Petracca, Villa of the Mysteries (20060, oil on canvas affixed to plywood, 36 x 48 x 2 inches
When movies, literature and TV started regularly portraying Italian Americans as gangsters, grifters, bimbettes and spaghetti eating tribes ruled by overweight mothers, I was old enough to say; "Hey wait a minute, that's not us!".

And then there is the ancient city of Pompeii, buried by volcanic ash for almost two millennia. It hit me hard! Why hadn't I, and my fellow Italian-Americans know about the greatness of our ancestors? Why did I feel unconfident and uncomfortable in MY own skin?
The answer was so obvious. Bigotry, fear, pop culture, but most of all, U.S. immigration policies had robbed us of our heritage. America shut down its borders to Southern Europeans in 1924 to a slow trickle. Almost half of the Italian immigrants left the U.S. never to return.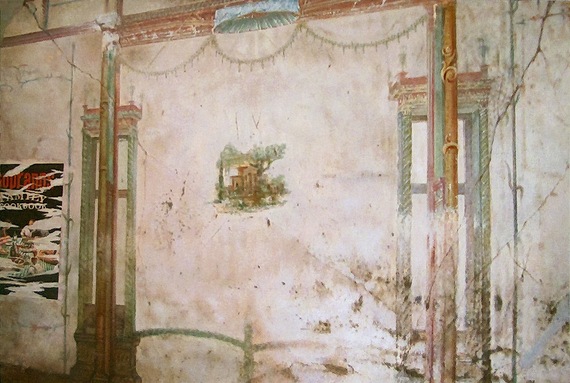 Antonio Petracca, Pompeii Mural Tagged (2008), oil on canvas affixed to wood, 34 x 44 x 1.5 inches
I know how to address these issues. It has to be accomplished by contrasting the stereotypes of Italian-Americans with the splendor of the ruins of Pompeii. Hence the work and the title: Identity Theft, a series that was the outgrowth of work I had exhibited previously at Kim Foster Gallery called Pompeii Tagged.
DDL: Thank you for your time Tony. I'm sure your words will touch many who have felt and experienced similar narrow-mindedness and bias regardless of their heritage.