I just found out that I missed a whole ton of my Facebook Inbox messages (one of which included a possible job offer)!
Here's the deal: ever since Facebook revamped their Messages, there's been a filter placed on your inbox. The one that comes up automatically when you press the Messages icon is your "Inbox" where you get messages from your friends. But it turns out there's an "Other" inbox.
This "Other" inbox is where messages from events and people who aren't your friends go. A good bit of it will be spam and stuff you're probably not interested in, but I found quite a few messages from people who were trying to connect with me one way or another.
So how do you find this "other" inbox?
• Click on the messages icon.

• Click on "see all" on the drop-down menu.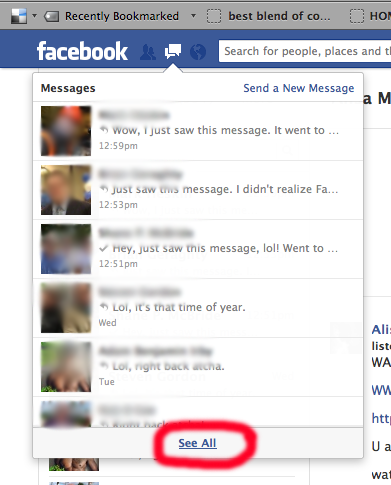 • On the messages screen, look in the top left corner, just below "Facebook." You'll see "Inbox" and just to the right of it you'll see "Other" in grey.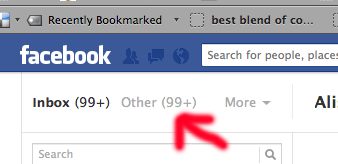 • Click "Other," and your lost messages will display.
As I said, it'll be mostly stuff you don't care about, but scroll through and look for actual names rather than group names or names of events. And remind yourself to check you "Other" box on a regular basis!
Need more Facebook tips? Click here to see how to put your mother on Limited Profile on Facebook.