Dale O'Dell was born in Dallas, Texas in 1959. He was given his first camera at the age of 13 and at that moment he knew what he wanted to do in life. As a teen, photography was the perfect blend of art and science and Dale immersed himself in the aesthetics and chemistry of the photographic process. In 1982 he received a BS in Photography from Sam Houston State University. After a series of irritating post-college jobs he realized, in the corporate world, he was unemployable and opened his own studio in 1986. During his early years, Dale became familiar with virtually every photographic process and used them all at one time or another. As one of the early adopters of digital technology, one of Dale's early digital images made history in 1983 when it became the first wholly computer-generated image published in advertising.
In 1994 Dale moved to the mountains of Central Arizona and shifted his concentration from commercial photography to fine-art. Since transitioning from analog photography to digital art Dale's artworks have been extensively exhibited and published world-wide. As of 2013 he has published twelve books. He is also an avid motorcyclist.
The title is "Path to Enlightenment." This is a photo-digital artwork which is displayed in the form of an Archival Pigment Print. By the term 'photo-digital artwork' I mean that this is a digitally-manipulated photograph -- manipulated so much that it is no longer what we'd recognize as a 'photograph.' I believe that 'digital art' is a new art-form brought about by the digital revolution. Because digital art is new and does not yet have a history, this work gets classified as 'photography.' But this is not a photograph; one cannot go there and see a scene like this. This is something new, something that exists as a result of technology, and it should be recognized as something different from photography or 'digital photography.'

I just turned 54 last week. My contemporaries tell me I'm now 'middle-aged' but I don't know anyone who's 108. My age and experience make me a 'mature artist,' whatever that means. As a relatively unknown artist, the galleries call me an 'emerging artist,' whatever that is. I do this full-time, I don't know how to do anything else. Creating this kind of Surreal Landscape imagery makes me happy. Happiness is one of my primary goals in life so I'm going to keep at it. I create art for myself but I realize there are other like-minded folk out there, so this is for them too.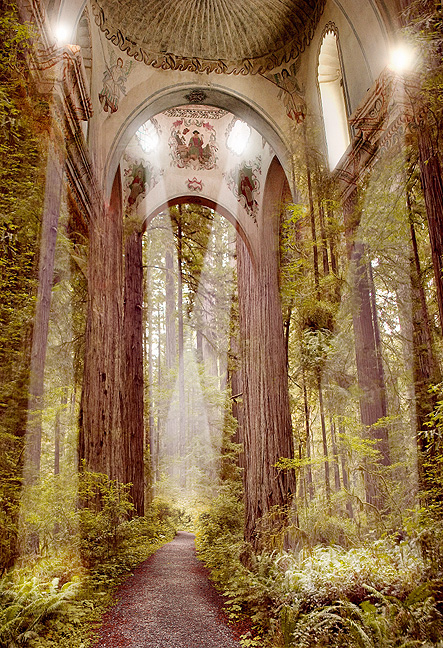 Path to Enlightenment