If you're a young person who hails from West Virginia, where so many people live below the poverty level the U.S. Census Bureau ranks it sixth in the nation, having goals -- or what hit recording artist Brad Paisley calls dreams -- is crucial.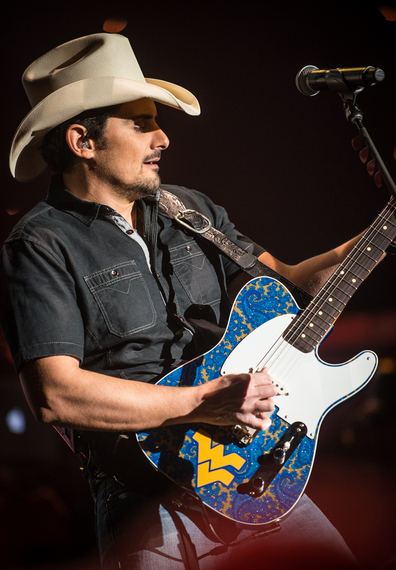 The West Virginia boy whose own dreams propelled him to superstar status kicked off the final leg of his "Country Nation World Tour" in Morgantown, W.Va., over the weekend. There, at a press conference, the Glen Dale native said, "dreams are very important things."
Paisley's dream consisted of two things: "to someday be a member of the (Grand Ole) Opry," he told reporters before he took the stage again Saturday night, "and to have a tour bus." Suffice to say that Paisley's dreams have been fulfilled. "This (life) is exactly -- it's way more than I expected -- but it's exactly what I was going to do," he said.
The key to making those dreams come true was imagination. "I could imagine it," he said. "If you can't imagine it, then you're not going to do it." While it might seem surprising now, back in his college days, Paisley lacked self-confidence. Still, he didn't let that drag him down. "Everybody can hopefully fantasize about success," he said. "You have to... see the goal."
To do that, it's important for today's young people to know themselves and their abilities. "I was never going to win the Nobel Prize for mathematics," Paisley said, using himself as an example, "because I had no ability."
He did, however, recognize his gifts early -- Paisley wrote his first song at age 12. Even with natural musical talent, he admits, "By no means was it easy. I had to work really hard to get better."
The credit for getting better goes to his home state. He says that "coming from a place where people are very supportive" really helped him. "That's one thing about West Virginia; it may not have it all, bu ... (our) communities are a very supportive place and we stick by our own," Paisley added.
He found that to be true when famous musicians mentored him, providing training at the Wheeling Jamboree. "I wouldn't be here without it," Paisley said. "If I was born somewhere else, I don't know necessarily what I'd be."
Paisley says successful people have two things in common. First, "they don't take no for an answer, no matter what. They . . . plow past the roadblocks." Second, they "capitalize on their strengths and make the most of what they're good at," Paisley added, encouraging today's youth to "find your gifts and then use them to do good things."