Though completely admirable that many food entrepreneurs are driven to "do good" by "doing well" (our own company included) - the product still needs to be delicious to sell. It's extremely challenging to achieve the balance between scrumptiousness and positive social impact (organic, fair trade, etc). And let's be honest -- many of these socially-minded products don't taste good.
One notable exception is Mavuno Harvest - a dried fruit company started by former Peace Corps Volunteer Phil Hughes. Not only does Mavuno Harvest positively contribute to the sustainable development of the Ugandan communities that make these snacks; but the fruits are also absolutely amazing. Phil has been a great mentor for us as we have similarly tried to create delicious products that contribute positively to our community. Here is an interview with him: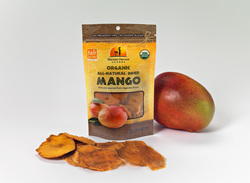 What initially led you start Mavuno Harvest? A desire to help the communities in Africa?


The original inspiration for Mavuno Harvest came from my days as a Peace Corps Volunteer in Kenya. I noticed that the seasonality of mangoes was odd: during harvest, the markets were flooded with the juicy, delicious fruits; otherwise, you couldn't even get a fresh mango for most of the year. The supply-demand curve was way off and so farmers weren't getting paid the full value for their crop.
My idea was for the farmers to dry, and thus 'process,' the excess fruits, they could extend the shelf life and sell mangoes all year round. They could actually realize the full economic benefit of their fruits. Same great product, same hard work, just with a twist.
I started this company because of the idea - but when I tasted the fruits, I was blown away. This is the best dried fruit I have ever tasted and I knew this would work.
In what ways have you been trying to help the communities in Africa?
I am trying to prove a new model for international sustainable development. Mavuno Harvest merely provides opportunity for the farmers by opening up a market for their dried fruits. Mavuno seeks to use the natural forces of market economics to directly contribute to the increased incomes of the farmers who grow our fruits.
Has it been successful?
The company is still very young, but we have already begun to increase the amount of farmers we source from. The more farmers we get involved, the more can benefit.
Have you faced any challenges trying to be both impactful as well as commercially viable?
Constantly. The biggest challenge is making sure the farmers are paid fairly and above market value, while also keeping my own costs low enough to be commercially viable on the shelf.
What are other companies that you think do a good job balancing delicious products with meaningful social impact?


Madecasse chocolate does an amazing job. They are also former Peace Corps volunteers (I'm biased) and have been enormous influences in helping me get Mavuno Harvest off the ground.

What are your plans for the future?
I would love to continue the theme of the brand - natural, organic, fair trade, delicious - to other products and other farmers throughout Africa and other underserved parts of the world.
What advice do you have for others who want to "do good" in the food industry?
The philosopher Peter Singer said,
"We make our lives most meaningful when we connect ourselves with some really important causes or issues and we contribute to them, so that we feel that - because we live, something has gone a little better than it would have otherwise. We've contributed in however small a way to making the world a better place. Its hard to find anything more meaningful than reducing the amount of pain and suffering theres been on this world, or making the world a little bit better for all of the beings who are sharing it with us."
There's lots of ways you can do good in this industry, and any industry for that matter. I think the most important thing is to be authentic. Do good because you want to do good, not to sell a product.