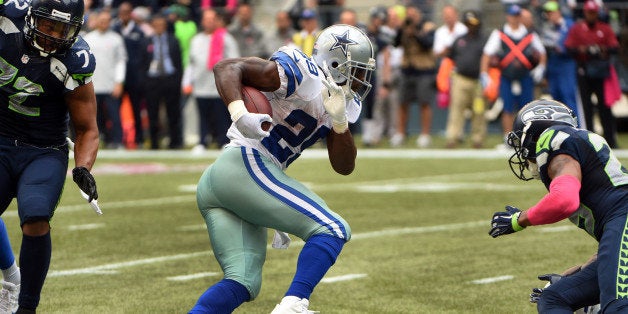 If someone told you before this NFL season began that Dallas Cowboys running back DeMarco Murray would be a serious MVP candidate almost halfway though the season, what would your response have been? Probably something like, "Yeah ok, and the Jaguars will represent the AFC in the Super Bowl." Well, maybe not that harsh... but you get the point. However, through Week 6, Murray has accomplished something that has only happened once in the long history of the NFL, and in the process, has established himself as the early frontrunner to win the prestigious and coveted NFL MVP award.
Murray has rushed for more than 100 yards in six consecutive games to start the season, joining Jim Brown, who did it in 1958, as the only two men in league history to accomplish that feat. The standout Cowboys back has rushed for 785 yards after six games, which is the most in team history through Week 6 and the seventh-most in NFL history, according to ESPN.
He currently has 243 more rushing yards than the next-best running back this season, Arian Foster.
Last game, facing a Seahawks defense that went into the game allowing just 62.3 rushing yards per game and 2.6 yards per carry (the best in the NFL), Murray rushed for 115 yards on 29 carries, and reduced the Legion of Boom to the Legion of Clouds or Legion of Bunnies or Legion of other fluffy, soft things.
To further explain his dominance, Murray has averaged 130.8 yards per game. Just one other running back (Arian Foster) averages over 100 yards per game, at 102.6. Also, Murray has picked up an incredible 41 first down on the ground, which is 15 more than any other running back in the league. That speaks of the Cowboys' reliance on Murray's rushing attack, especially in short-yardage situations, and shows how many new opportunities Murray opens through his physical style.
Because in large part of Murray's excellence on the ground, the Cowboys stand atop the NFC with a 5-1 record. As I wrote about Murray heading into Week 3, he has been someone that we should all rally upon, as we should collectively cheer for his happy story in a season that doesn't feature much positive news. Negative news even came out in Dallas this week, as fellow Cowboys running back Joseph Randle was arrested for shoplifting underwear and cologne from a department store.
The "Cowboys to win the NFC East" stock on Tradesports.com has shot up and is currently trading at 48 percent, up from just 11 percent in Week 1. As you can see on the graph below, confidence in "America's Team" has been steadily rising over the recent weeks. They're currently trading at 5 percent to win the Super Bowl.

While Murray has a career rushing average of 4.9 yards per carry, he has never played more than 14 games in a season, and holds career-highs of 217 carries and 1,121 rushing yards. If he stays healthy, he should absolutely trounce those last two numbers this season, and is on pace to rush for nearly 2,000 yards if he keeps his averages similar to where they currently stand.
Others who have had hot starts like Andrew Luck, Philip Rivers, J.J. Watt, and Peyton Manning can all have cases made for them that they deserve the MVP award this season. But, no other player has had the historic impact that Murray has had to start the year, and thus, he would deserve the award if the season ended right now.
Is this finally the season that the Cowboys can take a giant step in the right direction? If Murray continues to stay strong on the ground and continues to stay healthy, the 'Boys might find themselves at a place where they haven't been since 1995... the Super Bowl.
Are you a Murray supporter or Cowboys fan? Even if you hate the Cowboys, check out NFL contests now up for trading on Tradesports.com, where you buy and sell sports stocks in a daily virtual sports stock market setting! CLICK HERE to check it out!