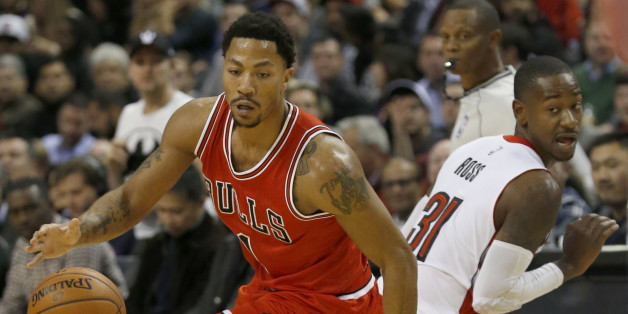 "I don't think it's that serious," said Derek Rose to reporters following Chicago's November 14 100-93 victory over the Toronto Raptors. Rose fell to the ground with just over two minutes remaining in the game, in obvious discomfort, as he allegedly pulled his hamstring... the most recent of his assortment of injuries. Missing 43 regular-season games in the 2011-2012 season, the entire 2012-2013 year, and 72 regular-season tilts last season, Rose has now been defined by the 6-letter word i-n-j-u-r-y, which has led Bulls fans to use a few four-letter words that I can't write here. You catch my drift.
This season, Rose has played in five of his team's nine games so far, having already missed games due to spraining both of his ankles (how do you even do that in the same game?). Now suffering this hamstring issue, Rose can be in line to miss more games. This raised the question: what is Rose worth right now?
I'd argue that he's not worth much. My reasoning is based on a few points.
1. His Salary Is Among The Highest In The NBA
Rose's contract eats approximately 30 percent of Chicago's salary cap. His five-year, $94,314,376 contract extension that began in 2012-2013 was so high and unprecedented that they named the type of deal after him. Last year, he made roughly $1.7 million per game played, due to his season-ending knee injury. He's making $18,862,876 this season. He's on the books for increasing sallies over the next two seasons as well. And oh yeah, he signed a 13-year, $185 million shoe deal with Adidas back in 2012. Think Adidas and the Bulls want those deals back? Might be hard selling shoes of a guy who's constantly in street clothes sitting out games. Might as well come out with a line of slippers or something comfortable for lounging.
2. He's Reckless On The Court
No one in the media has really touched on this point, but I think it's obviously apparent that Rose has to change his style of play if he wants to stay on the court. Coming off of multiple lower-body, and in particular, joint injuries, can someone rationally explain why he still tries to dribble to the rack, through defenders, and tries to draw contact to head to the free throw line? I understand that this is how he's played the game up until now, but such a physical style of play is not suitable for someone as injury-prone as Rose. Turning on a Bulls game, it seems as though Rose is getting up off the floor almost as much as he's running on it. Think of it the same way as mobile quarterbacks are taught to slide in football. The same deal applies here. He would be much more effective transforming himself into a mid-range shooter and facilitator, similar to Rajon Rondo.
3. He's Holding Up Progress Of The Franchise
Each year, the Bulls put together strong records. They have a very talented and smart head coach. But, they're burdened with Rose's salary, and also damaged by the false hope that he will stay on the court. His teammates, the fans, the media, everybody watches him play on pins and needles, knowing that in an instant, his season can be cut short, and the team will once again be let down. Enough is enough. On paper, the Bulls came into this season as one of the best teams in the NBA, based solely on Rose being back and healthy. He's already proven through the first nine games that he likely won't be able to stay on the court for the majority of the season. How much can a fan-base take of this?
4. He Really Doesn't Seem To Care
After last night's game, Rose actually had the audacity to smile and even chuckle a few times in his post-game interview session. (Whether or not these were sarcastic, are you kidding me?) Also, he recently admitted that when he sits out of games, he constantly thinks about life after basketball, which is as idiotic of a statement to make as you can imagine, catching the attention of TNT analyst Charles Barkley, who agrees with my sentiment on the matter. If you can remember a few years back, Rose famously didn't play in the NBA Playoffs, despite most people believing he could compete. This seems to be a case of a guy who got his money, got his endorsement deals, and is content with sitting back and watching his bank account rise, regardless of if or not he steps foot on the court. He's not a competitor, he's not a leader, and he's not someone who fans or his teammates and organization can trust. It's time for members of the media and fans alike to stop babying him.
Head over to Tradesports.com to play daily fantasy NBA contests. No lineups, no salary cap, just make predictions! Check out how it works.