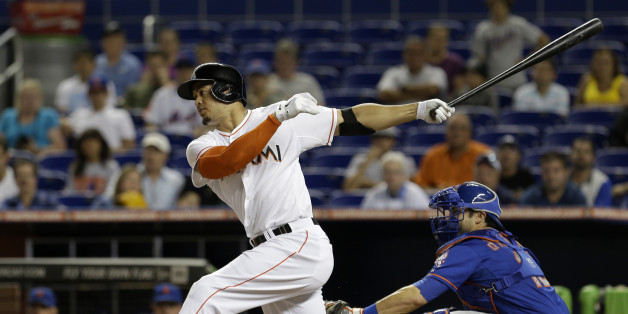 Sometimes MLB owners are forced to open the bank in order to save their franchise from certain doom. This is exactly what happened in Miami, as Marlins GM Dan Jennings and the team's hierarchy awarded slugger Giancarlo Stanton with the largest contract in MLB history, in both length (13 years) and total amount ($325 million). The deal was also the largest in North American sports history. But, it absolutely had to be done. Here's why...
1. Stanton is a power machine, but also hits for average.
Not only did he blast 37 home runs this past season, along with recording 105 RBIs, but he also hit .288 and had 155 hits on a season in which he missed 17 regular-season games. A career .271 hitter, he has never hit below .249 in a single season in his career, and even hit .290 back in 2012. For much of the 2014 season, his average stood above .300. At 25-years-old, Stanton already has 154 career home runs and his ability to hit for average makes him perhaps the most lethal threat out of the three-hole in the entire MLB.
2. MVP voters realize his worth.
Stanton finished second in NL MVP voting this season, logging 298 points off of BBWAA ballots, compared to Clayton Kershaw's winning total of 355. Despite playing for a non-playoff-bound team in Miami, the voters were unable to ignore Stanton's standout season in which he reinforced his status as the best power hitter in baseball. He finished ahead of 2013 MVP Andrew McCutchen. Stanton should be a perennial NL MVP candidate, especially entering the presumed prime that his late 20's will bring.
3. He is the face of the entire Marlins franchise.
Is $325 million the price to pay for the face of a franchise? To the Marlins, it might be. Losing him to free agency would have been the equivalent of McCutchen leaving the Pirates or Buster Posey leaving the Giants. To guarantee your fanbase the ability to come watch Stanton smack the ball around next 13 years was clearly worth that amount to the Marlins, despite being a traditionally low-payroll team. Yes, he will take up a large percentage of his team's overall salary for the duration of his contract, but with young players locked into multi-year contracts already, it was a deal that could be done without any serious immediate repercussions.
4. Miami is a young, up-and-coming organization.
After finishing 69-93 in 2012, the Marlins took a step back (likely due an injury Stanton suffered) in the 2013 season, going just 62-100. However, with a healthy Stanton and a squad that included veteran Casey McGehee (.287/4/76) and a few youngsters like outfielder Christian Yelich (.284/9/54), shortstop Adeiny Hechavarria (.276/1/34), and center fielder Marcell Ozuna (.269/23/85), the team finished at 77-85 this year. More hitting prospects should be on the way to the Big League club in coming years as well.
Pitching-wise, the Marlins should be very optimistic. Jose Fernandez, who missed the rest of the 2014 season after just eight starts due to Tommy John surgery, will be leading a surprisingly talented group of starting pitchers this upcoming season, assuming that he will be ready to pitch following his recovery time. Joining Fernandez will be Henderson Alvarez, who has electric stuff, evidenced by his 2.65 ERA to go along with his 12-7 record in 2014. Jarred Cosart, acquired in a trade with the Houston Astros, dominated in his 10 starts with the Marlins, posting a 2.39 ERA in 64.0 innings pitched. A former top prospect in Houston, if Cosart can hone his skills properly, he can become this team's number two starter. Tom Koehler (10-10, 3.81) also had a solid year, as the team only needs to look for a fifth starter, who might be on their roster in either Nathan Eovaldi, Brad Hand, or most-likely top prospect Andrew Heaney.
While Stanton's signing shocked everyone in the baseball community, it had to be done. Russell Martin, an average 31-year-old catcher, just landed a five-year, $82 million deal with the Blue Jays. That gives you a sense of the financial environment in the MLB right now. Without Stanton, his team would have to begin yet another rebuilding process... a process that is all-too familiar to Miami fans.
All I know is, if my wife and I ever have a son, I'm giving him a bat and a ball right in the delivery room so he can make hundreds of millions of dollars for himself playing baseball someday!
Head over to Tradesports.com to play a whole new type of daily fantasy sports. Check it out!