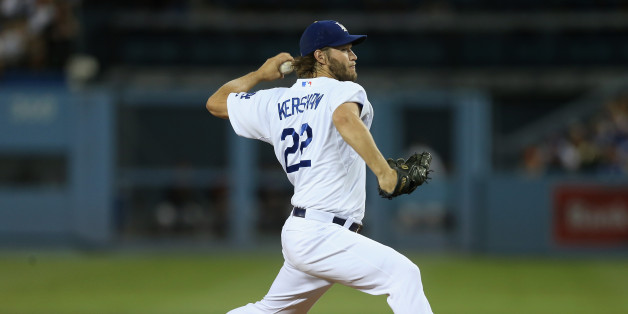 Clayton Kershaw is a human, and like any human, can make mistakes.
Try telling that to the San Francisco Giants.
In 25 starts against the Giants in his career, he is 14-5 with a 1.43 ERA. In 189.0 innings pitched against the club, he has struck out 191 batters and given up just 124 hits and 34 walks. That dominance includes last night's gem, in which he pitched 8.0 innings, giving up just one earned run while striking out 11 batters, clinching an emotional NL West victory for his Dodgers against the rival San Fran, thus propelling the Dodgers into the playoffs.
After allowing an early run on a fielder's choice early on, trailing 1-0, Kershaw knocked in an RBI single of his own in the bottom of the 5th inning, tying the score at 1-1. After shutting the visitor's down in the top half of the 6th, the Dodgers scored 4, giving Kershaw all the support he needed.
Wrapping up the 2014 regular season, only one conclusion can possibly be made: the dude simply isn't human.
Just check out these numbers for a second. In 27 starts this year (remember, he missed a month due to injury at the beginning of the season), he has gone 21-3, throwing six complete-games and two shutouts in those starts. In 198.1 innings pitched, he has punched out 239 hitters, while allowing just 31 walks and 140 hits. That translates to a preposterous 0.86 WHIP. His ERA is a minuscule 1.77, as he has given up just 39 earned runs all season.
Here's where it gets really crazy, though. If you erase his early-season start in which he gave up seven earned runs over 1.2 innings to the Diamondbacks, his ERA would be 1.46.
Kershaw leads the entire MLB in ERA, wins, WHIP, strikeouts per nine innings, complete games, and winning percentage, while also placing in the top-5 in strikeouts, average allowed, strikeouts per walk ratio, and hits per nine innings. He picked up wins in each of his last seven starts.
Where does his season stack up in the history books? His ERA ranks 177th-best all-time, and has been the best ERA since Pedro Martinez's 1.74 in 2000. The next-best on the list in recent memory? That'd be Clayton Kershaw... last season.
Performing with a combination of elegance and supreme ability, Kershaw's deceptive delivery (which he replicates on every one of his pitches) has led him to become the most consistently-dominant pitcher since the days of Pedro Martinez and Roger Clemens. Anytime anyone is mentioned in the same breath of those two guys, you know they're doing alright for themselves!
Kershaw is also adding to his legacy with every quality start. At just 26 years old, the lefty will presumably have his third Cy Young Award win, fourth ERA title, possibly his first MVP award, and if the Dodgers win the World Series, his first ring.
Heading into the playoffs, the Dodgers have the best rotation out of all postseason clubs, with Kershaw leading the way, followed by Zack Greinke (16-8, 2.74 ERA) and Hyun-jin Ryu (14-7, 3.38).
The way Kershaw has pitched this season, you might as well chalk up any of his starts as wins.
Barring injury, it is my belief that Kershaw will be considered as the top left-handed pitcher in the history of the game at the end of his career, especially if he racks up five, six, or seven Cy Young Awards, which he is certainly capable of doing.
Think Kershaw will lead Los Angeles to a World Series win? Trade all MLB playoff games like stocks on Tradesports.com! CLICK HERE to create an account!