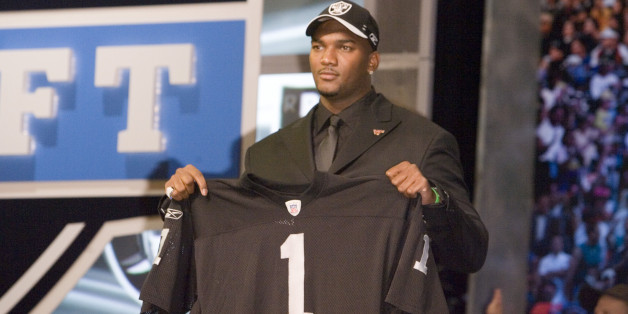 Prior to this year's NCAA Men's Basketball Tournament, college basketball fans -- and sports fans alike -- became enamored with a proposition by billionaire Warren Buffett. The challenge: select a perfect bracket, and receive a life-changing one billion dollars. The odds of anyone pulling off this feat were projected as a one-in-9.2-quintillion chance. Out of over 15 million participants on the Quicken Loans Challenge powered by Yahoo! Sports, no one who entered the contest even got past the Round of 64 with a perfect bracket.
While selecting all 63 games of the NCAA tournament is certainly a daunting, nearly-impossible task, correctly projecting the NFL draft is also quite the undertaking. Leading up to the day of the draft, each team is analyzed by the media based on positional and overall scheme needs. Yet, teams sometimes choose the best player available and make adjustments afterwards, making picks that are shocking to experts who devote their career to analyzing the NFL.
Projecting NFL talent is a similarly formidable undertaking. Every draft has big winners and big losers, usually determined a few years after the draft takes place, when the players have enough of a body of work to be scrutinized or praised.
Draft busts like Ryan Leaf and JaMarcus Russell haunted their respective teams during their short careers despite creating a great deal of hype prior to their particular NFL Draft days. Leaf went No. 2 overall, right behind Peyton Manning in the 1998 draft and was almost famously selected before him. Playing in just 25 games in four seasons, three with the San Diego Chargers and one with the Dallas Cowboys, Leaf combined for 14 touchdowns and 36 interceptions. Manning, selected one spot ahead of him, threw half of Leak's NFL career touchdowns against the Baltimore Ravens in Week 1 of the 2013 season, in which he torched a veteran defense for a career-high seven touchdown passes. In his career, he has thrown for 491 touchdowns, 219 interceptions and 64,964 yards.
Russell, who at 6'6" famously had the freakish ability to throw the ball 70 yards from his knees, created a great deal of buzz before getting selected No. 1 overall in the 2007 draft to the Oakland Raiders. He was selected before Calvin Johnson, Adrian Peterson and Joe Thomas, who have been dominant from their rookie seasons and are most likely on their way to the Hall of Fame someday. Russell played in 31 games over his three seasons in the league, all with the Raiders, and compiled just 18 touchdown passes to 23 interceptions. In 2009, his final season in the league, he completed just 48.8 percent of his passes, throwing three touchdowns and 11 interceptions in 12 games, averaging just over 100 yards per game.
On the other hand, players like wide receiver Donald Driver, a seventh-round pick in 1999; running back Terrell Davis, a sixth-round pick in 1995; offensive tackle Rayfield Wright, a sixth-round pick in 1967; and Richard Dent, an eighth-round pick in 1983; made their mark on the league, delivering many seasons of consistently-dominant football. There was safety Ken Houston, a ninth-round pick in 1969, who was selected to 12 Pro Bowls, and Shannon Sharpe, a seventh-round pick in 1990, who is regarded as one of the best, if not the best, tight ends in NFL history.
Most notably, Tom Brady, superstar quarterback of the New England Patriots, was a sixth-round selection in the 2000 draft. Three Super Bowl rings, an MVP award, and a sure-fire spot in the Hall of Fame later, Brady proves that projecting talent and ability is no easy task.
The quarterbacks selected before Brady in the 2000 draft: Chad Pennington, Giovanni Carmazzi, Chris Redman, Tee Martin, Marc Bulger and Spergon Wynn. Get the picture?
In today's day and age, with unprecedented access to watch collegiate football games, the NFL Combine, pro days and highlight analysis, draft experts and diehard NFL fans alike have the ability to craft mock drafts -- that is, who they think will be selected when and to whom in the draft.
There is arguably no one more respected and experienced as a NFL draft expert than Mel Kiper Jr. Even with his expert analysis, the odds of predicting a perfect first round of the NFL draft are slim-to-none, and projecting NFL talent isn't as easy as it may seem-- even for someone who devotes his whole life to it.
Mel Kiper Jr., Draft Expert
Mel Kiper Jr. is known for giving impassioned accounts on NFL prospects during ESPN's NFL draft coverage. Despite comedian Frank Caliendo famously poking fun at Kiper when he released a knee-tapping parody of Kiper's appearances on SportsCenter, everyone in the sports industry respects Kiper for who he is -- a NFL draft guru.
Enamored in the NFL draft process since childhood, in 1981, Kiper founded Draft Publications, Inc., which is now called Mel Kiper Enterprises, Inc. Since 1984, he has provided analysis to ESPN and frequently contributes to programs like SportsCenter and NFL Live. Each year, he releases a draft guide, filled with analysis and details of each player who is draft-eligible.
Kiper claims on his website to have accurately predicted 80 percent of first-round selections.
You can see his expertise for yourself in this clip:
While this 80 percent is certainly impressive, it doesn't take into account accurately predicting a perfect pick in his mock draft -- meaning pick number, player and team. As Kiper's mock drafts show, correctly predicting exact picks is a extremely difficult process.
Case Study: 2010 Draft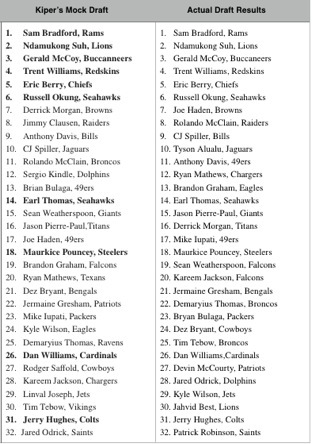 Kiper's picks, on the left, are compared to the actual picks, on the right. As you can tell by the bolded players, Kiper predicted 10 out of 32 selections perfectly. If you look closer, you'll notice that he was six-for-six to start the draft. But, then what happened?
Derrick Morgan, who Kiper had going at No. 7 to the Browns, fell to No. 16, getting picked up by the Titans. Jimmy Clausen, who he had going No. 8, fell all the way to No. 48. Joe Haden was projected at No. 17, but was selected at No. 7. Brian Bulaga was projected at No. 13, but fell to No. 23. Ryan Matthews was projected at No. 20, but was picked up before at No. 12.
But he was only off by a one spot when he projected CJ Spiller to go No. 10 (he went No. 9), Jason Pierre-Paul to go No. 16 (he went No. 15), and Jermaine Gresham to go No. 22 (he went No. 21).
Kiper was two spots off projecting Anthony Davis to go at No. 9 (he went No. 11) and three spots off when projecting Rolando McClain to go at No. 11 (he went No. 8), Dez Bryant at No. 21 (he went No. 24), and Demaryius Thomas at No. 25 (he went No. 22).
Therefore, Kiper was within three spots or better on 17 out of 32 picks. Undoubtedly an NFL draft guru, why didn't he get more correct or closer to correct? Is he expected to? In his final mock draft, he proved to be an average of 5.72 picks away from the actual pick in the 2010 draft.
During the four drafts between 2010 and 2013, Kiper has correctly projected 28 out of 128 total picks in the First Round. That translates to 21.8 percent. However, there were some trends in his perfect predictions.
He was right on 21 of 40 picks in the top 10, or 52.5 percent. He was especially dominant in the top five, where he accurately predicted 16 out of 20 picks, good for 80 percent. He was also four-of-four on No. 1 picks.
However, there was certainly a drop off after 10. Kiper correctly predicted 7.9 percent of picks falling between No. 11 and No. 32, going just seven for 88. From No. 11 to No. 20, he went five of 40 (or 12.5 percent), and from No. 21 to No. 32, he went three of 48.
After the top 10, is it fair to hold Kiper to his picks? One might argue either way. For example, Earl Thomas went No. 14 to the Seattle Seahawks. Kiper accurately predicted the selection, pairing the team's need for a productive safety with the ball-hawking skills of the former Texas Longhorn. For a team with a glaring need in a non-glamour position, as in the Pittsburgh Steelers selecting center Maurkice Pouncey with the No. 18 pick, a draft selection, even after the top 10, the pick may be obvious.
But, how much can a trade affect the rest of the draft? CJ Spiller going at No. 9 to the Buffalo Bills (projected at No. 10 by Kiper) might have led the Chargers to trade up to No. 12 to prematurely, in Kiper's eyes, take Ryan Mathews with the No. 12 pick, which then could have, in turn, altered the draft strategy of every other team, not only in the first round, but throughout the entire draft.
These numbers show just how difficult it is to accurately project the NFL draft -- even if you have an expert sense of what players are first round talents, a topic in which Kiper is an undisputed guru on. Similar to the NCAA tournament odds, the consensus highest rated players will go early in the first round. But, as we have seen, a number of "upsets," if you will, have taken place in the first round, which make the draft almost impossible to predict accurately.
Is It Possible to Predict the Impossible?
A variety of factors can completely change the landscape of the entire draft.
Teams trading up or trading down picks can therefore create new situations and force teams to alter their strategy. As previously mentioned, the Chargers traded up to No. 12 in the 2010 draft to select Ryan Mathews, who was projected at No. 20 to the Houston Texans in Kiper's final mock draft. Described as a feature back who the Texans could trust to be physical, hold on to the ball, and run between the tackles, Mathews was on the radar of the Chargers, who selected him earlier than most people thought, therefore quite possibly changing the landscape of the rest of the draft. Once again, one pick can change everything.
Different teams have different philosophies: some go with the best overall player on the board, and some fill positional or scheme needs. Kiper addressed this in his mock draft analysis of CJ Spiller, who ended up going a pick before he projected, at No. 9 to the Buffalo Bills. Projecting him to go to the Jacksonville Jaguars, Kiper writes on ESPN Insider:
I don't think Spiller represents the greatest need for the Jags. However, since the Jags have tried to upgrade at defensive end via free agency, Spiller offers the most explosive talent for an offense that needs it.
Maurice Jones-Drew, a talented Pro-Bowl type player, was on the Jags roster at the time, but Kiper thought the team would go for explosiveness over a positional need. Jones-Drew played in all 16 games in 2009, rushing for 1,391 yards to go with 15 rushing touchdowns. Why would they draft another running back, especially in the first round? It comes down to how each team handles "needs" versus "wants," and specifically how difficult it is for fans and NFL experts to discern when and where teams should and could follow each path.
Left tackle Russell Okung, who was correctly slotted at No. 6 to the Seattle Seahawks, was a very easy pick for Kiper to make, noting that, "Okung gains value because he should be able to take over the position immediately. An easy pick for the Hawks." Easy indeed, but unfortunately for those who try to predict the draft, not all organizations have the same way of thinking about prospects and approaching situations the same way.
If the Jags reached for a "want," they would have selected Spiller, and added him to Maurice Jones Drew's already efficient running attack to create an explosive offensive threat. Instead, the Bills selected him, because they had a "need," similar to the "need" the Seahawks had for Russell Okung to take over for longtime left tackle Walter Jones. The Jags went with Tyson Alualu, a defensive end who Kiper didn't even have projected to go in the first round.
But at what point does the best overall player need to be taken?
Ndamukong Suh was selected by the Detroit Lions, despite the team making strides to upgrade along their defensive line prior to the draft. They decided to go with Suh, the most dominant college player on the board, and what Kiper called the "obvious choice."
Kiper might shutter at his pre-draft proclamation that Suh has the "character the franchise needs to build around." Arguably the dirtiest player in the NFL, Suh has been fined and suspended multiple times by the league office, including losing an appeal on an NFL-record $100,000 fine. Most notably, he stomped on the arm of Green Bay Packers guard Evan Dietrich-Smith on a nationally-televised Thanksgiving Day game. Kiper's early analysis of Suh is related directly to what part two of this installment brings up.
In the second installment of Tradesports Insider's NFL Draft Series, you will be able to decide for yourself if it's just as difficult to predict how college talent translates to NFL talent as it is to accurately predict the NFL draft results.
*(Source: ESPN Insider)
Tradesports.com is the first and only fantasy sports experience where sports fans can play in real-time for real money. Follow @TradesportsUS