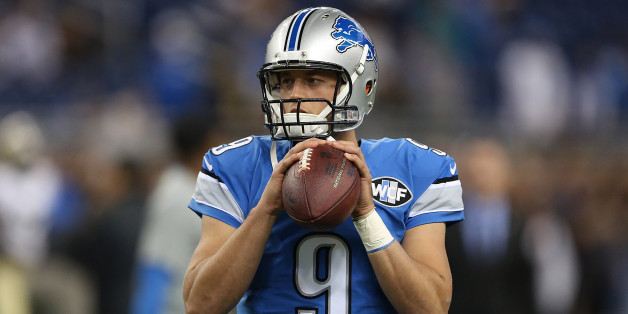 Lousy. Pathetic. Boring. Typical. These are adjectives that can be used to describe the Detroit Lions in recent years. After making the playoffs for the first time since 1999 in 2011, they regressed over the past two seasons, going 4-12 in 2012 and 7-9 last year. These teams did feature high-flying offenses, but were plagued with inconsistency, injuries, and struck fear in the hearts of, well, no one.
Balanced. Efficient. Defensive-minded. Composed. These are adjectives that can be used to describe this year's 5-2 Lions squad, who are tied for first place in the NFC North and are one-game behind the Cowboys for the best record in the NFC (and NFL). Why the change? It comes down to three areas, and these three areas are going to lead the Lions into contention and to picking up at least their first postseason victory since 1991.
Coaching
Simply put, the Lions have had some pretty ineffective coaches in their storied history. In fact, a coach has not finished their tenure in Detroit with a record above .500 since Joe Schmidt went 43-34 between 1967 and 1972. Recently, Jim Schwartz went 29-51 between 2009 and 2013 and Rod Marinelli went 10-38 between 2006 and 2008. Yikes.
In the offseason, Schwartz was fired and the team brought in Jim Caldwell, who led the Peyton Manning-led Indianapolis Colts to a Super Bowl back in 2009 and a lifetime NFL head coaching record of 31-24, including an awful 2-14 season when Manning was out with a serious neck injury. His two playoff wins come as a welcomed addition, as the Lions have never had a head coach win more than three playoff games while at the helm of the team.
Caldwell, who was a four-year starting defensive back at the University of Iowa, has brought a defensive culture over to a team who seemingly played on just the other side of the ball in recent years. That leads into my next area to discuss.
Defense
The Lions have the best defense in the entire NFL. Giving up just 290.3 total yards per game (216.9 passing, 73.4 rushing), Caldwell's defensive mindset has transformed his club's defense into a complete powerhouse. Last year, they gave up 346.6 total yards per game, nearly 60 yards more than this season.
Even after losing leader Stephen Tulloch to season-ending injury, who had 135 tackles, 3.5 sacks, and an interception last year, the defense never took a step back from producing at an elite level each week. DeAndre Levy has stepped in as the defensive leader, and currently leads the team with 68 tackles. Free safety Glover Quin already has three interceptions, and Ndamukong Suh continues to be a beast on the inside.
Most of all, this is a unit that works together, they're a bunch of fighters, and they have made stopping their opponents an absolute priority.
Acquisition of Golden Tate
When the Lions signed free agent wide receiver Golden Tate to a five-year, $31 million ($13 guaranteed) deal in the offseason, they must have never imagined that they'd be signing a Pro Bowler at a major discount. Words cannot accurately describe what Tate has meant to Detroit this season, especially since superstar Calvin "Megatron" Johnson has been hampered with an ankle injury as of late.
For years, the team had been looking to give Johnson a co-star, a "Robin" to his "Batman," if you will. They hit the lottery with this signing. Through seven games, Tate has caught 48 passes on 66 targets for 649 yards and two touchdowns. He ranks fourth in the NFL in receptions, sixth in targets, and sixth in receiving yards. Hitting it off well with quarterback Matthew Stafford, Tate has been the saving grace of this team's passing attack.
When Johnson comes back, assuming he is fully healthy, this duo will be one of, if not the, best duos in the entire league... and Stafford will be a very happy man. Most of all, unlike in past years, the tandem will strike fear in the hearts of the opponents, on both sides of the ball. Watch out for the Lions this year... they are for real!
The time is now for this team to take their franchise to the next level. Let's see if they can.
Head over to Tradesports.com to join daily fantasy fantasy sports contests where you can truly support your favorite teams and players! The Lions take on the Falcons in London at 9:30am ET on Sunday.