Breaking: As Colombian President Alvaro Uribe arrives in Washington D.C. on September 19, his government continues to sink amidst the weight of the "para-political scandal" which has exposed his government's links to right-wing death squads -- death squads which have claimed thousands of civilian lives in that country. The latest revelation, as reported by Juan Forero today (Sep. 17) in the Washington Post , links top Colombian General Mario Montoya to these same death squads. In addition, Congressman George Miller sent a strongly-worded letter to President Uribe on September 12, 2008, in which he expressed his deep concern about the continued killing of trade unionists in Colombia and the failure of the Uribe goverment to investigate and prosecute these crime. See full story below.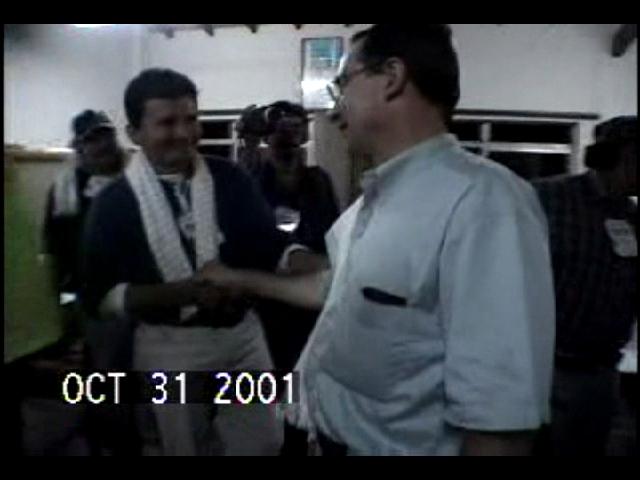 Alvaro Uribe, during his 2001 campaign for President, shaking hands with AUC death squad leader, "Comandante Esteban," shortly after Esteban led the AUC's bloody take-over of Barrancabermeja and had declared union leaders in Barancabermeja military targets.
________________________________________________________________________
As Juan Forero relates in a Washington Post story today, Colombian General "Montoya has for years been a trusted caretaker of the sizeable aid package Washington provides Colombia's army, leading helicopter-and-commando teams that eradicated drug crops and helping orchestrate this summer's dramatic rescure of Ingrid Betancourt and three captured defense contractors from Marxist rebels." Now, however, "a former paramilitary fighter [Luis Palacio] has said in special judicial proceedings that Montoya, who heads Colombia's army, collaborated with death squads that took control of this city's [Medillin's] poor neighborhoods from the guerillas a few years ago." Palacio further testified that "Montoya funneled weapons to a potent paramilitary militia commanded in this important important northern city by Carlos Mauricio Garcia, better known by his alias, Rodrigo 00." Ironically, Medillin has been the "model city" to which Uribe has been escorting U.S. Congressional leaders over the past two years in dog-and-pony shows aimed at gaining passage of the Colombian Free Trade Agreement (FTA).
Speaking in surprisingly blunt terms for the Washington Post, Forero wrote that, this testimony, "along with that of at least four paramilitary commanders, is illuminating the links between Colombia's potent, U.S.-backed military and its brutal paramilitary proxies." As Forero notes, this "para-political scandal" has "already implicated numerous allies of the president, including dozens of lawmakers [approximately 60] and the former head of the secret police."
The "former head of the secret police" to which Forero is referring to here is Jorge Noguera, the former head of the Colombian DAS (the analogue of the FBI) who has been credibly accused of passing a hit list with the names of 23 trade unionists to the paramilitaries. This list designated these unionists for assassination. This has been a particularly embarassing scandal for the Uribe Administration, as the DAS, under Noguera, was actually tasked to protect trade unionists from paramilitary attacks and received money from the U.S. government for this very purpose.
While the Colombian government sent a delegation to Capitol Hill in the spring of 2007 to make presentations designed to convince U.S. lawmakers that these claims against Noguera were false (a presentation I was privy to at the Colombian Embassy in D.C.), the Miami Herald's Gerardo Reyes later revealed documents showing that Colombia's own Fiscalia had concluded that these allegations were in fact true and that Noguera had passed this hit list to the paramilitaries.
The Noguera case has reared its head again by Congressman George Miller, Chairman of the House Committee on Education & Labor. In a September 12, 2008 letter from Congressman Miller to President Uribe, Miller noted that "Noguera is accused of compiling lists of union leaders under government protection then giving those lists to the paramilitaries so the union leaders could be targeted for death. Several of those very union leaders were reportedly threatened or killed. If the Colombian Attorney General eventually proves this allegation in court, the Noguera case will constitute perhaps the most dramatic of several examples of direct Colombian government participation in anti-labor violence and killings." Yet, as Congressman Miller laments to Uribe in this letter, Noguera was inexplicably freed from prison in June of 2008 "and he currently remains at large." Indeed, this is the second time Mr. Noguera was released from prison notwithstanding these seroius outstanding charges. Congressman Miller states, "I understand that the Attorney General is now preparing to re-file his case."
Meanwhile, trade unionists continue to be murdered in Colombia at an alarming rate. In the first 8 months of this year, 41 trade unionists have been killed in Colombia -- more than in all of 2007 -- earning Colombia the title of "the most dangerous country in the world for trade unionists" many years running. In his September 12, 2008 letter to President Uribe, Congressman Miller noted this spike in union killings, stating that, "[e]ven according to the statistics kept by the Goverment of Colombia, 2008 has already been a more violent year than 2007 in terms of labor-homicides. During the first 8 months of this year, the assassins have made more threats, caused more bloodshed, and taken more lives of labor leaders than they did in all twelve months of last year."
Congressman Miller further expressed his grave concern about the Colombian government's continued failure to investigate and prosecute the "overwhelming majority" of the 2700 union killings which have taken place in Colombia since 1986. As Miller opined, "[a]t the current and disappointing rate of investigations and indictments, it would take the Attorney General's Office several decades to get through the entire backlog" of union murder cases.
Finally, Congressman Miller expressed concern about a particularly egregious case of trade union assassination. To wit, Congressman Miller expressed alarm that the Colombian government has failed to investigate the possible complicity of the Nestle Corporation in the murder of union leader Luciano Enrique Romero Molina, a unionist who was tortured and murdered by paramilitaries just weeks before he was scheduled to give testimony in Switzerland about labor conditions in Nestle's Colombian factory. Congressman Miller noted that well-respected Judge Jose Nirio Sanchez, in a 110-page legal ruling which followed a thorough investigation and hearing, had ordered an investigation into Nestle's complicity with this crime. Instead of such an investigation taking place, however, Judge Sanchez was dismissed by the Uribe government which has yet to comply with the order to investigate Nestle.
In short, as President Uribe heads to Washington to be hosted by President Bush, he has a lot to answer for. President Uribe continues to preside over the worst human and labor rights nightmare in our Hemisphere even as his military continues to receive more assistance by far than any other in the region. It is time for his free pass from the U.S. government to be revoked.