Workers Uniting, the world's first global union representing 3.5 million workers in North America, the UK and Ireland, has just issued the following statement on the coup in Honduras.
Workers Uniting stands in solidarity with our fellow unions in Honduras - including the Unitary Central of Honduran Workers (CUTH), the Confederation of Honduran Workers (CTH) and the General Workers Central (CGT) -- as well as with the Trade Union Confederation of the Americas (TUCA), in condemning the military coup that resulted in the illegal ousting of democratically-elected President Manuel Zelaya. President Zelaya was working to free his country from decades of hunger and poverty until he was abruptly thwarted in these efforts by the Honduran military.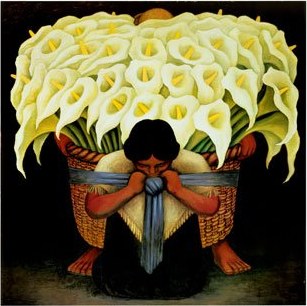 Diego Rivera, "Vendedor de alcatraces"

This military coup is an illegal attempt to use armed force to overturn the course of democracy and social progress chosen by the Honduran people at the polls, and we call upon the nations of the world, and especially the U.S., the UK, Canada and Ireland, to officially declare the seizure of power by the military in Honduras a "military coup" and to act accordingly. In the case of the U.S., this means withholding all military assistance unless and until President Zelaya is returned to power.
Meanwhile, the military and coup conspirators are trying, through violence and arrests, to suppress popular demonstrations by unions and other social groups; are illegally shutting down critical news outlets; are establishing a blanket military presence and setting illegal curfews. We condemn these acts as well, and call upon the Honduran military to respect the human rights of all, including those demonstrating for a peaceful return to civilian and constitutional rule.
We join the OAS and UN in condemning the military seizure of power in Honduras as a giant step backward for the Western Hemisphere, and an act which simply cannot be tolerated. We therefore call upon our respective governments to take all peaceful, diplomatic measures to ensure the immediate and unconditional return of President Zelaya to his rightful place as President of Honduras.
We further support the efforts of the OAS, UN and other Latin American leaders to accompany President Zelaya back to Honduras on Thursday, July 2, 2009, and call upon others to join them in this effort.