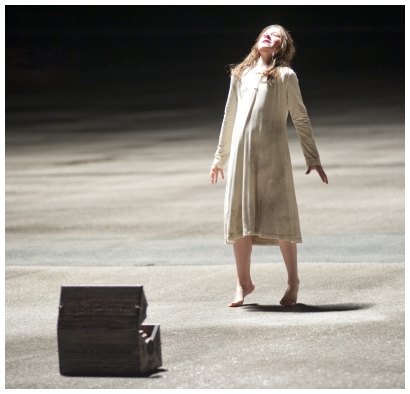 You were at the beach. You were visiting relatives. You had friends over for one, last barbecue. You were scrubbing down the altar for the midnight sacrifice to the Great Old Ones (special for Providence only). Whatever you were doing, it was something you felt was more important than being in the theater this past Labor Day weekend.
And why not? While nowhere near a transcendent filmgoing experience, director Ole Bornedal's dip into The Exorcist well, The Possession, mustered up enough atmosphere, dramatic tension, and credible performances -- including Jeffrey Dean Morgan and Kyra Sedgwick as divorced parents trying to cope with a young daughter infested with an evil demon -- to merit it more attention than is usually given to films shoveled into the traditional Labor Day dumping bin. Cinefantastique Online's Steve Biodrowski and I take a few minutes to explore the film's assorted pleasures and discuss the elements that made it a candidate for summary dismissal. Then I give my capsule opinion of Tsui Hark's Imax 3D spectacular, Flying Swords of Dragon Gate and run down what's coming the theaters next week.
Click the player button to hear the show, or right-click the title to download.