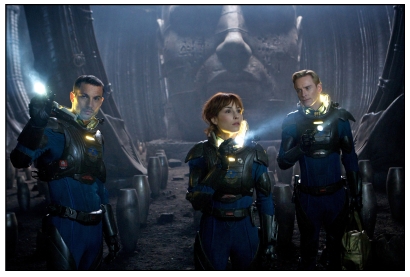 Melding the spiritual and the graphic, the scientific and the horrific, that's Prometheus' game. Ridley Scott's return to the Alien universe, some 33 years after he turned genre film upside-down with the original film (but not a prequel; repeat: NOT A PREQUEL (but it is (sort of))), evidences no shortage of ambition -- with a theme tagged to the search for the origins of humanity and a production that splashes every dollar of the budget across the screen in all its dark grandeur, this certainly puts The Phantom Menace to shame. The question is: With all of that, is it enough? Come join Cinefantastique Online's Steve Biodrowski, Lawrence French, and me as we discuss this ambitious and undeniably beautiful film, and whether its soul is equal to its looks.
Then: Steve and I quickly discuss Madagascar 3: Europe's Most Wanted, the third installment in DreamWorks Animation's popular animals-running-amok series. Plus: I give my capsule impression of the Thundercats: Season One, Book Two DVD set; and what's coming to theaters.
Click the player button to hear the show, or right-click the title to download.