You've withstood the test of time. Keep rocking steady all year long with these tips and examples of my favorite Valentine's Day gifts for husbands.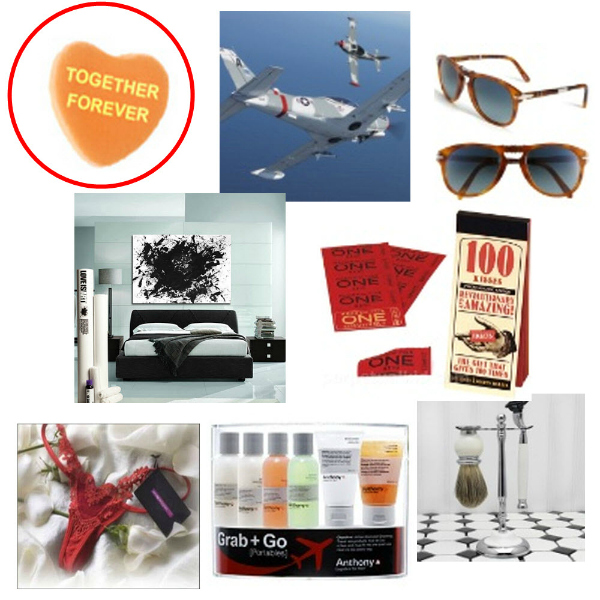 Photo Courtesy of Gifts.com
Men just want to do what they want without getting in trouble.
Valentine's Day is the perfect time to give them a "get out of jail free card." You will be loved if you give an adventure gift certificate like to fly a fighter jet, or include a coupon in your valentine that gives him a free night out with his guys -- no questions asked.
Guys want to work as little as possible when off the clock.
Offer to do his chores for the day or week while he watches sports or plays video games or reads and eats pizza. Hopefully this is a change from the norm that he will appreciate.
Men love a sexy lady.
Gifts like the pantygram where you send a lace thong with a sexy message attached could get him in the mood. Another crazy idea I came across is the "love is art kit" where you lay a canvas on a sheet of plastic, paint yourselves with non-toxic paint and romp around to create your own custom work of art. It's not for everyone, but it's definitely for the guy who needs a little extraordinary excitement in the bedroom.
Guys secretly, or not so secretly, like to feel sexy themselves.
Don't tell him what to wear, but a cool razor or shaving set will have him feeling like Steve McQueen, or whoever his manspiration is, instantly. I love the Art of Shaving & Anthony Logistics but there are also great vintage inspired sets that you can get engraved for a barber shop feel. Sexy shades are another great way to make him feel like the stud he is.
Men have a secret romantic side.
I have to throw in one sweetie-pie "I love you" gift. A coupon book full of carnival style tickets good for a smooch. He can cash them in for kisses whenever he wants. You can steal some kisses too! Throw one into his dinner napkin or on his pillow. This is a gift that could last a while and can help end arguments before they start.
See more of my favorite Valentine's Day Gifts on Gifts.com!