The start of the fall season signifies many things: shorter days, chillier weather, warm apple cider, crisp and brightly colored leaves, and cardigan sweaters. And, of course, what would fall be without everyone's favorite spooky, candy corn-laden holiday, Halloween?! Halloween is the fastest growing gifting holiday. And really, who can resist with all the amazing things out there around this special ghoul-y day?
I happen to love Halloween, and one of my favorite ways to celebrate, aside from dressing up in costume and answering the door with treats, naturally, is to entertain. But what to entertain with, you might ask? Read below for a list of suggested party favors, foods to make, and things to buy for this year's All Hallows' Eve celebration.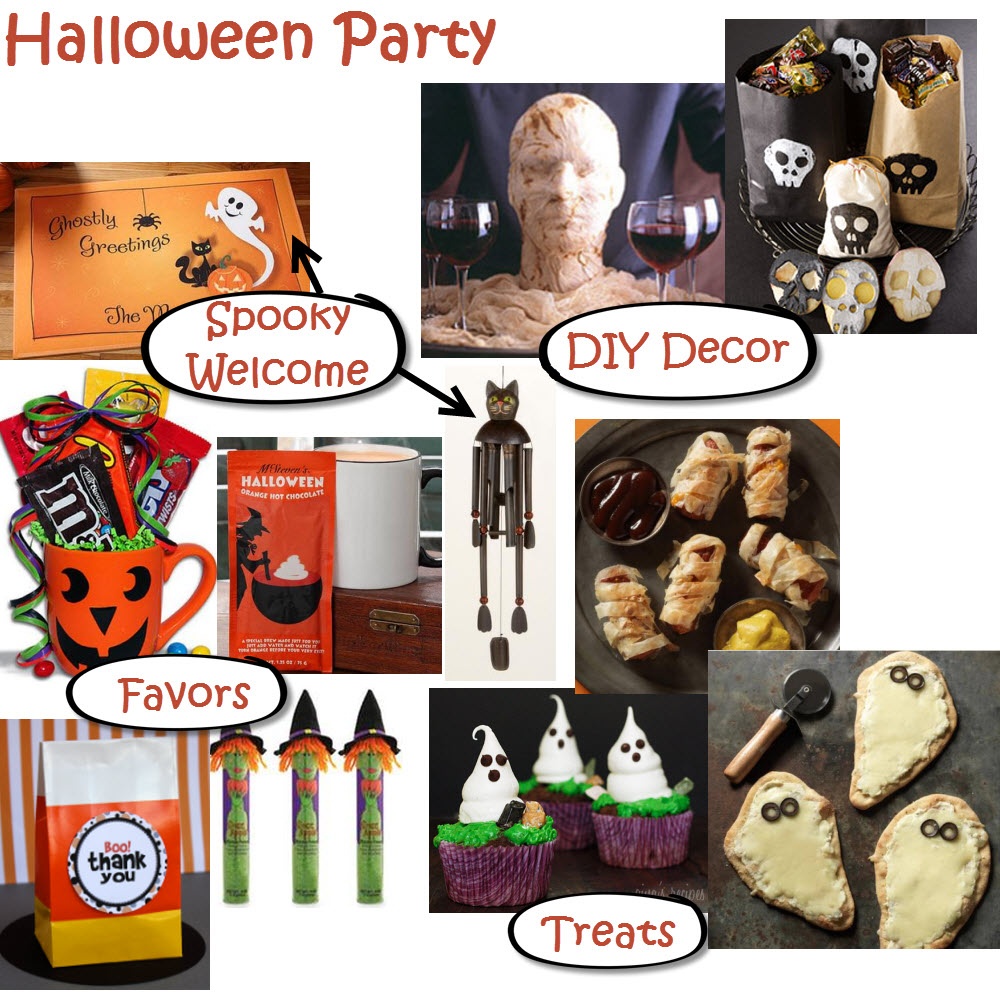 Start spooking your guests from the get-go with a personalized Halloween ghost door mat, and a bamboo black cat wind chime dancing in the cool night air.
Once inside, there are tons of ways to add finishing Halloween touches to your place without dropping more than a few dimes. Potato stamps are a favorite pastime of mine, so when I saw skull potato stamps on MarthaStewart.com, boy was I excited! Carve a skeleton face into half of a potato, use it to stamp tablecloths, paper bags, and whatever else needs some decorating, and then, as a bonus, put the potatoes out on display when done. If you really want to impress your guests -- and spook them! -- try making a Head-Waiter Tray to serve drinks and delicacies on. All you need is a foam mannequin head, some paper towels, gauze, coffee and corn syrup, and a tray to set him on.
Speaking of tasty morsels, getting creative in the kitchen is never as much fun as it is when prepping for a Halloween party. Why not try whipping up some meringue ghosts made of sugar, egg whites, and chocolate chips for eyes? These ghosts are miniature in size so your guests won't fill up on them, and they are cute as buttons, so a guaranteed hit for all. Try Skinnytaste's take on the original recipe from Joy of Baking here. And if you'd like to squeeze something that resembles a real meal in there too, don't fret -- Food Network has got you covered. From crispy phyllo wrapped hot dog mummies to individual spooky white pizzas, these creative snacks are perfect for kids and adults to make and eat.
At the end of the night, don't let your guests go home without quirky, batty party favors to remember all the fun they had at your monster bash! Try stuffing candy into candy corn favor bags for kids, and pick of the patch Halloween mugs for adults. In addition to your standard candy fare of M&M's and Skittles, be sure to jazz up your goody bags with treats like personalized Halloween hot chocolate -- witches brew and sour apple witch's potion mix.
Halloween is always one of the highlights of the season, but this year it's guaranteed to be even more fun now that you have all the tools to celebrate the right way! Happy gifting Halloweeners!
Dana Holmes is a lifestyle, gift & etiquette expert who is the editor-in-chief of Gifts.com and the Gift Rap Blog. She has been working in trend forecasting and gift recommendations for the past decade. Dana loves making occasions special with her unique gift ideas, tips and touches. She has been interviewed by the New York Times, Associated Press, Fox & Friends, TODAY in NY and many more.