Back in November I announced the winners of the 2011 Giftee Awards in 10 categories. You could say, and you would be right, that I was thinking ahead when I chose Best Romantic Gift as a category. I knew you would need some Valentine's Day gift inspiration after the post-holiday lull. I and my expert panel of guest judges asked our fans to nominate and ultimately decide on the best of the best. The finalists were selected by the judges who included Stylelist Home's own Brie Dyas!
So, without further ado, here are the Top 10 Best Romantic Gifts!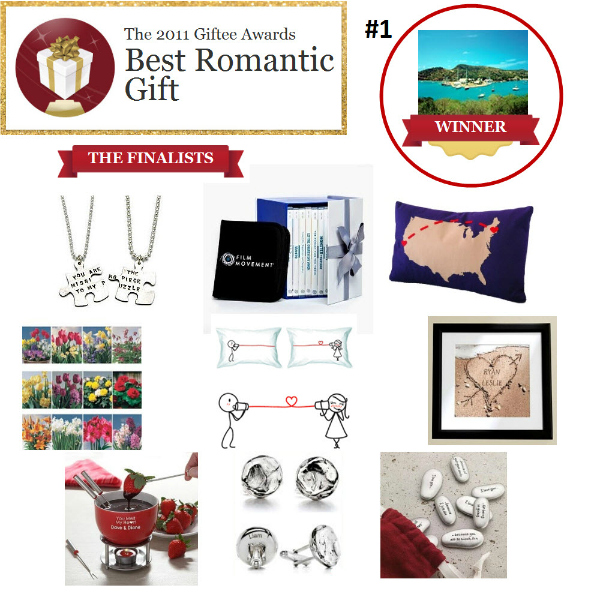 Winner!
4-Day Western Caribbean Cruise from Miami, FL (From $179/per person excluding airfare): Few experiences can offer up more romance than a few days of sipping cocktails out of coconuts and frolicking in bathing suits.
Finalists:
1. Sending All My Love to You Custom Pillow ($55): Eco felt made from 100% recycled bottles and customized to feature 2 cities of your choice from home towns to long distance home bases.
2. Film Movement's Romance Films Box Set ($150): Discover 12 of the most romantic independent, award winning films produced around the world while snuggled up on the couch.
3. Missing Piece Puzzle Necklace ($110): These handmade matching necklaces are the romantic cousin of the ever popular BFF charms.
4. Personalized Heart in Sand Framed Print ($35): Customize the heart drawn in the sand with you and your beau's names.
5. Say I Love You Pillow Cases ($36): Perfect for young couples; this simple design says it all.
6. Womily Cuff Links ($160): Create custom sterling silver cufflinks with your fingertips and he will always have you near.
7. Twelve Months of Gardens ($449): A new bouquet of fresh, seasonal blooms every month is the perfect way to stoke the fire all year long.
8. Reasons I Love You Stones ($30): These sweet love tokens are great for tucking into a suitcase or leaving by the coffee mug.
9. Personalized Chocolate Fondue Set ($33): A warm pot of aphrodisiac laden chocolate fondue is so easy to make and exciting to share.