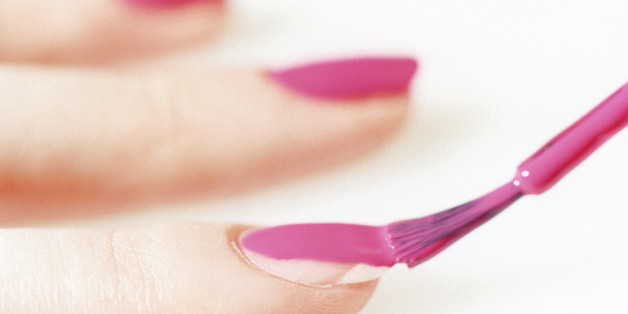 I've had it. I'm done. I've smudged my freshly-painted polish for the last time. No longer will I walk around for days carrying my baby with chipped flecks of Mademoiselle. I'm throwing in the hot towel.
I've never liked the idea of getting my nails done. As a girl, I used to accompany my mom to her neighborhood salon, listening to the soothing sounds of gossiping women getting groomed, watching my mother get her long fingernails painted blood-red, her wet toes later jammed into a pair of rattan platform sandals as we hobbled home together. I remember feeling annoyed at how careful I had to be around her for the next hour, how she didn't want to play baseball with my brother for fear of breaking a beloved nail. I vowed I wouldn't devote my adult life to routinely handicapping myself for the sake of a few bursts of color on my digits.
For a long time, I held out. I ignored my mother's pleas to fix my cuticles and look more proper. But then my college friends started getting their nails done. Then my work colleagues popped out during their lunch breaks for speedy mani-pedis. I gave in.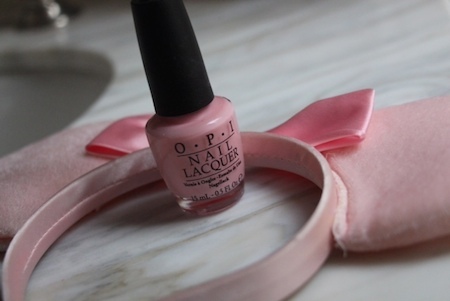 Not being able to use my hands for 20 minutes drove me batty. I wanted to snatch them back from the cold palms of the smiling stranger across the table. Yes, the feeling of soaking my feet in a bath of hot water was completely decadent and luxurious, but the scrubbing and trimming and buffing that ensued offset the relaxation. I couldn't stand planning each pedicure around when I could stay in flip-flops for the rest of the day. Usually I would forget to pack my sandals, so I often found myself slapping down the sidewalk afterwards in a pair of disposable slippers three sizes too big in the freezing cold. This was the lap of luxury?
Once I had kids, it became close to impossible to find time in the week for manicures. I could barely get dressed some days, let alone gussy up my fingers. But by then, I'd gotten hooked on the cycle. I really liked the way my hands looked the day or two after a good polish, as if they belonged to someone else, someone who wasn't washing two kids in a bathtub every night praying one of them wouldn't drown. The allure of the together-woman, the grown-up, was powerful. Maybe after a coat of Delicacy I'd really become that calm, mature woman I longed to be.
Yet, getting my nails done was an item I just couldn't cross off the to-do list; just when I'd finished getting a manicure, it was time to get another. Not to mention the cost. As a New Yorker, I could get a quick mani for $12, but if it only lasted a week, was it worthwhile?
For a couple years, I would bring my kids with me. I'd alternate letting them pick the color, which led to a period of time when my nails could be bright green, sparkly silver or dark blue. Not exactly what my mother had in mind. Seeing my daughter pretending to dry her nails on the little stool next to me made me smile, circle-of-life style. But did I want her to get on the merry-go-round too?
After having my third child, I decided to quit. I'm not going to do it, I vowed. If I never get them polished, I never have to deal with taking off the polish or changing the polish. A whole new world of time and money will open up. I bought a nail clipper from Drugstore.com for $3.99 and called it a day.
My life is so much better now. I keep my finger and toenails short and clean. They look utilitarian, not elegant, but my hands are there for my use at all times. I can throw a football with my son without a second thought. I don't have to worry about opening the front door without scraping off the Limoscene. One more stress has been blasted away.
I still look enviously at those elegantly-coiffed peers of mine with their perfectly-painted Spaghetti Strap or Sugar Daddys taunting me. I respect their hands as works of art, whereas I will forever just be a visitor to the Adore-a-Ball museum.
So, I want everyone to join me. I'd like to declare an end to this time-sucking, fruitless habit. I'd like to spare others from feeling inferior for not being able to keep polish on. Let's all stop. No more mani-pedis. Let's spend all that time starting businesses, writing books, curing diseases, cooking meals for our families and reading. Pink About It.