We all know lifting weights is good for us. It boosts confidence, builds muscle that lets us eat more, and helps fend off excess body fat. Not to mention the practical implications of being able to, say, put your own suitcase in the plane's overhead, carry your groceries, and pick up a kid. But if you read the mainstream women's/fitness magazines, you know by now that you should only ever lift two pound dumbbells. Right? Because even the faintest whisper of the world bulky strikes an icicle of purest terror into your heart.
And just in case those pink dumbbells aren't quite enough to make you happy in that summer dress (OMG, what if you have what one writer calls "mushy fat arms"?), the magazines have more wisdom for you. Paint on some muscles! Nothing bulky, perish the thought. Just some, you know, matte bronzer to make your tricep area look smaller and some highlighter to make your bicep pop: "Your arm will look much more sculpted and toned."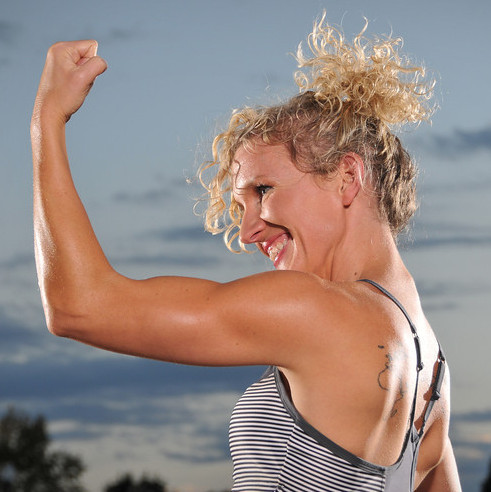 I prefer barbells to bronzer for my so-called sculpting and toning. Photo by John Adkins II
I read the paint-on muscle story the day I was to have a DEXA scan at Canyon Ranch in Miami. On a travel assignment to scope out the spa and medical offerings, I played guinea pig and lay on a table for an x-ray that would show everything from how much muscle and fat I have in my left leg (more than in my right, it turns out) to how hard my skull is (insert your own joke here). I chatted with the tech while he administered the scan, telling him about my powerlifting days.
As he went through my results (and P.S. if you ever want proof that scales are irrelevant, get this scan), he stopped short at a page and looked at me. "Your bone density is practically off the charts!" he said. "You can thank your heavy lifting for that -- and go tell women to pick up some weights."
With a bone density score of 1.204 (on a scale of 0.575 to 1.282) as long as I continue resistance exercise, I don't have to fear catastrophic events later in life like bumping into a corner and crushing my hip. My own physician has always been concerned about my risk of osteoporosis (as a small-framed woman) and counseled calcium supplements, which I never took. However, I took up heavy lifting in my mid 30s -- my first athletic endeavor since some lackluster lady's gym workouts in the late 90s. I found a community of like-minded women -- a growing group that loves to lift heavy, but one that's still in the minority.
I want to shout from the rooftops that women need to take their rightful place in weight rooms. We need to interrupt group fitness instructors when they say "OK ladies, grab a three pound dumbbell, and guys, get a 10." We need to stop accepting the magazines stories that tell us to avoid bulking up at all costs, especially when that cost is our bone health. (And besides, who are they to say bulky is even bad?) We should assume that we can use a barbell when we bench press, and not the itsy bitsy dumbbells our BFF Jillian recommends. And we should expect female action stars in films to look like they won't fall over in a breeze (Jennifer Lawrence notwithstanding).
But you aren't likely to read this message in a glossy women's magazine at the checkout. I've pitched variations of this story for two years to mainstream women's media. And the biggies won't touch the word powerlifting with a 10 foot pole. Even stories that purport to tell women to lift heavy run photos alongside of workouts featuring the lightest weights in the gym (though clearly there's a hunger to hear this -- that story clocked in 10,000 Facebook likes!).
Editors who aren't afraid of a little controversy (or upsetting their advertisers or of telling women they have to work hard in the gym) have let me spread my weightlifting gospel online where I'm mostly preaching to the choir, but for the foreseeable future, the best way to keep your bones strong and healthy will be one of the best-kept secrets in women's fitness.
How about we change that? Tweet or email this story to the magazines who run stories like paint-your-own-muscles and tell them you prefer to actually build your muscles -- and while you're at it build your bones, and build a society of women who are strong, healthy, and fearless.
For more by Dana McMahan click here.
For more on fitness and exercise, click here.