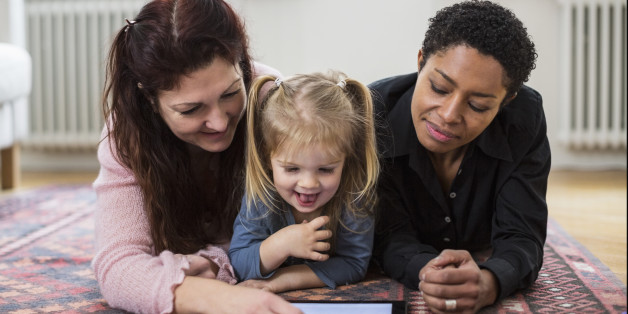 It's almost the start of LGBTQ Pride Month, but it's also about midway between Mother's Day and Father's Day -- a wonderful confluence of events. I'm proud to be LGBTQ; I'm proud to be a mom; and I'm proud of all the moms and dads, LGBTQ and not, who do the hard but rewarding work of raising children.
I'm in a particularly festive and proud mood right now because of the spate of recent marriage equality victories across the country -- victories that relied heavily on arguments about the best interests of our children. Children do just as well with same-sex parents as with different-sex ones, affirmed the judges in Arkansas, Idaho, Oregon, and Pennsylvania, to mention the most recent rulings. To deny same-sex couples the chance to have the protections that marriage can provide for their children goes against the states' interest in supporting stable families. It used to be that "Think of the children!" was an argument against marriage equality. Now that's an argument for it.
Still, marriage equality is not identical to equality in parental rights. The battles are related but separate. Same-sex parents must still get second-parent adoptions if they plan to travel to a state that doesn't recognize their marriages. Unmarried different-sex parents are automatically recognized as parents, but unmarried same-sex ones are not. LGBTQ parents still find their sexual orientation or gender identity being used against them in custody battles.
In this season of pride and parenting, then, let us take time both to celebrate how far we've come and to recognize that we still have a ways to go.
On the celebratory side, I'd like to invite all bloggers, LGBTQ and allies, to participate in the ninth annual Blogging for LGBTQ Families Day on Monday, June 2. Just post at your own blog in support of LGBTQ families (however you define them) and submit the link to mombian.com, where I'll compile and showcase the master list for all to see. If you don't have a blog of your own, you can write at a group blog, upload a video to YouTube or another video-sharing site, or simply leave a comment on the master post at Mombian that day. You can also participate by tweeting and including the hashtag #LGBTQfamilies. Even if you don't contribute, I hope you'll help spread the word about the event and come by to read about some of the many families and allies in our community.
Posts may be personal anecdotes, political commentaries, book reviews, photographs, or anything else related to the theme. If you don't usually post about LGBTQ families, feel free to tie in your normal topics. (For example, if you're a food blogger, you could write about having dinner -- real or imagined -- with the lesbian moms down the street.)
Thanks to the Family Equality Council for sponsoring the event, and to them and Residence Inn by Marriott for sponsoring an in-person LGBTQ Families Celebration in Boston the day before, to help kick things off. (If you're interested in attending that gathering, see details and RSVP here.) Mostly, though, thanks to the individual bloggers who, for nine years, have been willing to share their stories, perspectives, and allyship at a time when all families should come together to celebrate their pride in being families.