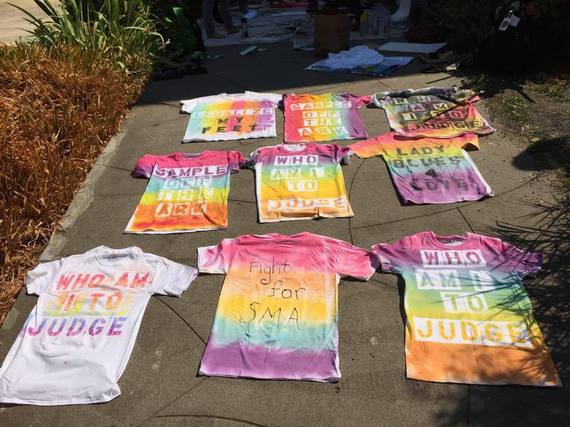 Photo Courtesy of Mac Reid
I woke up a few days ago and saw that my high school rescinded a gay woman's job offer. My first thought was, "is that even legal?"
It was followed quickly by, 'wow, they just pissed off an army of highly intelligent, passionate folks, poised to fight injustice. You can bet this won't pass quietly.'
Church's worst nightmare: Strong educated women who come together and speak to injustice intelligently. #fightforsma

— Shannon McNerney (@PDXshan) August 26, 2015
As a gay woman, I can legally marry my girlfriend, but there are still many states where I can also be fired or evicted based on my sexual orientation (or gender identity). While Oregon does have non-discrimination laws protecting employees of public and private schools, religious schools are exempt.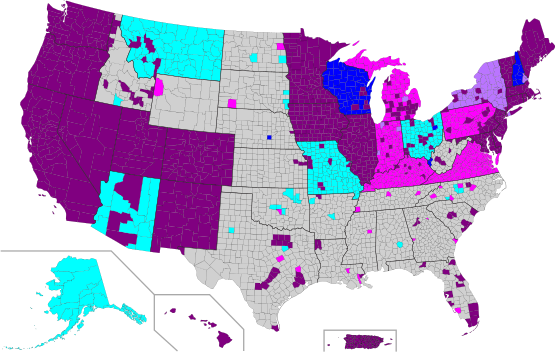 By Female bodybuilder enthusiast [CC BY-SA 3.0], via Wikimedia Commons
But as we've seen throughout history, laws are not inherently just.
I look back at my high school experience and remember a place where our differences were celebrated. Hallways were filled with compassion. Social justice wasn't just a class, it was something we were expected to protect through action. Teachers encouraged us to question everything and explore new perspectives. It lit a fire that pushes me to stand against discrimination. Even today.
My story is far from unique. Thousands of incredible individuals (I'd say women, but there are students or alumni who may not identify as female) have spent formative years in this same community. We were all taught to speak up and act against inequality. The school has been developing badass social justice advocates for decades.
Past Tense #Oregon: 90 years ago, St. Mary's Academy faced down Klan-backed law and won. http://t.co/1Z0Aas852K pic.twitter.com/aVIXRfzlmG

— The Oregonian (@Oregonian) June 8, 2015
So this was a test... and we definitely passed.
When the story broke, my social media feeds were filled with messages from parents, alumni, current students and the greater community within hours. The school temporarily shut down their social media profiles and people sent their letters via email and FedEx. A group on Facebook formed with 1,000+ alumnae discussing, researching, planning and sharing updates.
Students made t-shirts for the first day of school.
St Marys students making T-shirts for first day of school in protest of rescinding gay woman's job offer #fightforsma pic.twitter.com/ZCrLq6yY8A

— Teresa Mahoney (@TeresaMahoney) August 26, 2015
The statue outside of the school was decorated in protest.
This is why I love St. Mary's students/alumnae #fightforsma pic.twitter.com/j31lqZj6Na

— matty thornbird (@maddythornburg) August 26, 2015
Community leaders voiced their support.
I stand with the alumni and students of St. Mary's Academy who disagree with their school's actions. #fightforsma

— Ted Wheeler (@tedwheeler) August 26, 2015
As a Christian minister, I stand with Lauren Brown. Discrimination is not a Christian value. #fightforsma

— Rev.Dr. Chuck Currie (@RevChuckCurrie) August 26, 2015
I'm shocked to read this, though I shouldn't be. Time to change, St. Mary's. "Vow of Silence" http://t.co/c6hIRyG1X5

— Cheryl Strayed (@CherylStrayed) August 26, 2015
Mary and Tim Boyle
brought even more attention to the story in a statement saying,
The news this week is an example of how to not prepare students. There is no place in the workplace of today, or of the future, for discriminating against an individual based on sexual orientation.
Feeling the intense pressure from students, alumni, community leaders and donors, changes were made.
BREAKING: St. Mary's board of directors voted to change their policy on hiring openly gay employees.

— Melissa Binder (@binderpdx) August 27, 2015
Should we feel discouraged that change came only after the school felt a threat of losing money and damaging their reputation? Not for a second. We made leaders in the community listen, care and act.
That is powerful.
@AaronMesh Correct - I didn't. But I know about it now, thanks to your story. Statement coming from my office to you shortly.

— Charlie Hales (@MayorPDX) August 26, 2015
There are still many unknowns following the school's decision to update their anti-discrimination policy. They are quite possibly one of the first Catholic employers to adopt a non-discrimination policy for sexual orientation. That will undoubtedly create new challenges moving forward, like providing support and a safe space for LGBTQ students.
I am confident that St. Mary's can lead the way on this for Catholic schools and similar battles being fought across the country. They can be a model for compassion.
Though I am extremely disappointed with the school's initial behavior, I'm proud and inspired by the level of action, support and passion that has arisen from this situation. As activists, we have tools to activate. Social media proved invaluable as a force to organize, connect and respectfully create change.
My hope is that injustice will always be met with this same collective strength. That communities, schools and employers look to change their own policies and embrace tolerance. That every student has an environment of compassion and acceptance, to develop with confidence into their true selves.
This is just the beginning. You can follow updates on social media as we continue to #FightforSMA -- the one that taught us to speak up against inequality and injustice.
This 74-y-o woman walked blocks to congratulate St. Mary's Academy students on "creating change". #fightforsma pic.twitter.com/pggiWgCQ1N

— Maggie Vespa KGW (@Maggie_Vespa) August 27, 2015