Decorating the tree is like a crazy Aztec Ritual of Human Sacrifice. You have to drive to six different lots, double back at least four times, spend more money than if you were buying an actual LIVING TREE that blooms Peanut Butter Pop Tarts, and after you wrestle that needle-spewing monstrosity into your living room, you get to spend the next two hours arguing over whether it is standing straight up or leaning to one side. Let's not even talk about stringing the lights. Stringing the lights is pretty much a medieval IQ test for self-flagellating monks. The whole thing is a diabolical exercise in patience and good humor, and I generally fail at both.
Here's why I completely love every second of it.
Ornaments. It's all about the ornaments. I don't mean the ones you get in bulk packs: the glittery, sparkly bits of molded foam that you buy at Barney's (I haven't seen that many painted balls since the White Party, by the by.) I mean the ones that you've collected over the years, the clay bits you made at camp, the carved wooden trinkets your Granny gave you. Those things are like a road map to your life, a PowerPoint on the highs and lows of how you got to this very moment. They never lie and they are worth more than all your pills and tattoos and therapists put together.
They tell you from where you've come:
I grew up so dirt poor that as a kid I did puppet shows with Count Chocula and Mrs. Butterworth. Regardless, the tree was always decorated beautifully, often times with popcorn on strings and dried berries pinned together. My mother made ornaments every year for my brothers and me, and when we were old enough to move away, she packed up each of our respective trinkets to send along with us. My first tree away from home was in a dive tenement on the Lower East Side of New York City in 1993 (VERY different from the tony Lower East Side of today) and it was covered with the homemade ornaments of my youth. It was the most beautiful thing Alphabet City had seen in a decade.
My mom made this little guy for me 35 years ago and he has hung every Christmas since: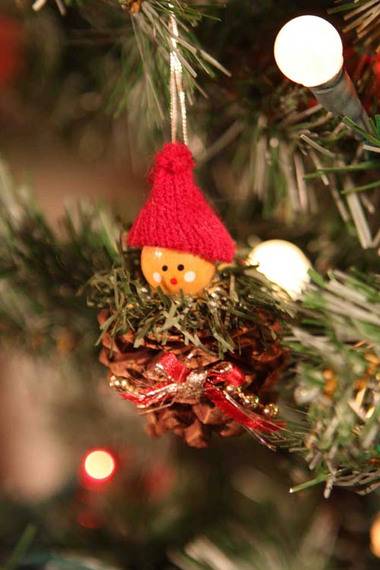 They tell you where you've been:
One of the best places to accrue ornaments is during one's travels. That way, each Holiday Season becomes a little reminder of all the great places you've visited. I got this reindeer in Kinderdijk in the Netherlands on the coldest day of my life. Whenever I pull it out, I think of windmills and frostbite... in that order.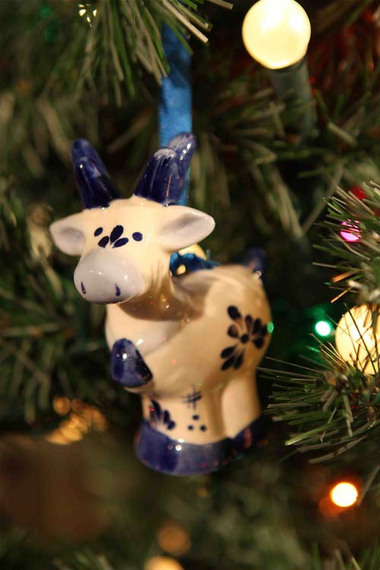 They tell you where you are:
I have a contest with my partners. Every year, we compete to find the "most horrific" tree ornament. This was the winner from last year, and I hang it with pride.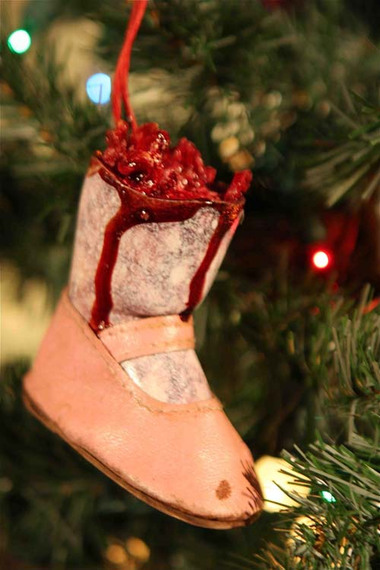 But these kinds of ornaments become little snapshots of the years as they pass, they are the new millennium equivalent of the photo album, to be brought out, dusted off, and poured over in nostalgic revelry.
They tell you where you are going:
I got engaged about two months ago. Why wouldn't I get one of these?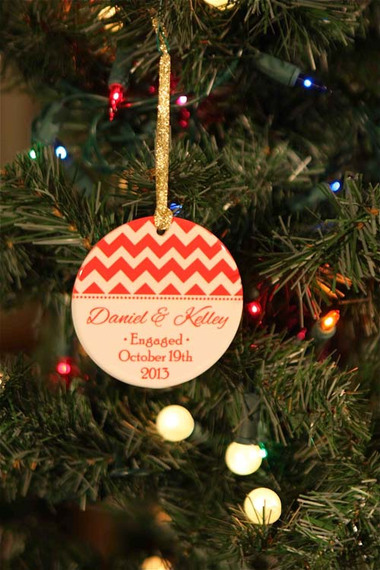 In the end, pulling the ornaments out one-by-one is an annual journey. In their little boxes, the Swarovski crystals sit right next to the cardboard cut outs, the fancy shmancy blown glass baubles share tissue paper with the wire-and-string finger-puppets. Of course their worth is more intrinsic than monetary. But what's the emotional equivalent to a bazillion dollars?