 What a difference 24 hours makes.
On Sunday morning, Secretary of State John Kerry was already in a lousy mood. Forty-eight hours prior, Kerry found out that the nine months of his diplomatic life was essentially wasted after Palestinian Authority President Mahmoud Abbas -- perhaps to show the Israelis and the United States that he had options outside of negotiations -- decided to sign another pact with the Gaza-based Hamas movement in an attempt to create a national unity government. That announcement, made by Hamas Prime Minister Ismail Haniyeh, put the final nail in the coffin of Kerry's peace process. The Israelis, in response, cancelled any more direct meetings with the Palestinian delegation, and Israeli Prime Minister Benjamin Netanyahu went on U.S. television to say that he would never negotiate with a Hamas-supported Palestinian government.
Fast-forward to Sunday night, and Kerry's personal anguish turned into a public firestorm among virtually every major pro-Israel organization in the Washington area. Late on Sunday, April 27, the Daily Beast's Josh Rogin reported that Kerry warned of the possibility that Israel could revert to an "apartheid state" if its leadership proved unable or unwilling to sign onto a two-state compromise. By the close of business on Monday, the Obama administration's Republican critics in Congress and a list of pro-Israel groups lambasted him for the comments.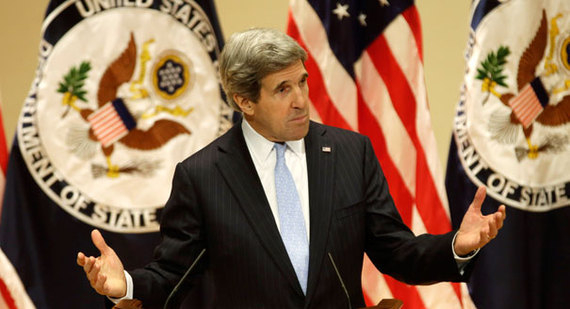 Photo: AP
The Emergency Committee for Israel argued in a statement that Kerry should be fired. AIPAC followed up with its own statement: "Any suggestion that Israel is, or is at risk of becoming, an apartheid state is offensive and inappropriate." Senator Ted Cruz took to the Senate floor Monday afternoon and demanded that Kerry hand in his resignation to President Obama. Earlier the same day, House Majority Leader Eric Cantor said that the best thing Kerry could do to clear up any misunderstandings would be to apologize, both to the Israeli government and to the people of Israel.
Even Senator Barbara Boxer, a reliable Obama administration ally on foreign policy matters, commented on her Twitter feed that "any linkage between Israel and apartheid is nonsensical and ridiculous."
There is no question that apartheid is a loaded word. In fact, "loaded" may be a vastly understated description, given the horrific experience that black South Africans endured for decades under that system. In an ideal world, Kerry would have been more careful in choosing his words. Indeed, he acknowledged that he was careless in a statement put out by the State Department on Monday night: "if I could rewind the tape, I would have chosen a different word..."
But regardless of which word he chose to use, his overall point cannot simply be ignored as inconsequential or batted away as the murmurings of a radical, left-wing ideologue. For without a comprehensive two-state formula that Israelis and Palestinians can both agree on, it is a forgone conclusion that at some point in the future, an Israeli government will have to make the impossible decision of either defending the Jewish nature of the state, or Israel's democratic way of life. By virtue of demography, the Israelis cannot have both.
Kerry is no bigot, nor is he hostile or prejudice toward the state of Israel, regardless of what his critics claim. As a member of the Senate for nearly thirty years and as a former chairman of the Senate Foreign Relations Committee before being confirmed as Hillary Clinton's replacement at the State Department, John Kerry was one of the most staunchest defenders of Israel that the chamber has seen in modern times. As secretary of state, he has come down on the same side as Israeli Prime Minister Benjamin Netanyahu on the question of whether the Palestinian Authority should recognize Israel as the nation state of the Jewish people. Kerry, like Netanyahu, seems to view this as a requirement that Mahmoud Abbas needs to accept before any successful peace agreement can be reached. And, throughout the past nine months of diplomacy between both parties, Kerry has consistently had Israel's national security requirements at the forefront of his mind -- so much so that Mahmoud Abbas reportedly stormed out during one meeting with him after unveiling a partial framework accord. That doesn't sound like someone who, as the Emergency Committee for Israel implies, threatens Israel at every twist and turn.
The words that Kerry used are, in a way, an unhelpful distraction from the point he was trying to make: the establishment of an independent and contiguous Palestinian state is the only way that the state of Israel can be both democratic and Jewish. Sometimes focusing too much on the words obscures the message.