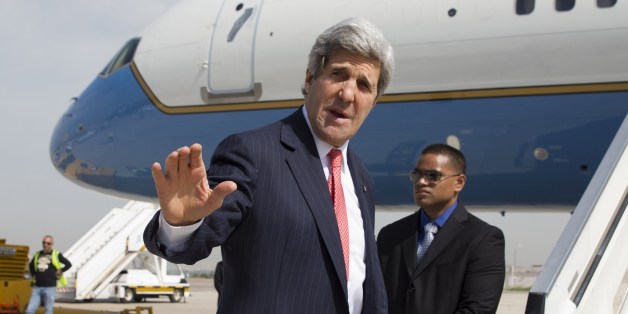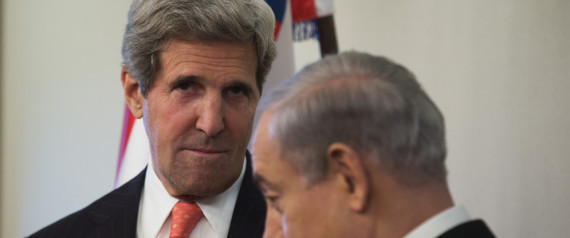 Photo by Uriel Sinai/Getty Images
1- The Main U.S. Objective in the Talks Keeps Getting Watered Down. At the very onset of the newly-launched Israeli-Palestinian peace process in July 2013, U.S. Secretary of State John Kerry pledged to get a permanent two-state solution done by the end of his 9-month deadline. When that goal proved to be too complicated, and when difficulties over settlements, the status of Israel as a Jewish state, and security arrangements obstructed meaningful progress, Kerry revised his initial optimism -- the objective would change from striking a permanent accord to a "framework" agreement for more discussions in the future. Now, as Israel refuses to release the last batch of Palestinian detainees and Palestinian Authority President Mahmoud Abbas renews his efforts at the United Nations, Kerry is simply trying to keep the talks alive.
2- The Chicken-and-Egg Problem Returns. Citing the Palestinian delegation's lack of cooperation in the negotiations, Israel decided to hold off on further releases of Palestinian prisoners. The Palestinians, in the meantime, use Israel's obstruction on the prisoner issue an a justification for going back to the UN. It's difficult for any third-party mediator, even one as diplomatically active and determined as John Kerry, to square that circle.
3- Jonathan Pollard gets brought up. What does Pollard, a former Navy intelligence analyst who was convicted in the 1980's of handing over classified U.S. military documents to Israel, possibly have to do with the Middle East peace negotiations? Presumably, U.S. negotiators are considering early probation of Pollard in order to provide Israeli Prime Minister Benjamin Netanyahu with a political coup he could use to keep his governing coalition from splintering. In theory, that political backing would then give Netanyahu the incentive to continue releasing Palestinian detainees.
Yet even if Pollard was given his freedom, it is still highly uncertain that the Israeli-Palestinian talks would extend beyond this month's deadline. What today looks like a lifeboat could simply run out of air by April 29.
4- The Editorial Boards of America's Largest Newspapers Agree On Something. It is very rare when the editorial teams at The New York Times, The Washington Post, and The Wall Street Journal are on the same page of a major foreign policy issue -- especially when Mideast peace is the topic of conversation. But all three papers have come to a similar conclusion on Pollard: using him to keep the discussions from going off the rails is an unwise strategy.
In the words of the Times, "An Obama administration proposal to free Mr. Pollard...as a political gesture toward Prime Minister Benjamin Netanyahu of Israel is a bad idea." The Wall Street Journal describes the possibility of Pollard's release as something akin to a "hostage-like diplomatic swap." And the Washington Post adds that giving Pollard an early pass would be an "extraordinary gesture[s]" unlikely to nudge peace forward.
5-The Architect Begins to Show His Own Doubts. The one man who has been able to keep the Netanyahu-Abbas square-off from imploding, Secretary of State John Kerry, is signaling that there is not much more the United States can do on its own. "You can facilitate, you can push, you can nudge," Kerry said in a brief appearance in front of reporters, "but the parties themselves have to make fundamental decisions and compromises."
At the moment, it doesn't look like either Netanyahu or Abbas are ready to take those politically courageous steps -- or whether both are even able too.