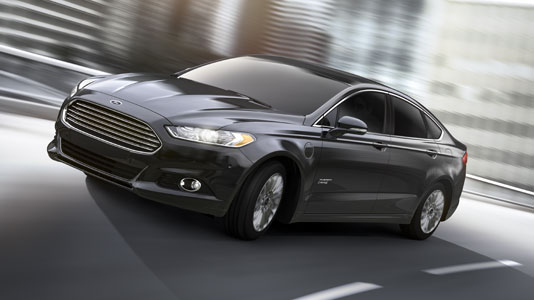 Can you believe this car is a hybrid? I couldn't either when I first caught wind of it. You mean I don't need to be driving some hexagonal shaped monstrosity with some weird dual-paned hatchback rear window and the pickup of a Power Wheels?
I ordered my 2013 Ford Fusion Hybrid months before it was scheduled to be released and couldn't wait to step into what appeared to me to be a 47 mpg hybrid disguised as a luxury car.
My first week with the car in December 2012 was wonderful. I drove it home from the dealership and felt like I was driving a European luxury sedan. I'll never forgot driving some friends home from a party in LA and a girl asking, in all seriousness, "Is this a Maserati?"
After about a week of driving I notice I was only getting 27 mpg. I went online and was reassured this was normal as there was a "breaking in" period for the car.
As the days went by, the average mpg number crept up incrementally and I was anxiously anticipating the 2 to turn to a 3 and when that finally happened, the 3 to turn to a 4. Unfortunately that never happened. I've been stuck at 32.1 mpg for about 6 months and I'm pretty disappointed.
I've sent multiple letters to Ford asking for help, asking to switch to a plug-in, asking for a refund and have gotten cookie-cutter responses explaining to me that mpg is determined by driving habits. I fee like give or take 5-10 mpg on driving habits but 15 mpg? There are some cars that only get 15 mpg!
There are a few pending class-action lawsuits against Ford (at least one in California) so there's always that route. When I first ordered my Fusion, there was a 2-year waiting period for the Tesla Model S. While the car is roughly double the cost of the Fusion, their attractive quasi-lease payment system, combined with $10,000 in rebates from California and the fact you don't ever have to hit the pump make the Tesla the obvious choice for folks that want style AND substance, and if you have a long commute, the Tesla would actually pay for itself if you can stomach the $10,000 down payment and $1,000 monthly payment.
I will keep you up to date with my progress with Ford and although I'm wildly disappointed with the fuel efficiency of the car, everything else about the car is great, but who wants an asterisk next to greatness?
BOTTOM LINE: If it doesn't look like a hybrid or drive like a hybrid, it's probably not going to get hybrid fuel efficiency. The rumors of poor mpg are true. If you're looking for real mpg, go with Toyota Prius or Chevy Volt.