Snapchat is the new kid on the block. Many people still don't understand or even know that it exists. This is all great news because if you're able to push through the initial fear of the unknown, there could be a tremendous marketing weapon waiting for you on the other side. Is Snapchat your Excalibur? Here's why it could be:
1. It's insanely targeted
Snapchat is used heavily (100 million users monthly) by millennials, Gen-Z and virtually no one else. Usually, you have to pay good money for an audience that targeted, but if you have about one minute to download Snapchat and get up-and-running, you can begin reaching that audience immediately. If your brand can benefit from reaching people ages 13-24, then it's simply a no-brainer to be there.
2. Its engagement is out of this world
Snapchat gets the same number of video views as Facebook does. That's right, while Snapchat's user base may not be as big, they are very, very engaged. Highly engaged users trump more users in nearly all scenarios when it comes to social marketing. With Snapchat users consuming huge amounts of content daily and actively using the platform, your job as a marketer becomes much easier. People want to consume content on Snapchat; all you have to do is get it in front of them.
3. Your competitors probably aren't using it (or are bad at it)
As of 2014, only 1% of marketers used the platform. That number is undoubtedly higher today, but it's nowhere near the saturation levels of Facebook, Twitter or even Instagram. If you carve out a strong Snapchat presence, your competitors will be miles behind by the time they discover it.
Furthermore, many of the brands that are using Snapchat don't quite understand how it works. One of the biggest red flags is using horizontal photos and videos: Snapchat is different from the norm in its love for vertical photos and videos. The concept is that you hold your phone vertically in your hand, so the content on the platform should reflect that. If your snaps require users to rotate their photos back-and-forth to see what's going on, they'll tire of it fast. Surprisingly enough, countless brands make this mistake. By avoiding it, you're already ahead of them.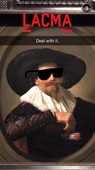 And, in a best-case scenario, you can end up far, far ahead of your competition. The Los Angeles County Museum of Art (Snapchat: LACMA) practically writes the book on Snapchat for brands. It's easy for an art museum to get labeled stuffy, boring and uptight; LACMA's Snapchat presence shows that they are anything but. By memeing their own artwork, they create a fun, playful brand that puts them far ahead of their competitors in the 13-24 demographic.
Screenshot from Uralian LygerAnd
4. It makes you human
Unlike every other social media platform, Snapchat is designed to only allow you to produce content that you're creating with the camera on your phone. That's right, there's no uploading stock photos of perfect smiles and airbrushed skin: Snapchat makes you capture moments.
Red Bull (Snapchat: RedBull), known for sponsoring extreme sporting events, produces Snapchat stories of these events, taking you through the beautiful locations, quirky competitors and attendees and exciting action of the day. You feel like you're getting a backstage pass to an event happening halfway across the world.
GE (Snapchat: generalelectric), a surprising darling of social media, uses Snapchat to take you behind the scenes of what they're working on and how it helps the world. Their content is also peppered with call-to-actions to help them name their new products and other fun, interactive elements to engage people in a dialogue.
Coca-Cola (Snapchat: CocaCola) has often taken a different approach, handing over their Snapchat account to well-known Gen-Z/millennial influencers who show people the world through their eyes -- while drinking a lot of Coke in the process.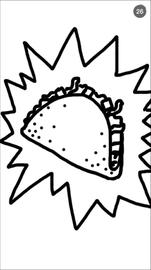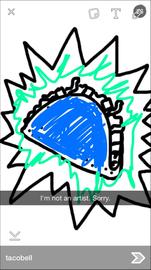 5. It creates an incredible sense of urgency
One of the hallmarks of Snapchat is that your content disappears. With a little creativity, you can create a promotion that will get a ton of quick entries. Taco Bell (Snapchat: tacobell) did exactly that with a coloring contest.
They produced a story that included drawings, encouraging people to screenshot the images, color them in, and send them back to tacobell for a chance to be shared the following day. Photo from Taco Bell / SnapchatPhoto from Stacey Grant / Snapchat
If you saw this story, you knew you had to screenshot immediately because the content would disappear within 24 hours. There's a very real sense of urgency there that a brand can leverage to overcome user inertia. Taco Bell understood this, and the results were pretty great.
Snapchat, then, offers marketers a unique opportunity to take on a new market that's highly specialized and engaged. If your brand could benefit from a young, digitally savvy, active user base, Snapchat should be right up your alley. When done right, it can reap serious benefits for your business.