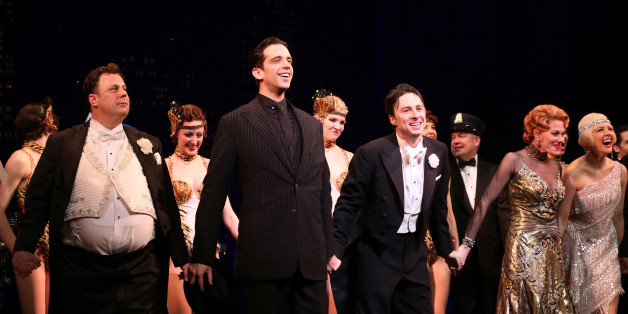 With Woody Allen at the helm, Zach Braff in a starring role, and a rich ensemble cast that earns both laughs and applause, Bullets Over Broadway has a lot to offer. The 1994 movie may have fallen off the radar for most, but this production comes storming in and doesn't let up until the very end. Even though the show isn't perfect, there's plenty to call on for entertainment.
The choreography, costumes, and sets are arguably the most magnificent part of the performance. Set in 1929, the story weaves together two cultural mainstays of the time: Broadway and gangsters. Braff, a newcomer to the limelight in real life and in this show within a show, is joined on stage by some New York icons like Marin Mazzie and Brooks Ashmanskas. His character, David Shayne, is just trying to keep up with the pace of the play he penned that's quickly being taken away from him at the hands of producers, actors, and, yes, gangsters, who have their own say in what should come next.
But the real star of the show is Nick Cordero, who plays Cheech, a tough guy assigned to watch over Olive, his boss's girlfriend and an aspiring actress herself. Cordero commands the stage and all the others on it with poise and aggression. His chemistry, or deliberate lack thereof, with Heléne Yorke, who plays Olive, makes for some of the funniest situations and moments in the entire show. The secondary story quickly becomes the prime interest. Shayne's own personal indiscretions and questions about morality get swept away by the action preceding and following it.
Not everything is perfect, though. The show struggles to tie together the story at the very end, finishing on one of the stranger numbers in recent memory. In a way, it would have been better off cutting the final scene altogether and allowing the show a little room to breathe and simmer. However, that wouldn't have been consistent with the rapid pace overall. Everyone comes together for a party at the end as if they're making it up on the spot. Some of the smiles seem sincere and real, and not put on for the sake of the audience. With so much on Broadway that can sometimes feel rehearsed and repetitive, that authenticity was refreshing. And we can forgive them for trying for the "happily ever after" finale that they expected we'd need.