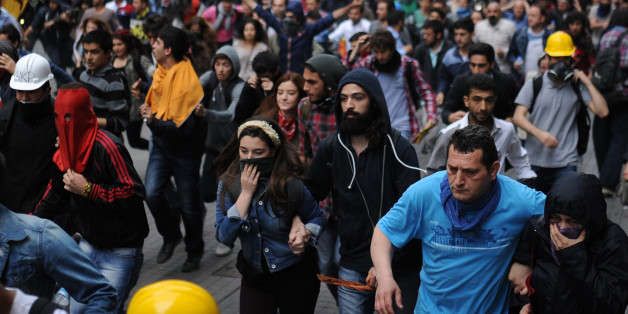 The phrase "double democratic deficit" does not quite roll off the tongue, and nor is it likely to feature on protest placards. Yet, I think this is what is at the heart of so much of the discontent and protest we see around the world.
At the national level, growing numbers of people -- including in countries that look democratic on paper and show excellent economic growth rates -- are angry about a lack of voice, inequality, corruption, and environmental destruction. Our latest State of Civil Society Report documents another round of uprisings around the world. And this time the protests are not in dictatorships and absolute monarchies of the Middle-East and North Africa but in countries that have reasonably sound electoral processes.
In recent days, we have seen demonstrations in Brazil and Turkey, and there has been upheaval in places like Thailand, Ukraine and Venezuela. These mobilizations are not being driven by the poorest or most voiceless. Instead, they reveal a rejection of the politics and economics that serve and entrench elite interests, and dissatisfaction with the inadequacy of formal politics in which people have few practical opportunities to shape decision-making.
Each of these mobilizations has had different local inspirations and varying trajectories of success, but they share some striking commonalities. The initial trigger may well have been a local grievance -- a hike in bus fares or bulldozing green space -- but most are rooted in wider dissatisfaction, spread using mobile phones and social media, made more intense by the state reacting with a heavy hand, and often organized through loose structures without clear hierarchies.
In this situation, one would hope that those being repressed, marginalized or excluded at the national level would be heard and protected by institutions at the international level. But global governance is not working either. Many of our international institutions and processes are out of date, unaccountable and unable to address present-day challenges effectively. International governance institutions with limited scope for people's participation risk becoming irrelevant. The UN Security Council has been unable to stop the carnage in Syria which has claimed tens of thousands of lives. The World Bank and IMF are blamed for imposing market-oriented policies on economically fragile states that further exacerbate inequality.
The things millions of people are expressing their anger about are not being tackled by international institutions, and in some cases these institutions accused of being complicit in promoting the interests of the rich. There are huge disparities in who gets to have a say: with the wealthiest states and corporations disproportionately influencing international agendas and norms. As Mo Ibrahim, the entrepreneur and philanthropist, argues, "Our global governance institutions are frequently opaque in their processes and remain focused on what certain states want rather than what citizens need."
Global governance remains remote and often disconnected from the people whose lives it impacts. In a changing dynamic world our international institutions have to reinvent themselves to be more accessible to citizens and their organizations if they want to remain relevant. They need to be democratized to support greater participation of citizens in decision making, and to create an environment that enables civil society to engage substantively.
We live in an era where the local is connected inextricably to the global, whether it is fuel prices or information flows or environmental damage. Therefore we need effective and accountable institutions that can address policy or market failures at the global level.
Citizens around the world are taking action on the streets to make their voices heard. Governments and international institutions both need to listen to and include these voices -- radical reform is necessary to make decision-making processes open and governance more democratic, and less susceptible to elite manipulation. Only when this double democratic deficit is addressed will we see the end of the mass discontent that is manifesting itself in the streets of Rio, Istanbul and Caracas.