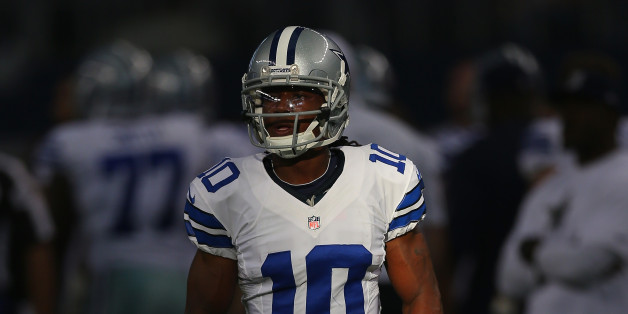 In graduate school, I had the privilege of auditing a class taught by the distinguished anthropologist, Irv Devore. At the end of his final lecture, he closed with this observation: the one thing he has never comprehended about human nature is our obsession with sports. This revelation was startling. For one thing, I had never heard an anthropologist admit they don't understand something. Moreover, having grown up as a sports junkie, why is it so difficult to understand that we take pleasure in watching the drama and pageantry associated with sports?
Fast forward approximately 15 years. I finally appreciate his point.
In fact, I don't have to look very far to investigate our curious obsession with sports. I am a dedicated lifelong Dallas Cowboys fan, with very little justification. When I was four, my older brother and I watched Super Bowl X on my parent's small black and white television. For whatever reason, my brother was ardently rooting for the Steelers, despite having no connection whatsoever to Pittsburgh. Of course, I naturally rooted for the opposition, the Dallas Cowboys. Ever since that game, I've been a devoted fan, despite my roots in the Washington DC area. To summarize my actual connection with Dallas: I once had an unexpected layover at DFW International Airport.
Perhaps this isn't extraordinary. After all, most players don't emanate from the cities they represent, and Dallas does market itself as America's team. What is really disturbing though, is that I am unable to stop rooting for them. To be clear, I don't actually like the Cowboys. I think their owner is pompous and ineffective. And watching the team perform in the fourth quarter produces as much pleasure as listening to my cat Moxie hacking up a fur ball (I particularly enjoy when they occur simultaneously, as the choking becomes an audiovisual experience). So, why can't I just drop Dallas and root for someone else?
The answer lies in one of the many unspoken rules governing sports fans. One of the central commandments of being a fan is that you cannot switch teams just because you aren't having fun. A quick glance at the guide written by Bill Simmons at ESPN explains that once you choose a team, you are essentially stuck with them for life. Why? Despite sports being an entertainment industry, being a fan is not about maximizing pleasure. In order to earn the right to celebrate victory, you must experience the agony of defeat (parenthetically, I never know what to do with myself on the off chance a team I root for wins something... a few high fives... um, then what?). There is no rhyme or reason to any of this; it's just the way it is. You pick a team for life, and if you want to change, you need to do backflips to get out of the commitment, end of story. Sounds a lot like religion.
What's even more perplexing though, is how personally we take our sports. It affects our mood and can lead to depression, anxiety, and all sorts of malevolent behavior. We deify the athletes, even though we lack the slightest idea of who they really are. A perfect example occurred this past summer when the New England Patriots sponsored a day in which fans could exchange their Aaron Hernandez jerseys for another Patriots jersey of their choice. Accordingly, well over a thousand people exchanged shirts bearing the name and number of a man they never knew, who is now indicted for murder, for a new shirt bearing the name and number of another man they still don't know. The premise for the swap is the hope that the new man has not also been impersonating Vito Genovese, that he hasn't been using hateful racist language, or electrocuting dogs, abusing women, or engaging in an assortment of other reckless behaviors that seem rampant in today's athletes.
Why are we wearing their clothes in the first place? I had a bit of a chuckle at the conspiracy theory that spread before Game 6 of the NBA Finals. A picture circulated of a new version of LeBron James' sneakers in which the insole was inscribed with "2-time Champion" even though LeBron had not yet won his second championship. Naturally, fans wanted to know: Is the NBA fixed? What I wanted to know was: What makes someone want to wear a pair of shoes in which the insole, that no one sees, touts someone else's accomplishments? It also encouraged me to pursue my dream of launching a new line of "20,000 Strong" Wilt Chamberlain inspired boxer shorts. (Parenthetically, only some leotards and a few unpadded folding chairs separate the NBA from the WWF).
Before Aaron Hernandez faced these charges, he was set to make $40 million over 8 years just for catching a leather ball. For the average middle class family, those earnings would accrue over more than 600 years. By contrast, Nobel prize winners, the people who are supposed to be making tremendous impacts on society, earn a bonus of just over $1 million. Like Devore, I confess I don't understand why we as a society care so much about sports, but clearly sports must be playing a pivotal role in keeping our civilization intact. If I had to take a guess, the ultimate explanation for our love of sports is rooted in our tribal nature, a byproduct of our evolutionary adulation for male-male competition (note that women's sports are rarely if ever accorded the same respect, never mind the overtly demeaning tradition of cheerleading). Of course, that theory is just a shot in the dark (something Hernandez fans might be familiar with).
As for me, come the fall, I'll turn on the TV, see the blue and silver and instinctively root for my Cowboys no matter how painful they are to watch. There is some consolation in this. It could be worse... I could have been a Jets fan.