Long considered one of the greenest places in America, The Emerald City recently ramped up its commitment to a clean environment by introducing a new bike share program. Dubbed Pronto Cycle Share, it's a private-public effort aimed at reducing traffic congestion, cutting greenhouse gasses and adding yet another option to Seattle's already rich transportation mix.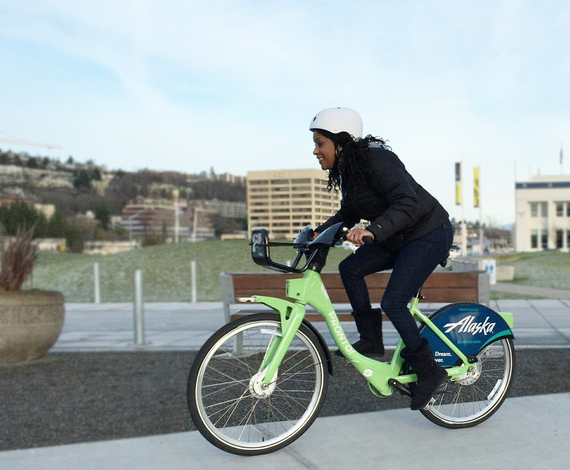 Even before Pronto, Seattle was tied with San Francisco and Portland for first place as the greenest city in the U.S. Now, with Pronto up and rolling, Seattle has enhanced its reputation as a place where people can breathe a little easier.
Pronto launched in October with 50 stations and 500 bicycles. It's set up to make bicycle travel accessible to as many people as possible. Frequent users can buy a year's membership while casual riders and out-of-town visitors can get a three-day or 24-hour pass right at the kiosk. The kiosks where the bikes are available are strategically placed around town, including at locations just a few blocks from all four light rail stations in downtown. There are also helmets available at the kiosks so you can comply with Seattle's all-ages helmet law. Pronto has turned out to be so popular that more kiosk locations are already being planned.
And the Pronto bike is a cinch to ride, too; you don't have to be a cyclista to handle one. It's got a sturdy step-through frame, wide tires for a stable stance, a comfortable saddle, an enclosed chain to keep your clothes from getting dirty, bright, automatic LED lights and a broad range of gearing that can go from high-high to low-low at a flick of the wrist. There's no need for spandex or special shoes, you just hop on and go. And perhaps best of all, you're no longer a slave to the gas pump. Hey, this is definitely not your father's Oldsmobile.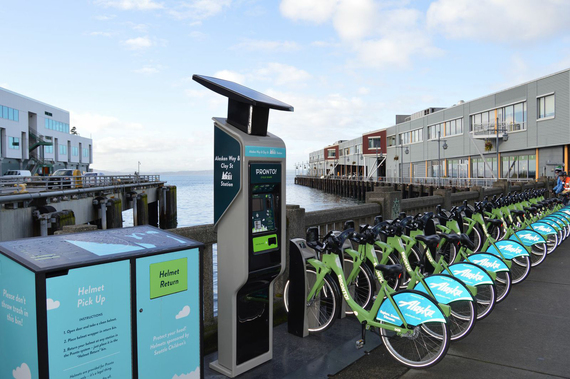 Pronto, it seems, is all about making travel by bicycle easy, convenient and safe.
I spoke with Holly Houser, Pronto's executive director, about how the system fits into the Seattle lifestyle. "Pronto is for everyone," she said. "A lot of folks already ride their own bikes in Seattle just for fun. Our goal is to get more people to think of cycling as an everyday transportation option and not just a pastime."
And the effort is paying off. Though Pronto launched only a few months ago it's already had a third more casual users than originally projected.
But for a bike share program to really have an impact, there needs to be room to ride. Seattle is a city where space for transportation is at a premium. Tucked in between Lake Washington to the east and Elliott Bay and Puget Sound to the west, there's just not much room for freeway and surface street expansion. The area ranks fourth worst in traffic congestion among U.S. cities and has struggled for decades to find a fix for its transportation woes. Seattle is now betting that bikes can play an important role.
Seattle Mayor Ed Murray recently proposed a $900 Million levy. Included in the levy, which, if the city council approves as written, is money for expanding Seattle's already extensive bicycle network of paths and lanes. A new bike lane along the city's bustling Second Ave. has already been created to handle the existing and projected increase in bike traffic.
The launch of Pronto is the culmination of years of effort by the Seattle bicycling community, city lawmakers, private entities and the Seattle Department of Transportation. "Seattle's challenge is to help people get around how they want and when they want," said Scott Kubly, SDOT director. "Pronto Cycle Share is a great option that allows people to conveniently access a bike as a means for traveling around our city."
Americans are beginning to understand what Europeans have known all along: that bicycles are good for the individual's and the planet's health. Of course, there's a political aspect and that means a certain amount of pushback. And nothing is going to get the Rush Limbaughs of the world out of their cars and onto bicycles nor convince them to soften their opposition to building bicycle infrastructure - especially if there's public money involved.
But thanks to the success of programs such as Pronto, that jaundiced viewpoint is rapidly becoming more and more an anachronism. The expansion of bicycle infrastructure in Seattle and the associated increase in ridership is giving new meaning to the saw, build it and they will come.
Darby Roach is a writer, adventurer and professional guide. He recently rode his bicycle around the world and has written two new books about the odyssey, Right Lane Ends and How To Ride A Bicycle 'Round The World.