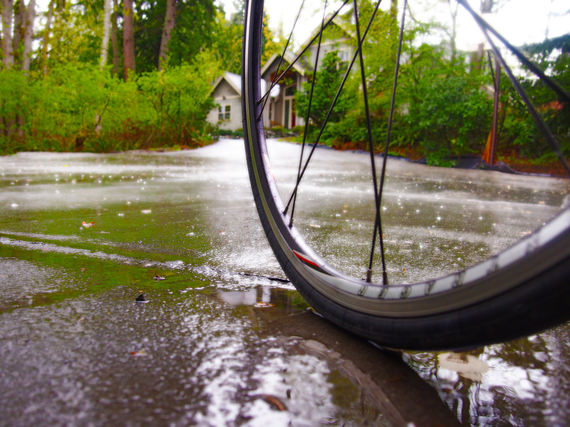 I live in the Pacific Northwest and you can call me crazy but I enjoy riding in the rain. The air is fresh, temperatures are cool and there's a lot less traffic on my favorite bike paths. And besides, it's only water.
There's a natural hesitation to riding a bicycle when the roads are wet but with all the modern rain gear available there's no reason to cancel your ride just because the sun isn't shining.
Safety, of course is your first concern so make sure you wear helmet and gloves and it's a good idea to get front and rear flashers so others can see you on those misty morning rides.
You'll need full coverage fenders with long mud flaps to keep road grime off you and the bike. Get a good rain jacket, pants and shoe covers made specifically for cycling, and you'll stay warm and mostly dry.
Cycling in the rain might sound crazy... until you try it. Hey, you can only get so wet.
Darby Roach is a writer, adventurer and professional guide. He recently rode his bicycle around the world and has written two new books about the odyssey, Right Lane Ends and How To Ride A Bicycle 'Round The World.