During the Nepal leg of my recent bicycle ride around the world, I took time out of the saddle to hike into the Annapurna Base Camp. It was an eight-day adventure that lead me high into the Himalayan Mountains to the staging area for attempts on Annapurna, the world's 10th highest mountain.
This is Part One of a three-part serial that chronicles that amazing experience.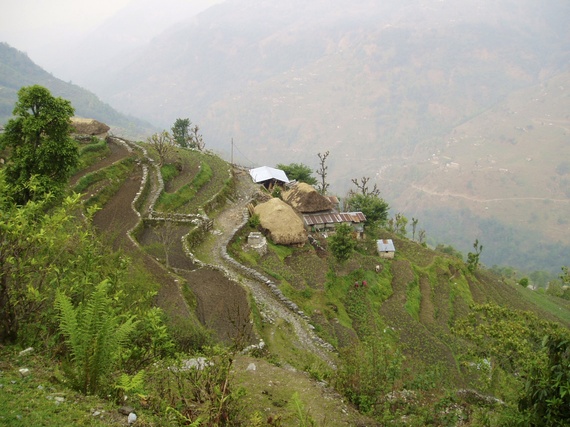 Day One
My Nepali guide, Prem, and I leave the highway at the village of Phedi around 8:30 in the morning heading for the Annapurna Base Camp, or ABC, as the locals call it. The first half hour is a constant climb up the side of a steep grade but the stone steps placed there by the villagers help a lot. When we reach a small hotel at the top of the first knoll, at the village of Dhampis, we stop for a brief rest. It's hot and I am moving slow and sweating buckets so when we re-shoulder our packs, Prem insists we load the majority of our gear into the bigger of the two sacks, which he then carries. I am given the lighter pack that holds little more than a bottle of water.
His offer to act as porter as well as guide is appreciated but I suspect his motives are something less than wholly altruistic. He's young, just 23, and climbs at a much faster pace than my 63-year-old body can manage. I think he'd just as soon I pick up the pace even if it means a greater burden for himself. "I am young and strong," he tells me, "you enjoy hike much better with small pack... Yes, I think so."
The rest of the day is up and down. Climb, descend, and repeat. Up one ridge, then down into a river valley, then up the next hill. The Nepali villages we pass through are tucked up against steep mountainsides on small terraces they share with corn and wheat fields as well as with water buffalo, goats, chickens and horses, and of course, the farmers and their wives and children. At about 4:00 we reach Pothana where we stop for the night. The accommodations are basic: a small cement chamber with bare walls and one window. There are two wooden platforms raised a foot off the stone floor with thin mattress maybe two inches thick. A single compact fluorescent bulb dangles in a corner by its wire.

Dinner is served in a common dining room where I join a group of Brits coming down from ABC. They are sunburned and grizzled and happy. My guide takes my dinner order and disappears into the kitchen. In a half an hour I'm wolfing down dal, a spicy lentil soup served over bhat, a local boiled rice. The guides eat this dish with their hands but I opt for a fork. I wash it down with a huge bottle of Everest Beer and stumble off to bed.
Day Two
Annapurna was first climbed in 1950 by a French team lead by legendary mountaineer, Maurice Herzog. It was the first of the 8,000-meter Himalayan giants to be conquered, which is quite a triumph in itself. But the real kicker is that they made it on the first attempt.
My goal is considerably less ambitious. I'd read Herzog's book in my early 20's and it had inspired me to become a climber, though certainly nowhere near Herzog's caliber. I'll be satisfied just to tread the same ground as him and stand in the place where he began his historic ascent.
I am awake before sunrise and lie beneath the cover urging the dawn. As the first weak rays stream in through the small window, I'm up and packing. Prem is still asleep on his palate so I tiptoe out, find the washroom, and brush my teeth and splash cold water on my face. I glance at my watch and see that it's barely 6:30. I'm the first of the trekkers up and I wander over to the dining room where I rouse a sleepy cook and order up pancakes and milk tea.
As I'm finishing my meal, Prem comes in and sits down on the bench beside me. "You up early," he says, "I think maybe I stay here a while and you start out." He points toward the trail winding out of sight around a ridge, "Stay, stay, on trail and I catch up after."
That's okay with me. I prefer to hike alone. It gives me the opportunity to drift along at my own slow pace and stop to take in the view when the spirit moves me.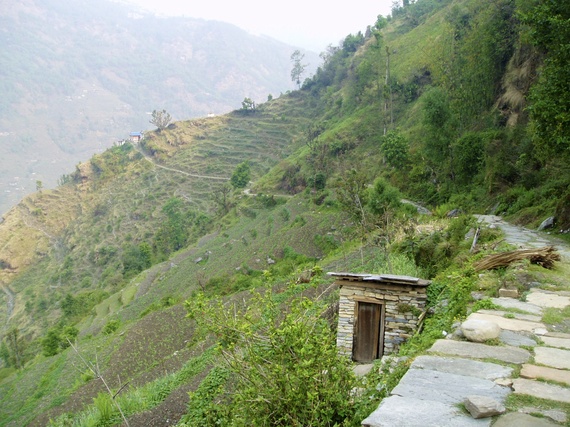 Most of the walking this morning will be on the flat or downhill. It's nice not to have to climb so much but I resent losing all that hard-gained altitude of Day One. By late morning, Prem has caught up and we descend to the Modi Khola, a raging torrent hurrying down through a torturous gorge from the glaciers far above. With my heart in my throat, I cross a swinging cable bridge strung precariously twenty feet above the Khola's boiling waters and jumbled boulders. Immediately on the other side we begin to climb again. This one is steep and I use the rest step taught to me by the Mt. Rainier guides to make the 30-minute ascent to the top of the ridge. My heart sinks when I spy our goal for the day, the ridge top village of Jhinu. I can see from my airy perch that I'll have to drop down hundreds of feet to a tributary, then, re-ascend those hundreds of feet plus a hundred more before this day is done.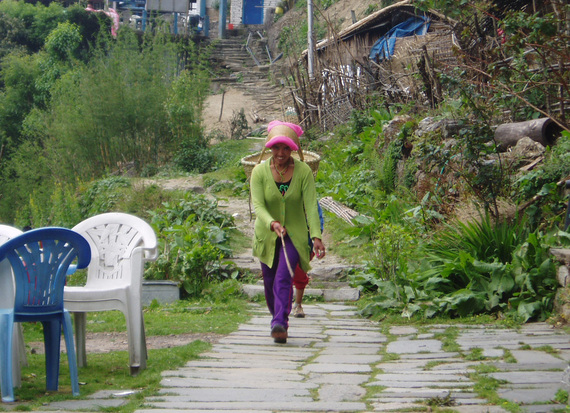 Jihnu is renowned among trekkers and locals alike for the curative powers of its hot springs. When we reach the village, Prem insists we hike the 15 minutes to the springs for a good soak but that last climb has left me exhausted and when I see that getting to the springs involves descending back down to the Modi I stop in my tracks, turn and head for bed where I pull the covers over my head for a nice relaxing nap.
End of Part One.
Be sure to watch The Huffington Post Travel Section in the near future for the rest of the story!

Darby Roach is a designer, writer and adventurer. He recently completed a round-the-world bicycle trip and has written two new books chronicling his odyssey: Right Lane Ends and How To Ride A Bicycle 'Round The World.
You can follow his travels at BikeAroundTheWorld.org.