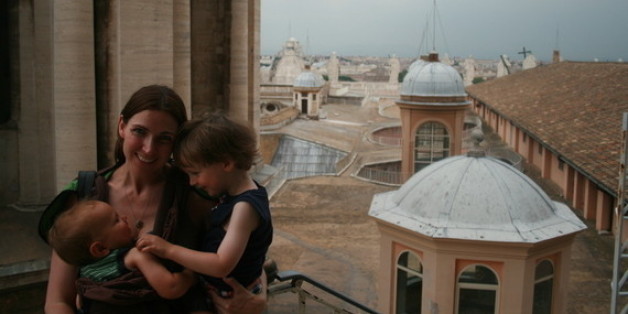 Last week, my husband and I attended a parent-teacher conference at my son's preschool. At this stage in my son's "academic career," most school discussions center around his superhero preferences, his role-play prowess, gross-motor coordination and the all-important topic of socialization.
On that note, his teacher started, "So, did your son tell you that Isabelle* proposed to him?"
My husband laughed and made an 'Atta Boy' grunt of approval.
"Well maybe not exactly proposed to him," the other teacher interjected. "But she did make it very clear, both to your son and the rest of the children, that it is her full intention to marry him." She laughed. Oh yes, she thought it was just sooooooo adorable.
So. My son has been "called." Reserved for marriage by some girl named Isabelle.
I am the mother of two boys. I am a wife, a sister, a daughter and a daughter-in-law, but most importantly, I am the mother of two boys. And it occurred to me after learning about little Isabelle's intentions, that right now there is an extremely good chance that all I am ever destined to be is some Isabelle's mother-in-law.
The next day I asked my son, "So, your teacher told me that Isabelle asked you to marry her. Is that true?" He nodded and picked up one of his many swords and ran across the room to stab his brother. "Well?" I followed after him. "Are you going to marry her?" He continued to run around the room, shouting his yas and whoops as he battled imaginary dragons and bad guys. Ever more frantic, "Honey, listen! Are you and Isabelle going to get married?"
"Shhheeeeesssh, Mom. We're not getting married. Children don't get married!" Schooled by a 3-year-old. What else is new?
So, why is it that little Isabelle has sent me into a panic? There is, of course, the old adage, "A daughter is a daughter for life; a son's a son until he finds a wife." As the mother of two sons, I wonder, will this be true? Will I lose my boys when they are older? Will Isabelle or Becky or Abby or Eva come along and steal my sons away? Move them away to faraway places to have grandbabies I rarely see? Complain to friends, or worse, their mothers, about my sons' imperfections, and blame those imperfections on my imperfect parenting? Am I already fearing the judgment of my future daughters-in-law? I swear, Isabelle! I am trying my best to get him to stop picking his nose! I swear!
The first time I met my husband's grandmother, who is herself the mother of two sons, she said to me, "I always wished for a daughter. With a daughter-in-law you can't tell her what she's doing wrong." What she meant, in her unintentionally hilarious way, is that as the mothers of sons, we must accept that our womanly influence may be short-lived. When our boys are little, we are the first women they turn to in times of need -- for nurture, for guidance, for support and for love. It is simply stunning to think that there is a future hypothetical woman out there that could serve those functions to my children, because as a daughter, there is only one woman who serves that function in my life. (Hi Mom!) But for my sons, statistically speaking at least, in all likelihood there will be a woman that someday each will turn to before me.
So, I pressed my son some more. "Of course children don't get married. But when you're older, Honey, then who are you going to marry?"
"Ugh, you, Mommy. And Daddy too." Phew. Sorry Isabelle, he's still mine (and his Dad's -- yay progressive parenting!). For now, anyway. But I may want to start thinking about trying for a girl...
*Name has been changed to protect this little hussy's identity
If you enjoyed this post, read more at Cribsters.com, or like Cribsters on Facebook.