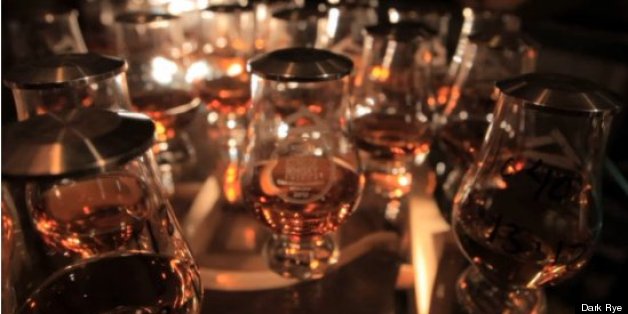 Balcones Whiskey Distillery from Dark Rye on Vimeo.
You can tell the story of Balcones Distillery through the headlines it's received: from the skeptical October 2008 one reading "Man wants to start whiskey distillery in Waco," to a year later: "Waco distillery now serving first legal Texas whiskey since Prohibition." And then the accolades started appearing, from "Waco whiskey Baby Blue getting award-winning attention at the bar;" and "Best Spirits of 2010" to "Chip Tate's Mad Geeky Genius." Then, in March Balcones Texas Single Malt Whisky won the "Chairman's Trophy" for "American Whiskey" in the prestigious Ultimate Beverage Challenge. The headlines are only going to ramp up from here.

We're definitely in the golden age of craft distilleries, but Balcones was carved from a unique set of ideals, combining authenticity, respect for place and love of product. In Waco, Texas, an urban area hard-hit by the recession, Tate started looking for the ideal place to make his own small-batch spirits. He found an abandoned welding shop, sitting ruined and unloved under an obscure bridge. Tate and his team hammered and welded their own stills, condensers, heat exchangers and a hot liquor tank. As Tate puts it, "We sawed and nailed on that shack to build the distillery that we use to this day."

Though whiskey, like all fine alcohol, has a deep tradition, Tate doesn't believe in standing put. Nor is he trying to put a fresh spin on an old classic. The creation of new styles has always been part of whiskey's development. His whiskeys are fresh creations from an artist's mind. "The tradition is a lie," he says.

All of Balcones's award-winning whiskeys are aged less than two years, while traditionalists insist that whiskey must be at least five years old to be considered good and well-aged. Balcones also adds no color to its whiskeys. The whiskey's color comes from the barrel. Different types and ages of barrels all yield varying degrees of color, and Tate refuses to associate more color with higher quality. He also makes his whiskeys with blue corn, a highly untraditional ingredient. Perhaps most radically, his whiskey comes from Texas.

"People don't normally think of Texas when they think of whisky," Tate says on his website. "We're trying to found a Texas whisky tradition, not just make whisky in Texas."

And their Texas business is booming. Tate can't even begin to keep up with the orders. He's begun renovating a 65,000-square-foot warehouse; quickly building what's looking like a marquee business for Waco's downtown renaissance. "We are oversold by as little as three-to-one and as much as six-to-one in everything we make," Tate told Austin's CultureMap in March. "Five years ago, I couldn't imagine how I was going to pay our electric bill, much less envision all of this. There was really no way to predict this, and there's honestly no way to predict what the next five years will look like, but I'm pretty happy with the direction it's taking."
The artisanal whiskey boom is well underway, and Balcones Distillery is at the head. It gets some criticism from traditionalists, but not from thousands of satisfied customers. "There's a lot of debate over what authenticity is in the whisky world," Tate told CultureMap, "but that's another story. For now I just want to make good whisky, and I'll support anyone out there who wants to do the same."
This video from Dark Rye was produced by Kelly Le Castre and edited by Joel Fisher.