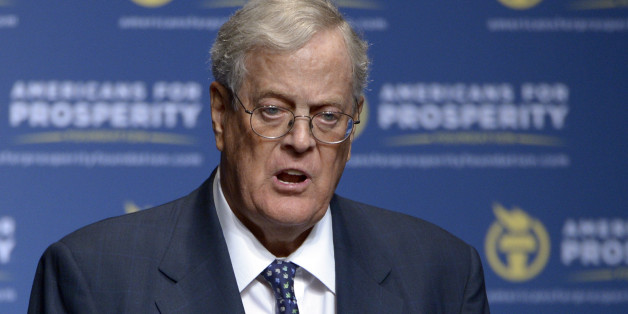 In recent weeks, political observers have speculated about the factors that will decide the 2014 elections. Some point to the improving economy with hopes that the falling unemployment rate will boost Democratic fortunes across the country. Others point to chaos in Syria and Iraq and the battle against ISIS as signs that foreign policy will strengthen the hand of hawkish Republicans. Still others note rising public concern about Ebola and worry that the Obama Administration has not done enough to protect American citizens.
But the real October surprise will come from billionaires dropping millions of dollars in a handful of Senate races seeking to move the needle one or two points to secure the election. Charles and David Koch already have indicated they plan to spend $290 million helping Republicans regain control of the Senate. But this week, their Freedom Partners Action Fund super-PAC announced that it had raised $25 million to run ads in key Senate states. In Kansas, for example, the Fund is broadcasting ads in favor of GOP incumbent Pat Roberts over independent Greg Orman in hopes of keeping that state in the Republican column.
Other states also are seeing an onslaught of last minute spending by conservative billionaires. In Georgia, a super-PAC backed by TD Ameritrade founder Joe Ricketts is spending $2 million on an advertising campaign to boost GOP candidate David Perdue over Democrat Michelle Nunn.
On the moderate-to-liberal side, billionaires Michael Bloomberg and Tom Steyer are spending big to push their issues. Bloomberg is devoting $50 million to fight gun violence, while Steyer has pledged $50 million to raise public awareness about the threat of climate change.
It is little wonder that billionaires are at the middle of this year's fight for control of the U.S. Senate. As I detail in my new Brookings Institution Press book, Billionaires: Reflections on the Upper Crust, ultra-wealthy individuals are investing in American elections because it is a way to shape public opinion and control public policy. They are doing so through direct electoral advocacy, super-PACS that run ads on their behalf, and non-profit organizations that mobilize voters and push distinctive points of view.
According to an analysis by political scientists Benjamin Page, Larry Bartels, and Jason Seawright, the top one percent of wage-earners are more conservative than the general public on a range of issues. They favor cuts in Medicare and education (58 percent versus 27 percent for the public), and are less likely than the public to believe that the government has an essential role in regulating the market (55 percent versus 71 percent, respectively).
The views of the super-rich lead them to favor tax cuts -- even though they reduce the financial resources to invest in education and health care -- and to place more emphasis on deficit reduction than on "pump-priming" that stimulates economic growth. As my Brookings colleague Richard Reeves has pointed out in regard to social and economic opportunity, "it seems harder to climb a ladder when the rungs are farther apart."
The challenge for democracy is not just all the last-minute money flowing into the 2014 elections. That clearly is valuable for voter mobilization and persuasion. The difficulty is the rise of so-called "dark money" with no required disclosure. According to an analysis by the New York Times, 55 percent of the broadcast ads this year are run by groups with little or no required disclosure. This lack of disclosure is problematic because the messenger is as important to voters as the message. It matters whether certain appeals are financed by Main Street or Wall Street.
Early in 2014, conservative billionaires condemned Majority Leader Harry Reid for a series of speeches on the Senate floor bemoaning the millions that tycoons were spending to defeat vulnerable Democrats. Reid complained that "the oil baron Koch brothers are very good at protecting and growing their prodigious future and fortune."
Upset with these attacks, Charles Koch penned an article in the Wall Street Journal entitled "I'm Fighting to Restore a Free Society," in which he decried "collectivists [who] engage in character assassination." He said that "far from trying to rig the system, I have spent decades opposing cronyism and all political favors, including mandates, subsidies, and protective tariffs -- even when we benefit from them. I believe that cronyism is nothing more than welfare for the rich and powerful and should be abolished."
But now, in an effort to shield themselves from a voter backlash over big-spending conservative billionaires, some Republicans are taking a page out of the Harry Reid's anti-billionaire playbook. In the Michigan Senate race, an ad for Republican Terri Land asks "why is [Democrat] Gary Peters waging a war on Michigan jobs and paychecks? Because Peters supports President Obama's job-killing agenda and is bankrolled by billionaire radical Tom Steyer." Another GOP spot closes with the tagline of "Gary Peters, Working for Billionaires, Not Michigan." It remains to be seen whether GOP attacks on liberal billionaires will help Republicans regain the Senate.
____________
Darrell M. West is Vice President of Governance Studies at the Brookings Institution and the author of "Billionaires: Reflections on the Upper Crust" (Brookings Institution Press, 2014).