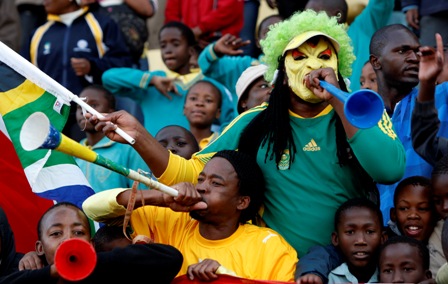 UFC President Dana White confirmed today that vuvuzelas -- the infamous noise makers used at this year's World Cup by South African fans that have strained the patience of even the most culturally tolerant among us -- have been banned at MGM Grand Garden Arena in Las Vegas this Saturday.
A UFC press release calls the UFC 116 championship fight between Brock Lesnar and interim belt-holder Shane Carwin "the most important heavyweight fight since the Ali era."
I don't know if I'd go that far but Dana White could not be more serious about his distaste for the African sports custom and is willing to go to great lengths to prove it.
"I'd rather let Brock punch me in the face than hear 15,000 people blow on those things," says the UFC Commander-in-Chief.
Think what you may about UFC and MMA, but I think this is huge step in the right direction for all major public sporting events.
Follow Dave on Twitter: www.twitter.com/DaveAHollander
Become Dave's Fan on Facebook: www.facebook.com/daveahollander