Lin-Manuel Miranda's musical "Hamilton" has been the talk of the town ever since the tale of Founding Father Alexander Hamilton opened on Broadway this summer. With music drawing on rap, hip-hop, R&B, as well as Broadway pop, the soundtrack was named the No. 2 album of the year by Billboard and has topped the rap album charts since its release. With Hamilton's true-to-history story line, people are hungry to learn more about Alexander Hamilton after listening to the music or seeing the show. Alexander Hamilton's birthday is January 11, and now's the perfect time to re-discover the "ten dollar Founding Father without a father." Continue reading for more places to visit and celebrate Alexander Hamilton's legacy.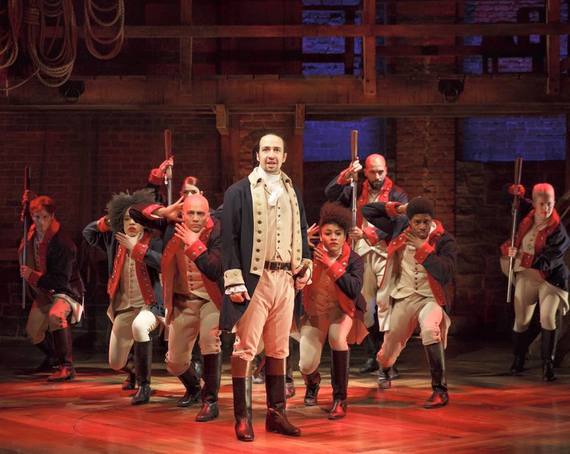 Lin Manuel-Miranda and cast in "Hamilton An American Musical" Copyright Hamilton Broadway
The Hamilton House - Charlestown, Nevis
"Young, scrappy, and hungry..." Alexander Hamilton's birthplace is located on the Caribbean island of Nevis in the West Indies.  Born as the illegitimate son of a Scottish immigrant father and a British West Indies mother on January 11, 1755 (or 1757 it's unclear).  The site now serves as the Museum of Nevis History, and maintains a small exhibit related to Alexander Hamilton.  Probably not a destination unto itself, but certainly worth an excursion from a cruise ship or if you're looking for an excuse to visit the Caribbean in January.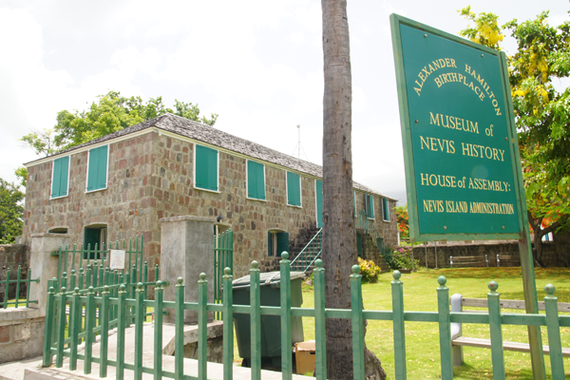 Alexander Hamilton birthplace, now the Museum of Nevis History, Charlestown, Nevis, photo by Daniel Farrell, Wikimedia Commons
Schuyler Mansion - Albany, New York
"Who is always by your side..." At the Schuyler Mansion in Albany, visitors can picture the Winter's Ball and wedding of Alexander Hamilton and Elizabeth Schuyler in 1780.  Phillip Schuyler served as Revolutionary War General, U.S. Senator, and raised 8 children in the mansion including "The Schuyler Sisters," Angelica, Eliza, and Peggy mentioned in the musical.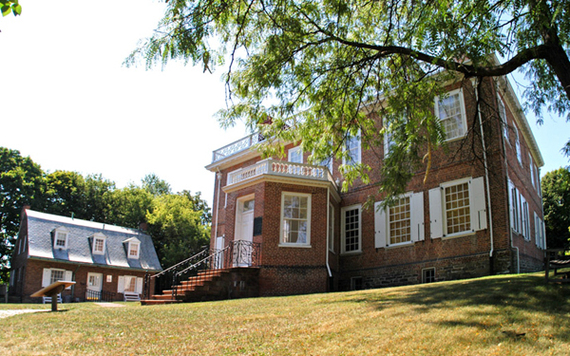 Built 1761-65, Schuyler Mansion in Albany, NY was the first Georgian Mansion in the Albany area. The family lived in the home from the 1760s to 1804, when Philip Schuyler died. Photo courtesy New York State Office of Parks
Yorktown Battlefield - Yorktown, Virginia
"Outgunned! Outmanned! Outnumbered! Outplanned!" George Washington reluctantly gave his right hand man Alexander Hamilton command in the last major battle of the American Revolution.  On October 19, 1781 British General Cornwallis surrendered to General Washington thus ending the war.  The site is now part of the Colonial National Historical Park, and visitors can stroll the streets, buildings, and battlefield where "the world turned upside down."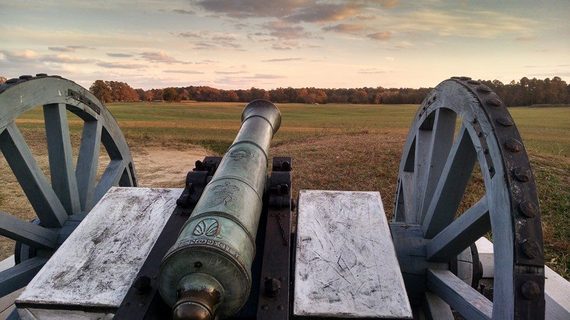 6 pounder cannon on top of British defensive earthworks at Yorktown Battlefield. Photo by Andrew Litterist, courtesy National Park Service
Library of Congress - Washington DC
"How do you write like you're running out of time?" Alexander Hamilton joined forces with James Madison and John Jay to write The Federalist Papers, a series of 85 articles and essays promoting the ratification of the United States Constitution.  The Federalist Papers are located in the U.S. Library of Congress, and considered one of the most important sources for interpreting and understanding the original intent of the Constitution.  The Library of Congress is free and open to the public, with one-hour walking tours available of the historic Thomas Jefferson building to learn about its symbolic art and architecture.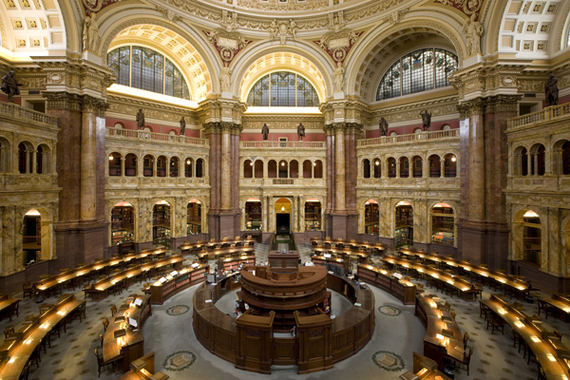 Library of Congress, main reading room, photo by Carol M Highsmith, courtesy Library of Congress
Treasury Building - Washington D.C.
"Centralizing national credit, and making American credit competitive..." At the U.S. Treasury Building is a statue of Alexander Hamilton appointed the first Secretary of the Treasury by President George Washington. Tours of the Main Treasury Building, located at Fifteenth Street and Pennsylvania Avenue, NW, in Washington, D.C. are available by advance reservation through Congressional offices.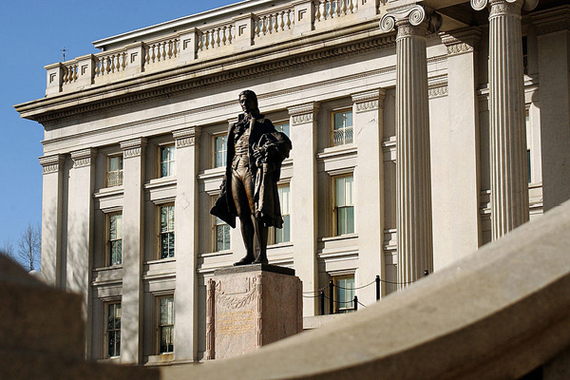 Statue of Alexander Hamilton at the U.S. Treasury Building, photo by Karen Nutini, Wikimedia Commons
Hamilton Grange - New York City, New York
"It's Quiet Uptown" Lin-Manuel Miranda drew inspiration at Hamilton's upper-Manhattan home the Hamilton Grange located in the Hamilton Heights neighborhood of Harlem.  Construction of the Alexander Hamilton estate began during The Election of 1800, but was not completed until after his death in 1804.  To celebrate his birthday on January 9th, families can take in the history of Grange with a National Park Service ranger, and hear more about the murder trial in which Alexander Hamilton and Aaron Burr co-defended Levi Weeks, the brother of the builder of the Grange.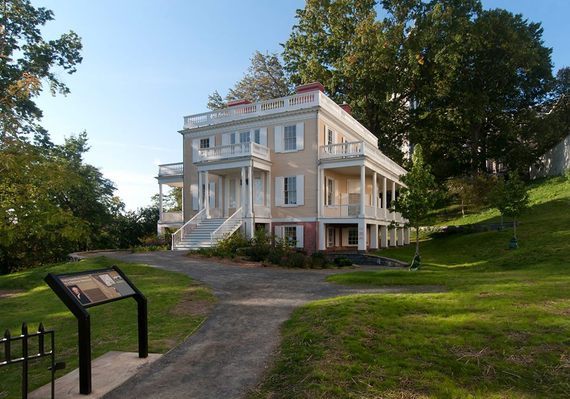 Hamilton Grange, Alexander Hamilton's country estate in Harlem, image courtesy National Park Service
Dueling Grounds - Weehawken, New Jersey
"I was too young and blind to see... the world was wide enough for both Hamilton and me." July 11, 1804 Aaron Burr, sitting vice president, shot and killed Alexander Hamilton. Hamilton Park is located next to a monument that reads, "somewhere below this site, on a wooded ledge twenty feet above the Hudson River, lay the dueling grounds. The most famous duel in American.  Hamilton fell, mortally wounded, and died the next day in New York City.  Tragically, Hamilton's son Philip had also met his death here in a duel in 1801."  Hamilton Park offers great views of the New York City skyline across the river.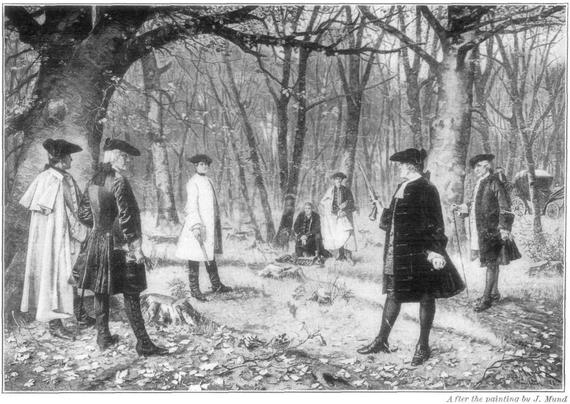 Duel between Alexander Hamilton and Aaron Burr. After the painting by J. Mund
Hamilton Burial Site - New York City, New York
"Who lives, who dies, who tells your story?" Alexander Hamilton's grave is located at the Trinity Church cemetery in lower Manhattan, fittingly near Wall St.  To commemorate Alexander Hamilton's birthday on January 11th, there will be a wreath-laying ceremony and blessing at Alexander Hamilton's grave at Trinity Church with the participation of the U.S. Coast Guard Color Guard from Sector New York. Then, inside the church, Dr. Stephen Knott, author of Alexander Hamilton and the Persistence of Myth, will speak about his latest book co-authored with Tony Williams, Washington and Hamilton: The Alliance That Forged America.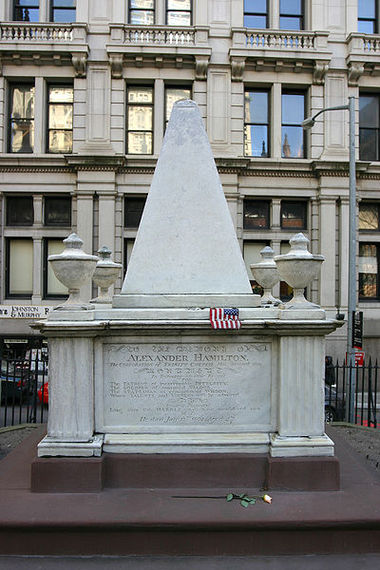 Alexander Hamilton grave, photo by J.M. Luijt, Wikimedia Commons
Finally, to learn even more about Hamilton's story, visit the Alexander Hamilton Room at the Museum of American Finance or visit the Alexander Hamilton Awareness Society to discover even more events in Nevis, New York, and New Jersey to honor this fiery and brilliant Founding Father.
Note: originally posted on AdventuresByDaddy.com.